J Crew Jobs & Careers – Application, How to Apply, Requirements & Interview Tips
Last Updated:
September 20th, 2019

by

If you have an acute eye for quality clothing, appreciate timeless fashion, and have a desire to work in the retail clothing environment, check out J. Crew as a potential employer.

J. Crew markets high-end "preppy style" clothing, shoes, and fashion accessories through its J. Crew, J. Crew Factory, and its Madewell stores, its catalog operations, and online.

The company has 575 stores, mostly in the United States. They also have physical retail outlets in Canada, the U.K., Paris, and Hong Kong.

J. Crew began their operations as a catalog company in 1983. They opened their first brick-and-mortar operation in lower Manhattan in 1989.

J. Crew caters to a higher-end clientele. They seek people who not only enjoy fashion, but also possess a desire to work in a team-oriented environment. Customer service is viewed as paramount to both retaining existing customers and attracting new ones.

Interested in helping J. Crew customers get the most out of their shopping experience? Read the following information and consider applying at J. Crew today.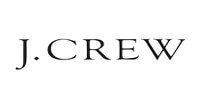 How to Apply for Employment at J Crew
Your first task as a potential job applicant at J. Crew is to visit their website, found here, especially if you are unfamiliar with the company or the merchandise they sell.
Then, if you find that they are a match for your job preferences, jump on over to their jobs page. There, you can search for available opportunities. You can also read descriptions of positions with the company.
On the jobs section of the website, you can see what positions are available at stores in your area. You can also complete the application.
All applications must be completed online. J. Crew does not offer a printed application at this time.
Application Information
Minimum Age Requirement: J. Crew requires all employees to be at least eighteen years of age.
Hours of Operation: Most J. Crew, J. Crew Factory, and Madewell retail stores open at 10 a.m. Mondays through Saturdays and either 11 a.m. or noon on Sundays. You are advised to call the individual store or look online here for closing hours, as many stores close earlier than others depending on their location.
Methods to Apply: Candidates can explore job opportunities and apply for positions within the company at the jobs section of the J. Crew website, found here.
Apply Online
In order to initiate your exploration of available positions with J. Crew, go to the job search page of their website. From there, you will be able to see all of the job opportunities listed, or you may drill down by keyword, location, or both.
The Application Process
J. Crew requires you to fill out their online form in order to begin the application process.  You can dig right in, find a job that interests you, and apply, or you can simply sign up for their "Talent Community." Then you will be notified when jobs that interest you become available in your area.
If you choose to apply for a specific job, be sure and set aside some time to do it right. Have your current resume in front of you.
You will want it to include your employment and your educational history, including dates, so that you do not have to struggle to remember the details of that information.
J. Crew requires that you list at least two references. Prior to entering this information on the application, it's always a good idea to contact the people you wish to list to make sure that they are okay with you listing them.
Let them know a bit about the job for which you are applying. This helps them figure out what to say when they are contacted by J. Crew.
J. Crew's application also requires you to list your available days and hours for work, so be sure you give this some thought before you fill that out. Obviously, the more time you list as available to work, the more valuable you will be as an employee.
Application Tips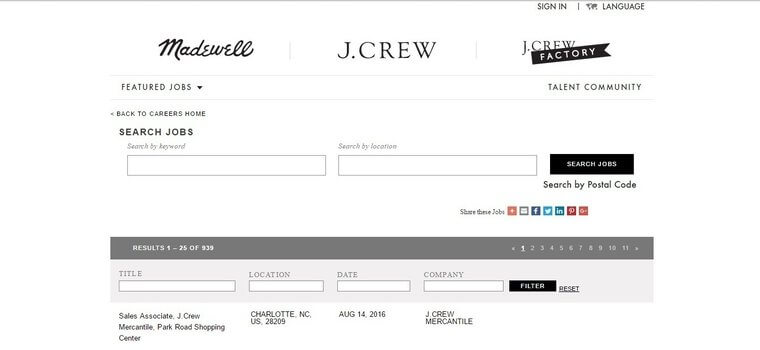 Organize and Optimize Your Resume
The J. Crew application process requires you to upload your current resume. Before you do that, make sure your document accurately and completely reflects the image you wish to convey to them as a potential employee.
Your resume should be concise, and your job descriptions should highlight your accomplishments for each position you have held rather than just list your responsibilities.
Be sure your resume lists any and every skill, accomplishment, or experience that may appeal to management at J. Crew as they consider hiring you. List volunteer work, unique skills, and awards that highlight your personality, your ability to persevere, and your passion for excellence.
Proofread Your Documents
One of the worst mistakes one can make when applying for a position is to submit paperwork that contains spelling errors, poor punctuation, or poor grammar. Sadly, companies often use these mistakes to weed people out as candidates, especially if they receive an overabundance of resumes for a limited number of positions.
Make sure you proofread your resume, your cover letter (if you submit one), and your online application prior to hitting the "send" button. Always remember that you have only one chance to make a great first impression.
Should You Follow Up?
J. Crew places a high premium on customer service and they have a reputation of treating applicants very fairly and with courtesy as well.
Since you will be submitting your application to a particular store or stores, it's always a great idea to follow up a day or two after you submit, just to make sure the store manager received it.
If for some reason you are unable to reach the manager, politely inquire as to when he or she may be available.
J. Crew usually contacts applicants one to two weeks following the application and interview process.
Positions and Salary Information
J. Crew offers a variety of positions in their stores that allow employees to flourish and grow as fashion retail experts within the company.  Below are descriptions of each, as well as what one may expect to earn:
Sales Associate: Deals directly with customers, recommends outfit combinations and accessories, rings up sales, organizes merchandise, maintains an orderly sales floor, provides excellent customer service. Sales associates at J. Crew earn between $9.50 and $10.50 hourly.
Visual Associate: Creates and maintains appealing visual displays in the store and store windows, builds fixtures, and assists sales associates and managers in other areas as needed. J. Crew pays its visual associates around $10.50 or $11 hourly to start.
Sales Support Associate: Seasoned employees who support and supervise sales associates and perform any duties as directed by store management. Sales support associates earn between $10.50 and $11 hourly.
Key Holder: Opens and closes the store, trains and schedules sales associates, manages store inventory, and assists in other managerial duties as dictated by the associate manager and the store manager. Key holders earn between $12 and $14 per hour.
Associate Manager: Supports the store manager in duties associated with the overall operations of the retail establishment. Hires, trains, reviews, and schedules staff, manages store inventory, and provides and supports excellent customer service. Assistant managers at J. Crew may earn about $47,000 per year on average.
Store Director: Provide leadership for all employees and maintains responsibility for store performance and success. Hires, trains, and reviews management and staff as needed, works with district personnel to set sales and performance goals, and manages store inventory. J. Crew store directors earn an average of $61,000 annually.
Best Entry-Level Positions
J.Crew offers excellent opportunities for those seeking to break into the fashion segment of the retail industry, but they definitely look to hire people who have eyes for fashion, engaging personalities, and a strong work ethic.
It is not uncommon for J.Crew to promote people from within the company, as they figure current employees already understand the company culture as well as the mission of the merchandiser.
The following are descriptions of entry-level positions at J.Crew.
Sales Associate
Sales associates at J.Crew are on the front lines in the stores and their primary task is to provide excellent customer service to every person who visits.
People hired for sales associate positions must be energetic, outgoing, attentive, have an eye for what sort of style looks good on whom, and be able to "upsell," or suggest matching pieces or accessories, to customers.
Internship Program
College seniors wishing to gain hands-on experience in the retail fashion industry are invited to apply for an internship with J. Crew. Interns are afforded opportunities in finance, information technology, merchandising, and design.
The company's internship programs are highly selective and it is best to apply well before you begin your senior year in college if you wish to be considered.
Seasonal Job Openings
J.Crew is a full-service clothing retailer and thus offers opportunities for those interested in seasonal employment during the holiday season. The company hires additional sales associates to work in their stores, as well as seasonal merchandise processors in their distribution centers.
J Crew Careers in Management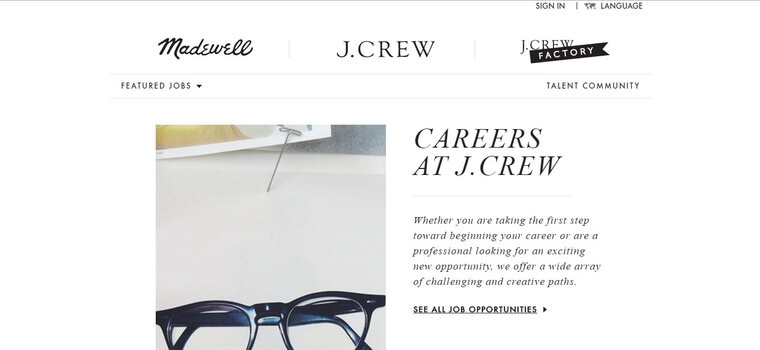 J. Crew offers many opportunities for those interested in management careers within the company. To learn more about management opportunities with J. Crew, visit here.  The following are brief descriptions of management positions at J. Crew stores:
Associate Manager
Associate managers at J. Crew stores must be familiar with all aspects of operations and are charged with assisting the store directors to ensure optimal store performance.
Responsibilities of store managers include interviewing, hiring, and training staff, preparing the staff schedule, handling personnel issues, responding to customer complaints, helping the store director with systems that reduce or prevent shrinkage, and role modeling and providing excellent customer service.
Store Director
J. Crew store directors are the point people for each store, meaning that they are responsible for the store's overall performance and success. As such, they work hard to build teams of employees that will place a high premium on customer attraction and retention.
Store directors hire, train, and supervise their management staff, develop and maintain the store budget, ensure that the inventory is managed responsibly, work with district personnel to set store performance goals, and act as role models to ensure high-quality customer service.
Interview Questions and Tips
What is the Difference Between a Client and a Customer?
This is an important question for any retailer seeking to hire people who are interested in helping the company build relationships with people who purchase goods and services, as opposed to simply collecting the money in exchange for product.
J. Crew management will take the time during the interview to gauge your ability to convert "customers" into "clients", or people who value the customer service they receive from J. Crew sales associates and will return to the store for assistance and advice about their wardrobes.
Who is Your Favorite Designer?
As stated previously in this article, J. Crew focuses on marketing timeless and classic fashions to its clientele and expects its employees to have knowledge of the fashion industry.
Do some research if you do not know much about clothing designers prior to your interview.  Be able to not only discuss whose designs you prefer, but why you prefer them.
Tell Me About a Time You Had to Solve a Problem in Your Previous Job
Sales associates must often be able to think on their feet, as working with customers can be unpredictable. You may be asked to tell a story about an issue you previously faced and how you overcame it.
As you prepare an answer for this sort of question, plan to tell a story about the incident you will describe, rather than just state the problem and the outcome.
Your enthusiasm about how you solved the problem will demonstrate that you learned something from the experience and that you are eager to solve problems in the future.
Helpful Research for Your J Crew Interview
J. Crew began as a catalog retailer in 1983 and opened its first retail store in Manhattan six years later. They have a strong catalog and online business in addition to their stores, which number 575.
J. Crew is known for selling high-end "preppy" clothing and accessories and also operates stores under its Madewell and J. Crew Factory brands.
The company expanded into the international market when it opened a store in Toronto, Canada in 2011. Today, they have approximately 25 stores in Canada, the U.K., Hong Kong, and Paris.
J. Crew, a privately-held company, currently operates stores in 44 states and in the District of Columbia.
What Employees Say About Working Here
Employees who have worked for J. Crew frequently cite their enjoyment of the interview process. Many have remarked that they learned as much as about the company as the interviewers learned about them as applicants.
In addition, employees cite a strong teamwork atmosphere where cooperation and mutual support are emphasized. The work environment is high energy.
Management actively supports staff. They reward hard work when it is appropriate to do so.
J. Crew's reputation as a retailer was also cited as a reason employees enjoyed working there. The company teaches its employees the value of treating customers as "clients" who should be treated as special every time they enter a J. Crew store.