Ot
Last Updated:
September 20th, 2019

by

Those who enjoy fashion should consider a career with It's Fashion, a division of the Cato Corporation.  Cato, based in Charlotte, North Carolina, also operates It's Fashion Metro and Versona, as well as Cato and Cato Plus stores..  It's Fashion stores feature low to mid-priced trendy clothing for children and teens.

It's Fashion offers clothing for teens, plus sizes for teens, and babies and toddlers.  They also sell jewelry, shoes, and accessories. It's Fashion Metro stores merchandise clothing for the entire family.

In addition to employment positions in stores, It's Fashion offers a variety of corporate positions including training managers and district managers.  Interested applicants should also be aware that, because It's Fashion is a division of a larger corporation that operates other divisions, it may be possible for an employee to advance their career with either It's Fashion Metro, Versona, Cato, or Cato Plus stores.

This guide provides useful information for those who have an interest in applying for employment at It's Fashion.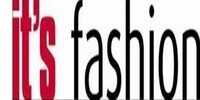 How to Apply for Employment at It's Fashion
In order to initiate your It's Fashion application process, you will need to fill out the It's Fashion online application.
Application Information
Minimum Age Requirement: You must be eighteen years of age to secure employment at an It's Fashion store.
Hours of Operation: Most It's Fashion stores open at 10am Mondays through Saturdays and closing times during these days vary by location.  Sunday hours are usually 1pm to 6pm. Hours are extended during the traditional holiday season.
Methods to Apply: In order to apply to work at an It's Fashion store, you must access their online application, fill it out, and then take the application into one of their stores.  You may access the online application for It's Fashion stores here.
Begin the Process
The application is a pdf document and, depending on the settings on your computer, you may have to print the form and then fill it out by hand.
Be aware that when you navigate to the application, it says "Cato Corporation" on it instead of "It's Fashion."  This is because It's Fashion stores are a division of Cato and the application is applicable to all of Cato's divisions.
It's Fashion requires all candidates for employment to submit the application form found here. Once you fill out the application, travel on over to the It's Fashion store at which you want to work and hand-deliver it to a manager.
Complete the Application
The It's Fashion employment application is fairly standard and asks you to submit your contact information, as well as your employment and educational history.  It also requires you to list three references other than previous employers or relatives.
The last page of the employment application explains their policy in regards to drug screening for all of those being considered for hire.  Read this carefully and, if you agree to it, sign and date it.
Application Tips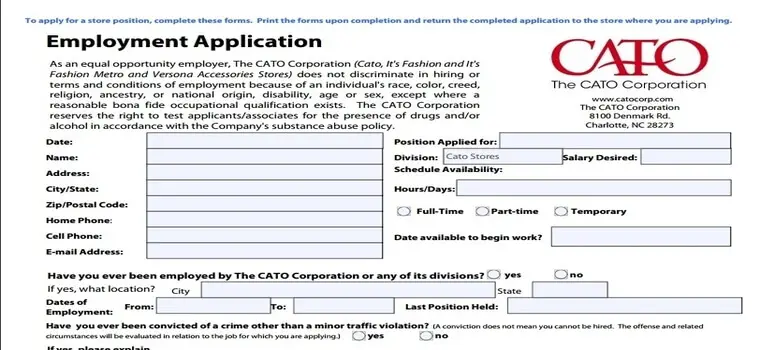 Do Your Research
If you are not familiar with the culture or the type of merchandise sold by It's Fashion, you are advised to visit one of their stores.  Take a look around and notice the quality of the clothing and what sort of accessories they have available.
Talk to the associates and try to gain a sense of what they do and the quality of customer service they provide.  Generally speaking, a friendly and helpful sales associate may suggest that he or she takes pride in their work and are supported by management.
Put Your Best Foot Forward
As noted above, you will deliver your application to the store where you wish to work once you fill it out online and print it.  As you prepare to make your professional entrance, be mindful of how you dress, how you are groomed, and your communication skills.
Chances are good that a manager may want to talk to you when you deliver that application, so dress appropriately, preferably in clothes that mirror good fashionable "business-casual" attire.  It's Fashion management seek people who know a bit about fashion and trends because that is what they sell.
Above all, be an effective communicator as you approach store personnel.  A good clear voice, appropriate eye contact, and a firm handshake will let management know that you possess the people skills that will help them move their merchandise.
Should You Follow Up?
As you submit your application to store management, politely inquire as to when they expect to follow up with you. It's never a bad idea to send a brief thank you note to the manager who you speak to following your interaction.
If you do not hear from them by the date they give you, call them a day or two later and let them know you are still interested in the position.  Don't inundate them with frequent phone calls, but stay in touch regularly until they give you a yes or a no.
Positions and Salary Information
It's Fashion has many positions within its structure and they are fond of promoting people who prove themselves at the entry level.  The following is a list of positions at It's Fashion:
Sales Associate – Work directly with customers by answering their questions and making suggestions regarding merchandise, keep the sales floor and merchandise neat and clean, ring up sales at the cash registers, and package sold merchandise for the customers. Sales associates can expect to earn between $7.50 and $8 per hour.
Assistant Manager – Assist the store manager with the overall operations of the store, manage and train sales associates, handle customer complaints, and maintain a climate of high customer satisfaction. Assistant store managers are typically paid between $9 and $10 per hour.
Store Manager – Assume responsibility for the overall performance and operations of the store, hire and train staff, deal with all store personnel issues, order merchandise, and manage inventory control. Store managers employed at It's Fashion earn between $28,000 and $33,000 annually.
Training Store Manager – Manage manager / associate recruitment and training for stores within a region. Salaries for this position range from $30,000 to $37,000 per year on average.
District Manager – Work with store managers and their staff within a district in order to maximize sales and deliver excellent customer service. Those who work as district managers at It's Fashion earn approximately $50.000 per year.
Best Entry-Level Positions
It's Fashion stores offer those who are initially approaching the world of work excellent opportunities to learn about the fashion and retail industries.  It's Fashion seeks people with high energy and enthusiasm who genuinely enjoy interacting with customers.
If you possess an outgoing personality, good communication skills, and an eye for fashionable trends, take a look at the entry-level position discussed below.
Sales Associate
Sales associates at It's Fashion stores are responsible for making sure customers are provided excellent service and maintaining an orderly and attractive sales floor environment.  It's Fashion seeks people with excellent communication skills and a commitment to helping customers experience the best shopping experience possible.
In addition to helping customers select merchandise, sales associates work to keep the merchandise stocked and organized, work the cash registers to ring up sales, package merchandise for customers, and answer customer inquiries over the phone.
 Seasonal Job Openings
It's Fashion management expands their store hours during the holiday season and seeks seasonal workers in order to fill those hours.  In order to apply, download the store application here, fill it out, and then take it into the store at which you are seeking work.
Although most seasonal employees are hired only for the holiday season, some are retained if there is a need and the employee performs up to the standards of management.  Apply early, as the positions usually go fast.
It's Fashion Careers in Management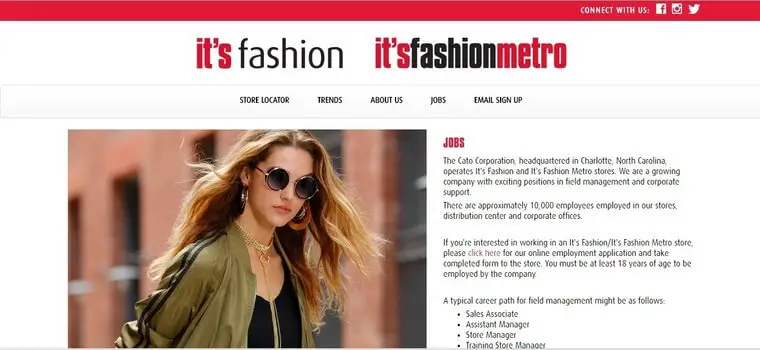 Management careers at It's Fashion begin at the Assistant Manager position, and there is opportunity for growth once one makes an impression on the company, even in the other divisions at Cato Corporation.
Assistant Manager
Those with previous retail experience may be eligible to begin as an assistant manager at an It's Fashion store.  Assistant managers assist the store manager in the overall store operations including scheduling and training sales associates, buying store merchandise, handling customer complaints, and creating a team atmosphere.
Store Manager
Store managers at an It's Fashion store are dedicated to the store's overall success and are held accountable for sales performance.  In order to accomplish their goals, store managers must motivate their assistant managers and their sales associates to work smart in order to move merchandise and to provide excellent customer service to each person who enters the store.
Responsibilities of store managers include opening and closing the store, hiring, training and disciplining staff, handling customer complaints, maintaining inventory control, and being effective role models for everyone who works there.
Interview Questions and Tips
Interviews at It's Fashion stores are usually one-on-one with store management and quite likely will occur when you drop off your application, provided the store has openings.  Here are a few questions you may be asked in your interview:
Why Would People Enjoy Working With You?
Employees at It's Fashion stores work as a team to produce results, and management seeks those who have successful teamwork experience.  Be able to discuss your previous experience working with others, whether that experience took place in a classroom or on a sports team.
How Would You Respond to Witnessing a Theft in the Store?
Obviously, It's Fashion management is looking for honest people who wouldn't steal from the company, but they also want to hire people who would take an active role in doing what they could to prevent theft by other employees, as well as by visitors.
Let management know that as an employee, you would be committed to your job over making friends at the store, and that you would have no problem reporting those who were tempted to steal.
What Qualities Do You Possess that Will Make You a Great Sales Associate?
Questions similar to this allow you to sell yourself, so be prepared.  As you answer this (and every) question, be sure you use good eye contact and your smile, because management will be imagining how you will be in front of customers.
Discuss those aspects of your personality that you will feel will make you a great employee, including your flexibility, your problem-solving skills, and your friendliness.
Helpful Research for Your It's Fashion Interview
It's Fashion is a division of the Cato Corporation, headquartered in Charlotte, North Carolina.  All of their stores are located in sixteen states in the southeastern United States.
Other divisions of Cato include It's Fashion Metro, which cater their clothing lines to the entire family, and Versona, which markets exclusively to women.  It's Fashion stores are relatively small, averaging 3400 square feet.
It's Fashion stores may usually be found in small shopping plazas that feature larger discounted merchandise retailers, such as WalMart and Target.
What Employees Say About Working Here
Of the 198 employee reviews submitted by It's Fashion employees on Indeed.com, the overall rating is 4 out of 5 stars.  Employees enjoy the work atmosphere at It's Fashion stores, and many cite the friendliness of co-workers as reasons for their satisfaction.
People also gave management support as a reason they enjoyed their employment there.  Good work is often recognized and people are treated fairly, according to some of the reviews.
Reasons for dissatisfaction include long working hours, little chance for advancement unless one possesses a college degree, and being called into work on days off when others call in sick.