Hot Topic Jobs & Careers – Application, How to Apply, Requirements & Interview Tips
Last Updated:
September 20th, 2019

by

If you are interested in working in a position that envelops music fashion and sets new trends within the music fashion industry, fill out your Hot Topic job application today. Hot Topic provides a lively atmosphere to work where fashion and accessories dominate.

Hot Topic employs talented and creative individuals throughout all of their stores. The company is focused on providing an environment where employees can grow and where every employee learns and gains inspiration from one another.

You will find Hot Topic offers a variety of positions from working as a sales associate to managing staff as an assistant or store manager.

If you love clothing and everything that surrounds fashion, a career at Hot Topic may be right for you.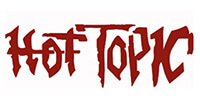 How to Apply for Employment at Hot Topic
The most commonly used method to apply for a position at Hot Topic is by submitting an online application.
Application Information
Minimum Age Requirement: The minimum age to work at Hot Topic is 16.
Hours of Operation: Hot Topic is open Monday – Saturday from 10:00 am from 9:00 pm and Sunday from 12:00 pm until 6:00 pm.
Methods to Apply: Interested applicants can apply to Hot Topic by filling out and submitting an online application or submitting a paper application to their local store.
Searching for an Open Position
To find open positions at Hot Topic, interested applicants will need to visit the career opportunities search page.
Once on the search page, you will be prompted to enter in relevant information such as what area of the company you want to work in.
Next, you will need to select a state and city before proceeding. Once you have selected the required criteria, you can press the "search" button and all open positions meeting that criteria will be displayed.
You can then click on the title of the position to read more about the role and requirements of the position.
Applying for a Job
To apply for an open position, you will need to check the box next to the title of the position you are interested in. Another link will appear underneath the job position that says, "Add/Remove Location." You will need to click that link and select a store, otherwise, you cannot move on.
Once a store is selected, click the button that says proceed to registration. You will need to complete the site registration, which requires some personal information and the election of a username and password.
The registration will continue once you agree to the terms. You will find that you need to fill out a detailed section that asks for your availability along with questions similar to, "how long do you plan on working here," and "why did you choose to apply to Hot Topic?"
Once you fill out all of the questions, you will be prompted to participate in a program call E-Verify, which verifies your social security number and right to work in the US.
You will then be directed to the actual employment application that you can fill out. The application asks for information such as personal details, educational experience, and previous employment.
Once you have followed through with all of the information and prompts, you can submit your application.
Application Tips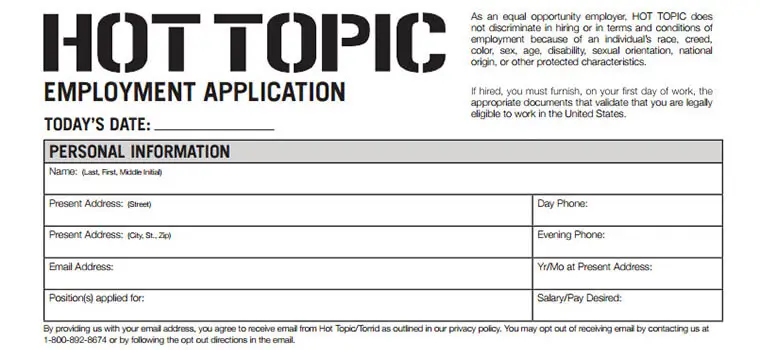 During the application, you may find some questions that are difficult to answer. Before you close out and give up, consider the following tips to help you make it through them.
Be Honest and Answer Clearly
When you have to answer the registration questions that require you to go into depth about yourself, just be honest.
For instance, when you are faced with the question, "How long do you plan to work at Hot Topic," be truthful. If you plan to stay for a while, let them know.
You can say something such as, "I plan to work at Hot Topic for years to come. I want to start out in an entry-level position and eventually move up to a manager position."
Your Availability Matters
Sit down and think about how many hours per week you can work and then evaluate your current schedule.
For instance, if you graduated high school, you may have all day availability, whereas, if you are still in school, you may only have afternoon, night, and weekend availability.
The more open you are, the more likely you will be hired. Hot Topic is looking for employees who are flexible and able to work on a flexible shift.
E-Verify Form
The E-Verify information is important and when prompted, you will need to fill out the information. E-Verify is a safe and secure system that checks your social security number and personal information in a database to verify your identity.
Skipping this section could be rejection of your application. Always answer truthfully and provide all required documents.
Should You Follow Up?
You can follow up on a position that you applied to by logging into the career page with the credentials you set during the registration process.
Once logged in, you will be able to view the status of your application along with the date you submitted it, and other open positions.
If you applied in person, you can call the hiring manager at the store where you submitted the application. You should ask to speak with the manager directly. If the manager is unavailable, ask when a better time for you to call back would be.
Positions and Salary Information
Hot Topic began its journey in 1988 when it saw a need for hip, cool, music-inspired clothing for teens and young adults. The company has grown incredibly over the years and now offers some of the top comic, music, movie, and television characters on clothing.
Hot Topic has roughly 600 stores throughout the US and each one is proud to provide quality fashion apparel and accessories.
Hot Topic employs both entry-level and management positions from working as a sales associate to store manager.
Sales Associate – The Sales Associate is responsible for helping customers shop for their favorite brands while delivering amazing customer service. The Sales Associate will help meet the store's financial goals. As a Sales Associate, you can expect to make between $7 and $10 per hour.
Assistant Manager – The Assistant Manager is responsible for recruitment and training of new employees. The Assistant Store Manager will also set goals and help the team achieve them. As an Assistant Store Manager, you can expect to make between $10 and $16 per hour.
Store Manager – The Store Manager is responsible for overseeing the Assistant Store Manager and Sales Associates. He or she will create schedules, handle payroll, and ensure company policies are followed. As a Store Manager, you can expect to make between $14 and $23 per hour.
Best Entry-Level Positions
Hot Topic hires employees to work entry-level positions throughout their stores in the US. Each entry-level position is a stepping-stone that can lead to a manage position within the company.
Employees who work here enjoy the benefits they receive and being surrounded by the latest in music fashion.
Sales Associate
The Sales Associate position at Hot Topic is an entry-level position. The person in this role is responsible for ensuring that customers are satisfied and that customers can find all of the items he or she is looking for.
The Sales Associate will help sell items to meet the company's financial goals while lowering costs throughout the store as well.
In addition, the sales associate should have a good understanding of music. He or she will operate the cash register, help with merchandise presentation, and perform all assigned duties.
Hot Topic Careers in Management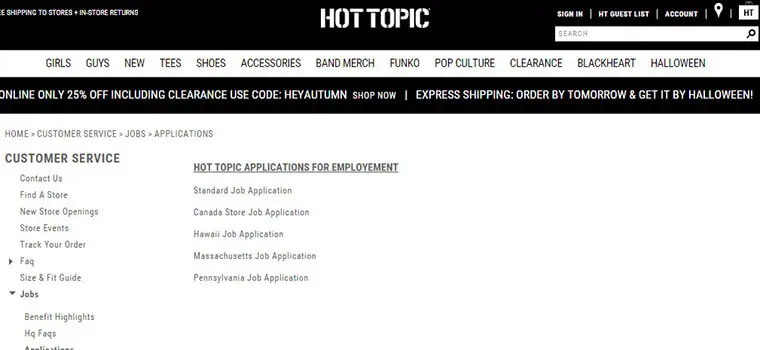 Hot Topic offers a couple of different management positions. These positions are open to in-house and new employees.
The management positions offered through Hot Topic are the perfect opportunity for employees who want to advance in the company.
Assistant Manager
The Assistant Manager helps bring fun to the work environment by leading as an example and encouraging all employees to meet goals that have been set.
In this role, you will ensure that there is always a smiling face to greet and help customers upon entrance into the store. You will also help grow the company and the team members under you.
The Assistant Manager will track all day-to-day activities including financial goals to make sure the store is meeting them.
Store Manager
The Store Manager will help provide an exceptional customer experience so that customers continue coming back to the store. He or she will oversee all day-to-day activities including those of the Assistant Store Manager and Sales Associates.
In this role, the Store Manager will help create financial goals and enforce all company policies. He or she will also be responsible for creatively displaying merchandise and promoting sales.
Interview Questions and Tips
Hot Topic is dedicated to providing the best service to each one of their customers. During the interview process, you may be asked some questions that you are unsure of how to answer.
Never panic and think each question through thoroughly. Consider some of the questions you may encounter below.
How Would You Upsell a Customer?
Upselling is an important part of any retail business and knowing how to do so will help you make more sales and sometimes, earn bonuses.
During your interview, you may be asked how you would upsell a customer. First, consider ways you could. For instance, if a customer is purchasing a shirt and you know there are matching socks, you could recommend the socks and upsell them on those.
What Type of Music Do You Like?
Since Hot Topic is focused on music-related fashion, it is important that you have some knowledge of music.
The interviewer may ask you what type of music you listen to or he or she may ask you about some popular bands. Do your research beforehand and gather some information about different music genres so that you can be prepared.
How Well Do You Know the Hot Topic Product Lineup?
You cannot sell a brand if you know nothing about it. You should take some time to research the product lineups at Hot Topic so that if you are faced with a question about their brand, you can answer it.
Helpful Research for Your Hot Topic Interview
Hot Topic was first started in 1988 as a fashion accessory store. As the need for music-related fashion and accessories rose, Hot Topic seized the opportunity and started rolling out apparel.
The company creates music inspired clothing and accessories that encompass popular bands, television shows, comic books, and more.
Hot Topic has roughly 600+ stores throughout the US to date.
What Employees Say About Working Here
Employees who work at Hot Topic are happy with their positions there. Many of them enjoy the atmosphere and enjoy being able to express their love for music.
Other employees say that working for Hot Topic is fun and the benefits you receive make the job even better.