Hooters Jobs & Careers – Application, How to Apply, Requirements & Interview Tips
Last Updated:
September 20th, 2019

by

If you want to work in an upbeat, fun, and sporty environment, then get ready to submit your Hooters job application today.

Hooters is a restaurant chain known for their sports bar atmosphere, beautiful waitresses, and delicious wings and fries. The company was first opened in Clearwater, FL in 1983.

Since the beginning of Hooters in 1983, the restaurant has grown to over 430 franchise locations throughout 28 difference countries.

The entire restaurant sports a beach theme, thanks to its origin, Clearwater, FL. In addition, you can find large screen TVs scattered throughout the dining area to immerse you in all of the hottest sports games on television.

Hooters is best known for their original chicken wings and curly fries. The company employs interested applicants to work in their restaurants. You may find yourself working as a signature Hooters Girl or as a general manager.

If you love the sports bar atmosphere, eating wings, and providing quality customer service, a job at Hooters may be the right move for you.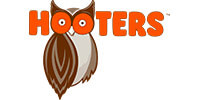 How to Apply for Employment at Hooters
To apply for a position at Hooters, the most commonly used method is through their online application wizard.
Application Information
Minimum Age Requirement: The minimum age required to work at Hooters is 18 years old.
Hours of Operation: Hooters is open Monday – Thursday from 11:00 am until 12:00 am, on Friday – Saturday from 11:00 am until 1:00 am, and on Sunday from 11:00 am until 10:00 pm.
Methods to Apply: Interested applicants can apply to Hooters by filling out and submitting an online job application.
Searching for an Open Position
To search for an open position at Hooters, you will need to visit the careers page first. You will be able to enter in any keywords, position type, or location to narrow down your results.
If you choose not to narrow down your results, you can click on the "view all open job positions" at the top of the page.
Once you have entered your criteria, press the search button. All open positions will be displayed and you can click on the title to view more information about the job requirements and more.
Applying for a Job
To apply for a position, click on the job title of the position the interests you. After reading the requirements, you can click on the apply button to the right on the screen.
You will then be asked to create an account on the website. You have multiple options for creating your account, so pay close attention.
Once your profile is created, you will be prompted to upload your resume. The next section asks for you to upload your profile picture depending on the type of position you are applying for.
After you have uploaded the required information, you will be taken to the employment application, which requires you to enter in personal information.
The next section asks questions about your age, eligibility to work in the US, the position you desire, and the date you can start.
The following sections include your educational background, any optional information about achievements, and your employment experience.
The last section requires you to enter in three references and then sign the application and submit it.

Application Tips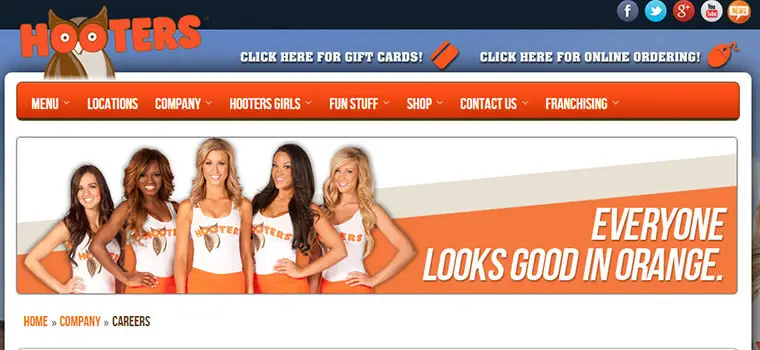 As you go through the application, it is not uncommon to come across questions you may not know how to answer thoroughly. Below, we will go over some tips to help you out.
Upload Your Resume
You should always upload your resume. If you do not, your application may not be picked right away. Your employer gets his or her first impression of you from your resume, so make it a good one.
Don't Panic about the Picture
Some of the positions you apply for will ask for you to upload a picture of yourself. You do not have to upload anything more than a headshot of yourself and you can choose the picture you use.
The positions that require a picture include a hostess and Hooters Girl. If you are not comfortable uploading your picture, you should contact the local restaurant to find out if you can go inside to apply.
You Need Professional References
The application asks for three professional references. It is important that you put in your best three. If you do not have all professional references, include educational references first and then personal references as your last resort.

Should You Follow Up?
You can follow up on a submitted job application by logging back into your account that you created when you first applied for a position.
From your dashboard, you can see the positions you applied to along with the status of it. You can update your profile and apply to additional jobs from here as well.
You can also follow up on a submitted job application by giving the hiring manager a couple of days to review the application and calling. When you call in, you should ask to speak directly with the hiring manager. If he or she is unavailable, ask when a better time to call back would be.
Positions and Salary Information
Hooters hires employees throughout its 430 restaurant locations. The company prides itself on hiring upbeat and energetic individuals who want to serve food, have fun, and bring Hooters to life for customers.
While working at Hooters, you may find yourself seating guests as a hostess or running the entire team as a restaurant manager.
Hostess – The Hostess is responsible for seating guests and welcoming them into an inviting atmosphere. As a Hostess, you can expect to make between $8 and $10 per hour.
Hooters Girl – The Hooters Girl is responsible for taking customers' orders and delivering food to their table. As a Hooters Girl, you can expect to make between $2 and $5 per hour plus tips.
Kitchen Staff – The Kitchen Staff is responsible for cooking all food according to customer request. The Kitchen Staff must also keep the kitchen area clean at all times. As part of the Kitchen Staff, you can expect to make between $9 and $12 per hour.
Bartender – The Bartender is responsible for taking drink orders, mixing drinks, and taking food orders from guests at the bar. As a Bartender, you can expect to make between $20,000 and $30,000 per year.
Assistant Manager – The Assistant Manager is responsible for managing employees and overseeing the production of all staff. As an Assistant Manager, you can expect to make between $40,000 and $47,000 per year.
Restaurant Manager – The Restaurant Manager is responsible for all operations within the restaurant including the financial goals and profit. He or she will oversee inventory control as well. As a Restaurant Manager, you can expect to make between $45,000 and $58,000 per year.
Best Entry-Level Positions
Hooters employs interested applicants for entry-level positions in their restaurant locations. These position are responsible for interacting with customers and providing quality service.
Those who are in entry-level positions can apply for management positions and move up into a leadership role.
Hostess
The Hostess is responsible for working as a team player and providing quality customer service to all guests who enter into the restaurant. He or she will always greet customers and ensure they are seated in a timely manner.
Hooters Girl
The Hooters Girl is responsible for providing customers with an entertaining experience. She should always be talkative, friendly, and willing to tell customers what food is delicious.
The Hooters Girl will take orders and ensure that customers' drinks are refilled in a timely manner. When food is ready, the Hooters Girl will make sure it is cooked according to Hooter's policy.
Kitchen Staff
The Kitchen Staff is responsible for ensuring that all food is made to order and as fresh as possible. The Kitchen Staff will take order receipts from the Hooters Girl and cook food according to the customers' request.
In this role, you will always inspect food to ensure it meets all food quality standards. No food should ever look subpar.
Bartender
The Bartender is responsible for taking orders at the bar, mixing drinks, and providing quality service. He or she will upsell items by suggesting promotional items and specials.
In this role, the Bartender will also keep the bar clean and work with Hooters Girls to ensure all customer orders are fulfilled.
Hooters Careers in Management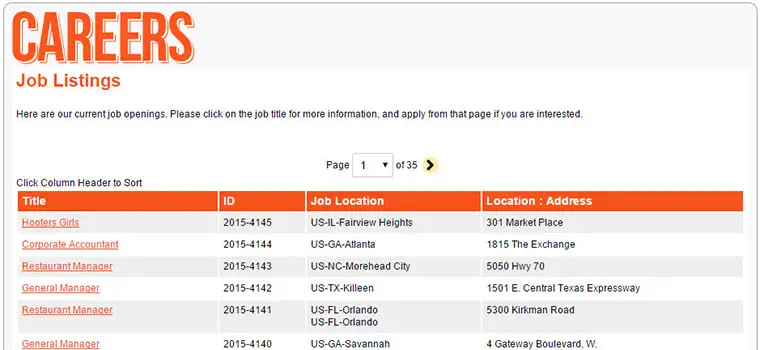 Hooters hires employees to work in management role in their restaurants. Entry-level positions can move into these roles and outside applicants can apply as well.
Full-time staff receive a number of benefits from the company including insurance and more.
Assistant Manager
The Assistant Manager is responsible for creating a great atmosphere for all employees to work in. He or she will lead and solve problems that arise within the restaurant.
The Assistant Manager also checks in on customers to ensure that they are happy and satisfied with their food. In addition, he or she will train new employees, discipline employees when necessary, and handle cash in the restaurant.
Restaurant Manager
The Restaurant Manager is responsible for overseeing all operations in the restaurant. He or she will ensure that customers are always happy and handle any complaints that arise.
In this role, the Restaurant Manager will help run the to-go service area, maintain the cleanliness of the restaurant, handle money, and keep track of inventory.
Interview Questions and Tips
As you get ready to go to your Hooters interview, it is important that you prepare so you are ready to answer questions as you are asked them. Below, we will go over some of the questions you may run into.
Why Do You Want to Work for Hooters?
If you are asked this question, be honest. Maybe you enjoy the atmosphere or maybe you want to be able to serve delicious wings on game day. The more honest you are, the more likely you are to get hired.
Are You Comfortable Wearing the Hooters Uniform?
You may be asked if you are comfortable wearing the uniform that Hooters requires. If you are not, you may want to think about a different position where you are not required to wear the uniform.
How Would You Handle an Upset Customer?
You may be asked how you would handle an upset customer. It is important to keep customer service in mind when coming up with your answer. You should always focus on providing the best service and making the situation right.
Helpful Research for Your Hooters Interview
Hooters was first founded in 1983 and opened its doors in Clearwater, Florida. The company served up delicious wings and fries that have become a staple in the restaurant to this day.
The restaurant is also known for their Hooters Girls who provide you with entertainment and fun the entire time you are inside the restaurant.
What Employees Say About Working Here
Employees working at Hooters say they love the environment and meet many nice people. Many of the employees say there are many opportunities to move up in the company and you do not have to wait years for movement.
Other employees say the management team is great and you can make a decent amount of money.