Hobby Lobby Jobs & Careers – Application, How to Apply, Requirements & Interview Tips
Last Updated:
June 15th, 2020

by

Turn your arts and crafts into a career and find out all about the Hobby Lobby job application process to increase your chances of doing what you love. You know what they say: "If you turn your hobby into your work, you never have to work a day in your life".

Hobby Lobby Stores, Inc. is a chain of arts and crafts stores in the United States. The company has over 800 stores across the country and offers customers arts, crafts, home décor, and seasonal products.

Hobby Lobby hires new employees for a variety of full-time and part-time positions. Popular jobs include Cashiers, Store Associates, and Stockers, to name a few.

Their corporate roles comprise Graphic Designer positions, Social Media work, and administrative roles.

The following guide will extensively explain Hobby Lobby's application and hiring process to help interested candidates land a job at the company.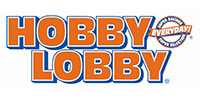 How to Apply for Employment at Hobby Lobby
When applying for a Hobby Lobby job, you must complete an online application for the specific position you're interested in.
Keep the following information in mind when applying for Holly Lobby jobs:
Application Information
Minimum Age Requirement: Applicants must be at least 16 years old to qualify for the most common jobs.
Hours of Operations: Hobby Lobby stores are open Mondays through Saturdays from 9:00 a.m. to 8:00 p.m. They're closed on Sundays.
Methods to Apply: Most applicants fill out an online application through the company's online career center, while others submit in-person, paper applications.
Applying Online
Hobby Lobby's online application is pretty straightforward and easy to navigate. You can view job openings by location and see which ones require full-time or part-time commitments.
Create An Account
Once you click on a job you like to apply to, you're prompted to create an account with the site. Once your account has been created, you can begin the online application.
When applying for available jobs, you should be prepared to provide your name, address, contact information, social security number, and other employment related identifying information. You'll also be asked to state your past employment history.
Application Tips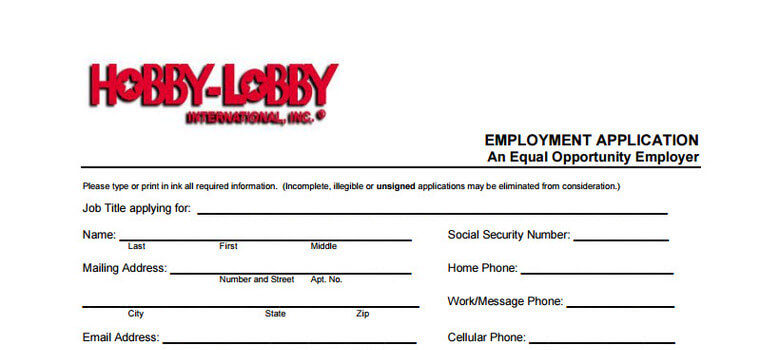 Entry-level candidates have the opportunity to fill out in-store paper applications. You should take advantage of this invitation to meet hiring managers and build rapport, before submitting your application.
Upper-level job seekers can still drop by to meet individuals, but have to apply for positions online. You must also submit a resume and cover letter with your application.
You will need to customize these resumes to the specific job. It's crucial that you incorporate keywords mentioned in the job descriptions. That way, you're showing transferable skills and presenting yourself as an ideal candidate for the job.
Should You Follow Up?
You should be proactive after submitting an online or in-person application. After one week has passed since submitting an application, call hiring managers to inquire about the hiring process and reiterate your interest in the position.
In addition to making phone calls, visit the stores you applied to in order to speak with managers directly. An in-person visit can show dedication and can be another great way to build rapport with the manager and rise above the competition.
Positions and Salary Information
Hobby Lobby provides a range of employment opportunities from cashiers to managerial roles. The most common jobs for hire comprise the following:
Cashiers – Employees who operate cash registers, greet customers and bag products. They interact with customers to ensure guests are having a pleasant experience. Applicants with little experience, but great interpersonal skills, are ideal for these jobs. The average cashier at Hobby Lobby makes $10 per hour.
Stockers – Stock shelves and measure inventory. They also ensure customers have access to merchandise. They're on hand to answer customer inquiries and direct customers to specific products. Stockers unload deliveries, organize the products, and stock the store shelves. Organized individuals with a great work ethic and customer service skills are perfect for these position. They earn $10 an hour.
Department Managers – They are in charge of a specific department within their store. They must ensure that the department is fully stocked and when inventory runs low, they're the ones who have to make the necessary orders. Additionally, Department Managers organize merchandise displays and presentations to attract customers. Throughout the day, to keep customers engaged, they also have to polish and clean their department. Organized individuals with great attention to detail are ideal candidates for these roles. Department Managers typically make $14 an hour.
Assistant Managers – Responsible for assisting Store Managers. They help train and develop new employees. Additionally, they have to enhance customer experiences and help the store meet financial goals. Ideal candidates have great customer service and leadership skills. They typically earn $15 per hour.
Store Managers – Manage their specific store's day-to-day operations, financial goals, merchandising, customer relations, and inventory. They wear many hats and have to be comfortable doing all of these managerial roles. Ideal candidates are organized individuals with extensive leadership experience. Store managers at Hobby Lobby typically make a yearly salary of $63,235.
Hobby Lobby also offers opportunities in corporate careers for individuals looking for employment in marketing, finance, auditing, and in several other departments.
Salaries for these jobs vary according to the specific position, its location, and the experience level of the applicants.
Find Local Hobby Lobby Jobs Near You!
Best Entry-Level Positions
Hobby Lobby provides entry-level positions for aspiring employees, mainly in cashier and stocker roles. Below is some further information on these two entry-level jobs.
Cashiers
They operate the registers, handle all cash and card transactions. Cashiers also greet customers, answer any questions, and ring up purchases.
They have to be knowledgeable about the store's promotions and services in order to accurately answer all inquiries Aspiring Cashiers must be at least 16 years old to qualify for these jobs.
Hobby Lobby provides both part-time and full-time shifts for Cashiers. Ideal candidates have great interpersonal skills, can work efficiently and quickly, and multi-task duties.
Stockers
Stockers are in charge of stocking shelves and making it easier for customers to access products. They unload and unpack deliveries for their store's shelves.
They manage inventory and order new merchandise when their store is running low.
Additional duties involve locating items for customers and cleaning the store.
You do not need to have experience for these jobs, but you need to be at least 16. Ideal candidates have great customer service skills and stamina, as they often have to lift and move heavy items.
Seasonal Job Openings
Hobby Lobby offers seasonal job opportunities during peak, busy seasons. Peak seasons include Christmas, Summer, Black Friday, and other holidays/vacations.
The company mainly employs seasonal cashiers during these times in order to keep up with the influx of customers at the stores.
Seasonal cashiers perform all of the duties that Cashiers and Stockers do during the season they're hired. Once the busy season ends, they automatically terminate the employment of these seasonal workers. They make $10 per hour.
Hobby Lobby Careers in Management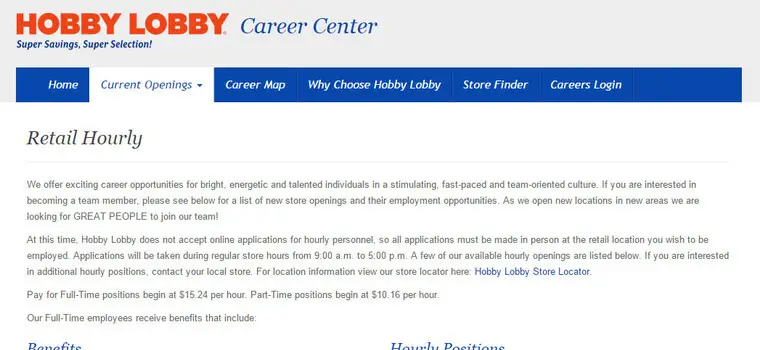 Hobby Lobby careers in management mainly comprise Department Managers, Assistant Managers and Store Managers. Applicants for these jobs must fulfill their respective requirements.
Department Managers and Assistant Managers require a high school diploma although an associate's degree is preferred.
Store Managers require a college degree or equivalent experience, and must have managerial experience.
Department Manager
Department Managers are in charge of their specific departments. They order new merchandise, manage the store's stocking needs, organize merchandise displays, and clean up their departments.
During busy hours, Department Managers also double as cashiers, quickly ringing up purchases. Ideal candidates for these roles are self-motivated and can work in a fast-paced environment.
Previous retail experience, while not required, is preferred. Department managers also need stamina in order to handle their demanding duties.
Assistant Manager
Assistant Managers assist Store Managers in the successful day-to-day operations of the store. They train new employees, improve customer experiences and target financial goals.
Store Managers work closely with their Assistant Managers to hire new employees, manage their professional development, and implement plans to achieve financial milestones.
Aspiring employees for either of these roles should have great leadership, communication, and interpersonal skills.
Interview Tips
Hobby Lobby utilizes a multi-step interview process before selecting candidates. Applicants who are proactive throughout the interview process and call the stores are typically the ones who managers hire.
The first part of the Hobby Lobby interview consists of a one-on-one session with the Store Manager before they take additional interview steps. Additional steps can include administering math tests to candidates, more specifically to the aspiring managers.
How To Dress And What To Bring
As with any interview, you should dress in professional, business attire if you're applying for managerial roles and business casual attire for entry-level, retail jobs. Bring copies of your resume and prepare to provide potential references upon request.
Possible Interview Questions
As an applicant, prepare to answer standard retail questions centered on customer service and hypothetical scenarios.
Due to the nature of the stores, your interviewer may also ask you about your interest in arts and crafts. While not essential, a general interest in the topic is preferred.
Below are some possible questions to expect and answers to provide based on different Hobby Lobby jobs:
Why Do You Want To Work At Hobby Lobby?
To answer these types of questions, you should pull from the research you've conducted about the company.
One great way to answer this question is to discuss the company's values and demonstrate a belief in these values.
So, an appropriate answer could be, "I want to work for a company that shares my values in life. I try to live a modest, altruistic life, one where I get to interact with people from diverse backgrounds and offer them assistance. Nothing makes me happier than seeing a smile on the people I've just helped."
"I'm also a positive person, who likes to work in a cooperative and supportive environment by creating mutual relations with others. Hobby Lobby stands for all of these values and commitments. I would greatly enjoy the opportunity to work at such a company."
Would You Be Interested In Moving To Another Department If We Needed You There?
Interviewers are testing your versatility and ability to rise to any occasion with this question. You'll need to demonstrate that your focus is on the store's success and not on any personal goals.
So, a great answer to this question might be, "Yes, I would move to another department. If I were a part of the department management team, I'd know I was working toward a collaborative effort to enhance customer experiences and maximize sales."
"By denying a move that my manager asked of me, such as taking on another department, I'd be letting my team down and wouldn't be doing my job right. I'd find no fulfillment in either of those scenarios."
Are You Scared To Work Long Hours?
Hobby Lobby employees generally work long hour shifts. The purpose of this question is to weed out the hard working candidates from the idle ones.
When answering this question, you should demonstrate your strong work ethic.
You could answer with, "That would be no problem for me. Nothing makes me happier or makes me feel more fulfilled than doing my job right."
When applying for the position of Store Manager, you can follow this up with "As Store Manager I'd oversee the entire operations of a single store and would need to be there from it's opening until its closing, in order to do my job effectively. To get through those hours I'd focus on the end results, the happiness of my customers, and the motivation of the employees. By doing so, I myself become self-motivated."
There are several other Hobby Lobby interview questions that candidates can look over and practice.
Helpful Information for Your Hobby Lobby Interview
Hobby Lobby was founded in 1970 by the Green family (David and Barbara Green).
Two years earlier, the entrepreneurs along with their family started making picture frames in their garage. Now, the company has 800 stores across the country and has its headquarters in Oklahoma City, Oklahoma.
David Green is the company's CEO.
The company aims to help its customers Live a Creative Life™! by providing a variety of arts and crafts merchandise. Hobby Lobby also has a Christian focus and is committed to the following:
Honoring the Lord by conducting business honestly, based on Biblical principles.
Offering customers great merchandise and services.
Serving employees and their families by creating a good work environment, building character, and nurturing families.
Sharing the Lord's blessings with employees and investing in their community.
What Employees Say About Working At Hobby Lobby
Based on Hobby Lobby's Glassdoor reviews, Hobby Lobby scores a 3.2 rating out of 5 from employees who've submitted online reviews.
53% of the same employees say they'd recommend the company to a friend, while 62% approve of the current CEO David Green.
Employees generally enjoy working at Hobby Lobby and they give several reasons as to why this is so. One prominent reason is the pay.
Many reviewers approved of how much they made for the work they performed. Employees also liked their coworkers, the flexible hours, and the general family-like atmosphere.
Reviewers also commented on the job variance. They enjoyed doing training in different areas.
Popular complaints about working at Hobby Lobby are the long shifts, demanding workloads, and the strict company policies.