H&M Jobs & Careers – Application, How to Apply, Requirements & Interview Tips
Last Updated:
July 17th, 2020

by

If you have a love for fashion from accessories to the whole outfit, fill out and submit your H&M job application today.

As a fashion-driven individual, you can let your unique style shine through with a job at H&M. Your day will be filled with excitement as you help customers find the right outfits that speak volumes.

The company is focused on providing only the best offerings to customers throughout each store.

H&M provides a number of employment opportunities at all of their stores throughout the world including working as a sales advisor to leading the entire group as a store manager.

Let your personality and fashion inspiration glow while working for H&M. You are sure to find a position that meets your needs.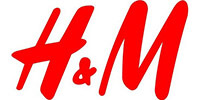 How to Apply for Employment at H&M
To apply for a position at H&M, the most commonly used method is submitting an application directly online.
Application Information
Minimum Age Requirement: The minimum age for employment at H&M is 18.
Hours of Operation: H&M is open Monday – Saturday from 10:00 a.m. until 9:00 p.m. and on Sunday from 12:00 p.m. until 6:00 p.m.
Methods to Apply: Interested applicants can apply to H&M by filling out and submitting an online application.
Searching for an Open Position
To find an open position at H&M, you will need to first search for a position. You can do this by visiting the H&M job search wizard.
You can filter open positions by category, region, city, and type of job. Once you have filtered your results, you will see all open positions that meet your criteria.
To view the requirements for a position, simply click on the title of the job.
Applying for a Job
To apply for a job position, you should click on the job title of a position that interests you and then click the "apply" button.
You will then be directed to create an account on the website. Once you create your account, you will then be taken to the online application.
The first section of the application asks you to upload your CV or resume to the site. Next, you will need to fill in your personal information and your availability details.
The next section you are taken to is a questionnaire, which will ask you about your sales and retail experience.
You will then be prompted to attach your resume and cover letter, if you did not do so in the beginning. The last sections include information about your work experience and education.
Once done, you can submit the application to the store.
Application Tips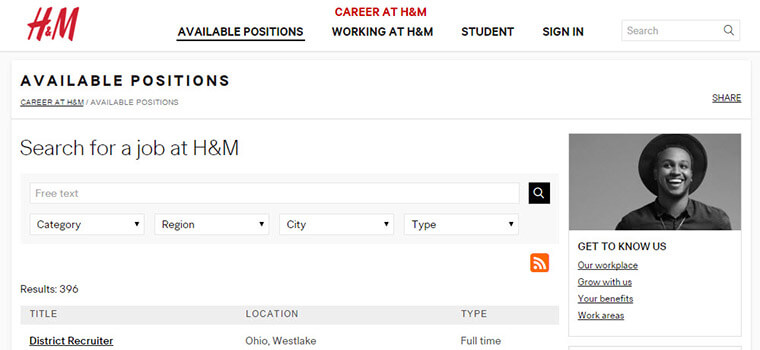 When you are filling out your application, you will run into some questions that may be difficult for you to answer. Below, we will go over some tips to help you, which will make the application process a breeze.
Are You Qualified?
Before you fill out the application for your desired position, are you qualified to work in that role? Make sure you read over and understand the requirements and skilled needed, otherwise, they may deny your application.
Don't Forget Your Cover Letter
When you are applying for a position at H&M, they may ask you to submit a cover letter. If you are, don't forget about it and make sure you prepare one. The cover letter should detail why you are the right fit for the position you are applying to.
Fill Out the Application Completely
If you leave information off of the application or you skip too many boxes, it will look like you are trying to avoid answering the questions.
Make sure you spend time going through the whole application and never intentionally leave information off as your potential employer may view this negatively.
Should You Follow Up?
You can follow up on a job application by logging into the account you created when you first applied. Once logged in, you will be able to see all of your job application submissions and the status of them.
H&M will contact you within two weeks if you meet all of the requirements for the position. Typically, the company will contact you via email or telephone to arrange an interview.
Positions and Salary Information
H&M is one of the leading fashion retailers throughout the world. H&M provides cost-conscious fashion throughout their over 4,800 stores that appear in 69 different markets throughout the world.
The company offers many levels of employment from entry-level positions as a sales advisor to upper management positions as a store manager.
Sales Advisor – The Sales Advisor is responsible for helping customers. He or she will also make sales and direct customers to the correct areas of the store to meet their needs. As a Sales Advisor, you can expect to make between $8 and $15 per hour.
Visual Merchandiser – The Visual Merchandiser is responsible for placing garments throughout the store in a neat manner. He or she will follow all policies set forth to arrange and display the clothing and accessories. As a Visual Merchandiser, you can expect to make between $13 and $24 per hour.
Department Manager – The Department Manager is responsible for set priorities and ensuring staff have activities to perform daily. He or she will oversee operations in his or her assigned department. As a Department Manager, you can expect to make between $18 and $26 per hour.
Store Manager – The Store Manager is responsible for all operations in the store. He or she will lead by example, recruit, and train all employees. In addition, the Store Manager will ensure profitability throughout the store. As a Store Manager, you can expect to make between $49,000 and $76,000 per year.
Best Entry-Level Positions
H&M offers a couple of entry-level positions in their stores. These positions are great stepping stones for first-time job holders and employees who are looking to advance their careers.
Entry-level positions are an important part of H&M and the company provides a fun and upbeat atmosphere for you to learn and thrive in.
Sales Advisor
The Sales Advisor is responsible for providing exceptional customer service while helping customers find the items they need. He or she will answer the phones, operate the cash register, and ensure the store stays neat.
The Sales Advisor will also work to keep the shelves and garment racks full at all times.
Visual Merchandiser
The Visual Merchandiser is responsible for setting up all garments and accessories throughout the store according to the policies of H&M. In this role, you will help maximize sales by strategically placing garments near the fitting rooms and check out areas.
H&M Careers in Management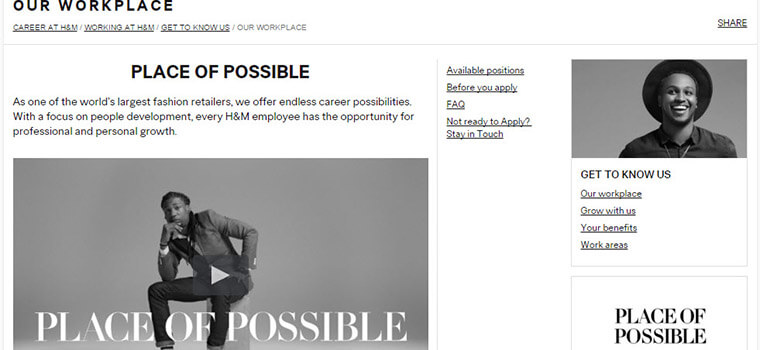 H&M offers a number of management careers to in-house employees and new applicants. The management employees at H&M are responsible for ensuring the store meets all goals set forth and that customer service is a priority.
If you are looking to grow with a company and advance your career, a management position at H&M may be the right fit for you.
Department Manager
The Department Manager is responsible for helping to recruit and train employees for the department he or she manages. In this role, you will be responsible for maintaining your department and ensuring you hit all financial goals set forth.
The Department Manager will oversee the entire department and provide a great a positive environment for all employees.
Store Manager
As a Store Manager, it is your responsibility to maximize sales throughout the store and increase the overall profitability of the company. The Store Manager will also lead all employees and ensure everyone is meeting the goals that have been set.
In this role, you will also recruit and train employees to ensure they understand the company's policies. Lastly, the Store Manager will ensure a happy and positive work environment.
Interview Questions and Tips
When you go in for an interview at H&M, you may be surprised by some of the questions the interviewer may ask you, especially if you did not properly prepare. The questions below are some that they may ask you during your interview.
Why Should We Hire You?
They may ask you why they should hire you. You can answer this question by listing your skills, experience, and achievements. For instance, you could tell the interviewer that they should hire you because you are hardworking and want to help the brand succeed.
What Are Your Weaknesses?
If you are asked this question, take a deep breath. Everyone has a weakness or two and there is no right or wrong answer. You should consider what you could improve at and then explain to the interviewer what your weakness is and how you plan to improve upon it.
Do You See a Future with H&M?
While retailers know that you may not keep this job forever, it is important that you do not give them the impression that you are just there to make a quick couple bucks and run. If you do plan to move up into a management position, let them know that, too.
Helpful Research for Your H&M Interview
H&M has over over 4,800 stores throughout 69 different markets in the world. The company plans to expand its operations up to 15% every year.
H&M is one of the world's largest fashion retailers and the company believe in offering every employee the opportunity to glow and rise up throughout the company.
The company has a mission to be sustainable and to always be cost-conscious for the consumer.
What Employees Say About Working Here
Employees who work at H&M are happy with their roles within the company. Many of the employees say that the company encourages a work-life balance, which they appreciate.
In addition, many of the employees are happy with their management teams and the compensation they receive for the work they perform.
Overall, employees seem to enjoy working at H&M.