Hallmark
Last Updated:
September 20th, 2019

by

If sentiments and expressing your thoughts through a poem is your way of telling others how you feel, then get ready to fill out and submit your Hallmark job application today.

Hallmark is a greeting card store that carries a variety of products from sentimental ornaments to cards and more. Customers can find the right gift and words for any occasion at their local Hallmark.

The company was founded more than 100 years ago and has exploded to become one of the largest greeting card retailers in the US. The company has more than 30,000 locations throughout the United States and does over $3 billion in sales annually.

In addition to their individual store locations, Hallmark offers items for sale online and customers love the ecommerce side of the company as well.

Working at Hallmark allows you to help others find the right things to say to those whom they love. You may find yourself working in a store location as a sales associate or as a manager.

If you want to work in a retail setting that experiences an array of customers' emotions and help them find the right gifts, then a career at Hallmark may be the right move for you.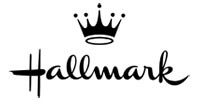 How to Apply for Employment at Hallmark
To apply for a position at Hallmark, the most commonly used method is through their online application system.
Application Information
Minimum Age Requirement: The minimum age required to work at Hallmark is 18 years old.
Hours of Operation: Hallmark is open Monday – Saturday from 10:00 am until 8:00 pm and on Sunday from 11:00 am until 5:00 pm. Hours may vary by location.
Methods to Apply: Interested applicants can apply for a job at Hallmark by submitting an online application.
Searching for an Open Position
To search for a position at Hallmark, you will need to first visit the job search page. From here, you will need to enter in the professional area you are looking for a job in, your location, and any related keywords.
Once you have entered in your criteria, click the search button. A list of available positions meeting your criteria will be displayed for you.
To view more information about the position, click on the vacancy number.
Applying for a Job
To apply for a position at Hallmark, you will need to perform a job search using the steps above. From there, you will need to identify the position you want to apply for and click on the vacancy number.
When you are ready to apply for your desired position, scroll to the bottom of the page as you must read a disclosure before applying. Next, click the apply button and create an account.
Once your account is created, you will be prompted to upload your resume. The first section of the application involves your personal details. You have the option to upload additional documents to show your qualifications as well.
After your personal information, you will be prompted to enter in your employment history, education qualifications, and additional qualifications.
The last sections include another area to enter in your resume, some basic questions about your skills, and then disability information.
Once you are done, you can sign and submit your application for consideration.
Application Tips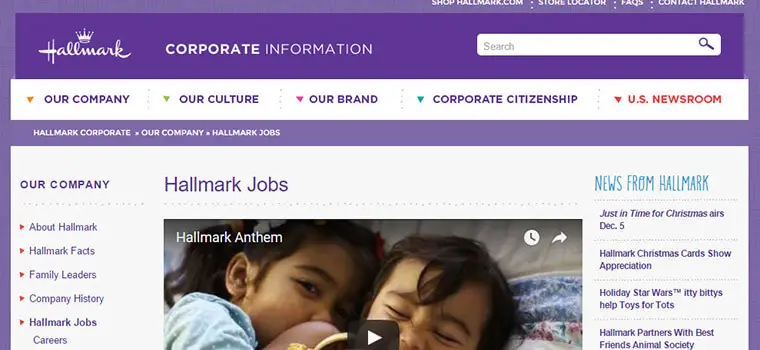 As you go through the application, you may be confused about some of the questions. Below, we will go over some tips to help you.
Always Upload Your Certifications If You Have Any
If you are applying for a position that requires additional certifications, you want to make sure you upload them with your resume.
For example, if you want to work in a specific position that requires you to operate machinery, you may need to have a license or certification. Showing that you have these qualifications will help expedite your application.
Make Sure Your Resume is Ready
The application asks for you to upload your resume; however, you can skip this section, but it is not recommended.
It is important that you have a resume on hand at all times and if you do not have one, make sure you create one.
If you are unsure of what to put on your resume, you should include your educational background, your work history, and your skills or qualifications.
Don't Underestimate Your Skills
You do not want to underestimate your skills when filling out your application. There is a section where you can add your skills, accomplishments, and more.
When you do upload this information, make sure you do not exaggerate as you may be asked to prove or test your skills.
Should You Follow Up?
You can follow up on a submitted job application by logging back into the account that you created when you initially applied. Once logged in, you will be able to view the jobs you applied to and the status of your application.
In addition, you can call the store that you applied to. When you do call, make sure you ask to speak directly to the hiring manager. If he or she is unavailable, ask when a better time to call back would be.
Before you do call in to the company, make sure you give the hiring manager enough time to review your application.
Positions and Salary Information
Hallmark hires employees to work in their 30,000 retail locations throughout the US. There are a number of entry-level and management opportunities for you to choose from.
Each position in the company is important and every employee is treated like family. If you enjoy working with customers and helping them find the right gifts to give on special occasions, then a position at Hallmark may be right for you.
Sales Associate – The Sales Associate will help customers find products and complete transactions for purchases. As a Sales Associate, you can expect to make between $8 and $10 per hour.
Key Holder – The Key Holder will open and close the store as assigned. He or she will also lend a hand to the Sales Associates. As a Key Holder, you can expect to make between $9 and $11 per hour.
Assistant Manager – The Assistant Manager is responsible for making sure that all assigned goals and activities are met on a daily basis. As an Assistant Manager, you can expect to make between $13 and $15 per hour.
Store Manager – The Store Manager will oversee all operations that take place in the store. He or she will hire new employees as well. As a Store Manager, you can expect to make between $40,000 and $50,000 per year.
Best Entry-Level Positions
Hallmark offers a variety of entry-level positions to help give you a jump start on your career. These positions interact face-to-face with customers and are the heart of the company.
Each entry-level position can lead you into a management position, if you choose to advance your career.
Sales Associate
The Sales Associate is responsible for providing superior customer service to all guests who come into the store. He or she will operate the cash register, help customers find the products they need, and keep up with general housekeeping of the store.
The Sales Associate will ensure that all shelves are properly stocked and inventory is displayed nicely on the shelves.
Key Holder
The Key Holder is responsible for performing assigned duties around the store. He or she will help customers check out when the line is backed up and the store is busy.
In addition, the Key Holder will open or close the store depending on their shift.
Hallmark Careers in Management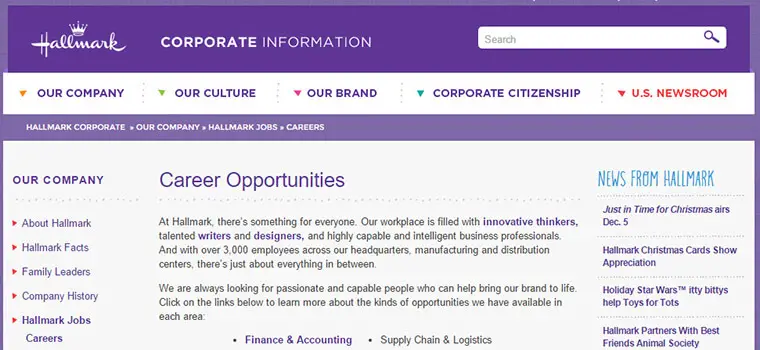 Hallmark offers management positions to those who wish to take on more responsibility and work in a leadership role. You will be in charge of leading team members and providing support to them when needed. Full-time employees enjoy benefits from the company as well.
Assistant Manager
The Assistant Manager is responsible for overseeing the store operations when the Store Manager is not in. He or she will help customers and address any complaints or concerns customers have.
The Assistant Manager will assign daily duties to sales associates and see that all goals are met.
Store Manager
The Store Manager is responsible for overseeing all operations within the store. He or she will set financial goals for the store and ensure that the store is profitable.
The Store Manager will hire new employees, set the schedule, and also manage payroll for all employees.
Interview Questions and Tips
When you go in for your Hallmark interview, it helps to be prepared for it. If you are not, you may find yourself stumbling on the questions. Below, we will go over some questions you may be asked.
If You Saw a Customer Stealing What Would You Do?
This is a tough question, but one that you may encounter. When you answer this question, you want to keep the store policy in mind and of course, your safety.
You could let the interviewer know that you would follow all company procedures to properly handle the situation including alerting authorities.
What Would You Do if You and an Employee Disagreed?
This is another tough question that you may face in your interview. It is important that you do not say that you would argue with another employee.
You should work out a resolution to the problem and if one cannot be reached, consult with your management team.
Do You Enjoy Working as a Team?
Since Hallmark employees work in a team environment and not solo, you will want to make sure that you enjoy working with others.
You may be asked to explain a time when you worked with a team to solve a problem as well.
Helpful Research for Your Hallmark Interview
Hallmark has been in business for over 100 years and brings a variety of products to customers to help them laugh, love, and cry together.
The company has over 30,000 retail locations with many of them in malls throughout the US. The company has grossed over three billion dollars in sales a year and continues to grow at a rapid rate.
What Employees Say About Working Here
Employees working at Hallmark are happy with their positions in the company. Many of them say that the atmosphere is great and that you are able to communicate efficiently with the management team.
In addition, employees have said that you can move up throughout the company and your hard work never goes unrecognized.