F.Y.E. Jobs & Careers – Application, How to Apply, Requirements & Interview Tips
Last Updated:
September 20th, 2019

by

Fill out an f.y.e. job application and launch a career where you are challenged to contribute, grow, think, dream, and create!

The f.y.e. program sets the stage for success by directing individuals to explore their full potential.

Do you dream of a career in a fun industry where the sky is literally the limit? Imagine getting paid to talk about movies, music, video games, and electronics.

Intrigued? The retail entertainment industry could be your ideal job choice. A division of Trans World Entertainment, f.y.e. (For Your Entertainment) offers the ultimate shopping experience for entertainment media products.

Their standard for recruiting talent is not just about hiring "workers." The company seeks out fans of different genres and styles of music and movies for every level of the organization.

At f.y.e., employees enjoy an environment that embraces imagination and promotes a fun consumer experience.

If you have what it takes to thrive in a happening, constantly changing environment, this guide will provide valuable tips on how to land a hip job in retail sales at one of the 350 f.y.e. stores across the country.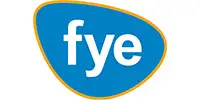 How to Apply for Employment at F.Y.E.
Applying for a job at any f.y.e. retail store is a simple process.
The company provides a robust online application process for prospective employees. All applications, regardless of position or desired store location, are accepted online.
Application Information
Minimum Age Requirement: The minimum age for employment at any f.y.e. retail location is 16. Minors (age 16 to 18) must include proper work permits in order to be considered for hire. Local school systems, or any state's Department of Labor, will provide work permit information.
Hours of Operation:Y.E. stores operate Monday through Saturday: 10:00 a.m.to 9:00 p.m. and Noon to 6 p.m. on Sunday.
Methods to Apply: Applicants interested in employment at f.y.e or any Trans World Entertainment affiliate may establish a personal profile, search job openings, and apply online. Just go to the Trans World Entertainment Website and select Careers. From this page, you can learn more about Trans World Entertainment, compare the Benefits offered to employees, search open employment opportunities at all f.y.e. stores and other corporate departments, and even check out "Frequently Asked Questions" about the application process.
Applying Online
To select a position at a specific f.y.e. store go to the Stores tab on the employment page. This link will provide an Apply Now option which will take you to the automated application manager.
All open store positions are listed by location/division and may be searched by user criteria, including date posted. Interested candidates for employment may place locations and job titles in a shopping cart to apply, save for future reference, or be placed on a notification list for future openings.
Once a position is chosen and the "Apply Now" button selected you will be sent to the Account Log In page.
Creating an Account
To access an account both a "User Name" and "Password" are required. If you haven't established a user account with Trans World Entertainment, don't worry: it's a simple process. In the lower left corner of the "Log In" page select the "Click Here to Create a Login" and fill in the requested form information.
Note: the site will not accept the form unless all fields are entered.
You will need to complete the required profile page to apply for open positions. Once the form is saved you may use it for future applications for any Trans World Corporate opportunities, including f.y.e. jobs.
You can also save up to five resumes for future use.
Once You've Finished…
Applications submitted online for positions with f.y.e. are directed to the store or department specified on the application. If your qualifications and availability fit the requirements of the open job description, you will be contacted to schedule an interview.
The online application process provides guidelines and tips on every page. A customer service department is available to answer question or to express concerns.
Application Tips
Allow Yourself Enough Time
First off, make sure to allow enough time to complete your profile page, upload resume(s), and fill in the requested application forms. Free public computer systems such as those at local libraries may limit user time so make preparations to have at least one hour of computer use.
Fill out Everything Honestly and Thoroughly
As with any job application process, the devil is in the details.
Complete the entire application form as thoroughly and honestly as possible. The application is your ticket for an interview so don't take short cuts or fluff your qualifications.
Do enter your club memberships (including offices held), volunteer organizations, and activities. Employers value team players so use the opportunity to show your stuff.
Read the online application questions completely. Understand the guidelines. Follow the instructions. Make sure all required fields are entered.
In most cases the automated review system will not allow you to pass to the next page if there are omissions.
What Experience Do Yo Need?
Entry-level f.y.e. store associates are not required to have previous retail experience, certifications, licenses, or formal education.
The successful f.y.e applicant will demonstrate personality, creativity, and ambition.
A background in or knowledge of movies, music, electronics, or video games will definitely provide bonus points for potential hire.
The f.y.e. on-the-job experience offers a great learning opportunity and professional skill building, especially in sales and customer service areas.
Should You Follow Up?
Successfully completing an application on the Trans World Entertainment corporate website will create an immediate "application successfully received" message to the applicant.
To check the application status, a candidate can log on to the job submission status section from their profile page.  A menu of "My Jobs" is available listing the applications submitted and jobs "Saved to Cart" for future submission.
Hiring managers respond to applicants for designated jobs one to two weeks after reviewing the application. Email, direct mail, or phone calls may be directed to human resource/hiring personnel to check on interview schedules.
A follow-up courtesy message a few days after an interview is always a good practice and a great way to determine your rank for a specific job.
Positions and Salary Information
Working at an f.y.e. store location offers job opportunities from part-time sales associates to store manager.
Store associates at all levels receive training in merchandising, customer service skills, cash register operations, retail sales, and gain valuable product knowledge. The experience prepares entry-level employees for future jobs in sales, marketing, retailing, and management, to name a few.
Store managers will work with students and candidates without proven job skills who are interested in entry level employment.
Salaries vary across stores and are based on state laws and regulations.
Sales Associate
This position includes part-time, full-time, and seasonal employment. Sale Associate duties include operating cash registers, merchandising products, cleaning the store, and bagging purchases.
Sales Associates are hired to provide exceptional customer service. Sales Associate positions are considered entry-level, with a minimum wage salary as determined by state law.
Assistant Manager
Assistant Managers are considered sales leads. The Assistant Manager guides and offers supervisory assistance, as well as helping store managers with the day-to-day operations of the store.
Assistant Managers are full-time employees with at least one year of experience in retail sales, proven customer service experience, and leadership skills. They wear many hats, including trainer, recruiter, scheduler, merchandiser, and sales rock star.
The expected annual salary for an f.y.e. assistant manager is $22,000 to $26,000.
Store Manager
Store Managers handle the resources supporting the overall success of the store. They hire, fire and manage local personnel, and are responsible for the profits and loss of sales at individual location.
All store personnel report to the store manager.
The annual salary for f.y.e. store managers is $41,000 to $46,000. The national average is reported at $43,000 for comparable positions.
Benefits of Entry Level Positions
Individuals interested in a career in the retail entertainment industry, who require a flexible work schedule, or are simply looking to gain beneficial work experience, may find f.y.e. the perfect choice for an entry-level job. Sales Associate positions are available in full-time, part-time, and seasonal employment.
The company offers merit pay and bonus pay for performance in addition to base salaries.
Store associates are provided with branded f.y.e. uniform shirts to be worn over dark (black or khaki) slacks or skirts.
Comprehensive benefits packages are offered to part-time and full-time employees. Qualified employees also receive healthcare coverage including dental, life, and dependent care.
Additional benefits include 401K retirement plans, paid time off, paid holidays, and employee discounts.
F.Y.E Careers in Management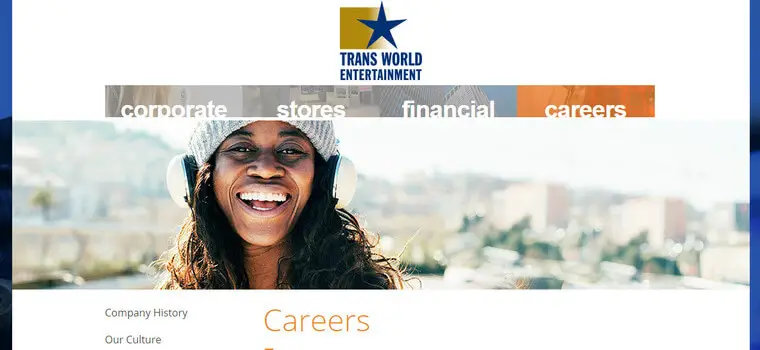 Management opportunities at f.y.e are not limited to the retail store environment. Other management positions include field managers, corporate managers, and warehouse and distribution management.
The company rewards excellence and promotes from within.
Field Manager
Field Managers are considered multi-unit experts.
They handle every aspect of operations in their assigned area. They understand market opportunities and work to put the right people in the right job at the right time of their career.
Field managers provide the critical link between the corporate office and the local store operations.
Corporate Manager
Corporate managers are typically located at Trans World Entertainment headquarters in Albany, New York. Areas of expertise include
Merchandising
Marketing
Finance
Information Technology
Human Resources
Loss Prevention
Store Services
Customer Support
Warehouse and Distribution
Interview Tips & Possible Interview Questions
You won an interview—congratulations! Now, don't blow it.
Don't think you can wing it on personality alone. Do your homework. Learn all you can about f.y.e. and the industry competition.
Dress for success, arrive on time (better still, 5-10 minutes early) and print a copy of your resume to bring it for the interviewer.
There are several questions you can be sure the hiring manager will ask.
Why Do You Want to Work at F.Y.E?
Think about your skills and talents and how they fit you for working at an f.y.e. store. Talk about your personal experiences as an f.y.e. customer.
What Are Your Qualifications to Work at an F.YE. Store?
Prepare to discuss previous relevant employment, experience with clubs or volunteer organizations, and any exceptional knowledge you have about entertainment products. Discuss your goal to gain valuable work experience and retail training, and to participate as a team player.
What Entertainment Products Are You Most Interested In?
Memorize the names of your top 5 favorite movies, CDs, or video games.
How Would You Handle a Dissatisfied Customer?
Buzz words here are "always remain courteous and polite." Don't be afraid to say you would call the manager on duty for assistance – a manager would expect to be notified of any customer issues.
General Tips
Demonstrate confidence but not cockiness. Few managers select a potential employee who acts like they might be difficult to manage.
Communication skills are critical in retail sales. Speak with a clear voice, don't fidget, make eye contact and remember to SMILE.
At the end thank the interviewer for his or her time. Follow up with a thank-you note detailing one or two points about your skills and why you want the job.
In a couple of weeks, if you haven't heard from the company, contact the store manager or corporate human resources to check if the job was filled.
Keep a positive attitude. If you weren't selected this time ask if the manager to hold your application for a future opening.
Helpful Research for Your F.Y.E. Interview
The entertainment industry is BIG business. The US Commerce Department reported $546 billion in revenues in 2014, and the industry continues to grow.
Trans World Entertainment is the parent company of f.y.e. retail stores. Founded in 1972 by Robert Higgins, the company merged its mall-based retail portfolio and web-based sales site under the For Your Entertainment (f.y.e.) brand name in 2001.
Combining the two operations created a robust, convenient, cross-channel experience for customers. Today f.y.e. operates 350 retail stores across the country ranging in size from the 3,000 square ft. mall store to the 25,000 square ft. superstore.
The infrastructure also includes an industry-leading consumer website at fye.com.
Trans World Entertainment, including the f.y.e. brand, is considered a leader and pioneer in the retail entertainment industry.
What Employees Say About Working Here
Employees working in f.y.e. stores report that they enjoy working in the fast pace of a retail environment and really enjoy working with their co-workers. The exciting, entertainment based concept and merchandise creates a fun experience for customers and for store associates.
Many workers cite f.y.e. merchandise discounts as a perk, and Associates appreciate having flexible work schedules.
Entry-level employees also benefited from the opportunity to learn and gain valuable work experience.