Forever 21 Jobs & Careers – Application, How to Apply, Requirements & Interview Tips
Last Updated:
September 20th, 2019

by

Employees who fill out a Forever 21 job application are signing up to be a part of something bigger than just punching a clock.

For 30 years, the fifth largest specialty retailer in the United States has been donating to charities, including the Humane Society of the United States, the American Red Cross, and Susan G. Komen for the Cure.

The company follows a strict environmentally friendly policy, and demands fair working conditions for vendor and affiliate employees.

If you're looking to land a job with Forever 21, the following Land Your Life-exclusive guide will teach you how to present the best of you to the hiring manager.

This family-owned business is planning to open 600 new stores by 2017, for which it will hire thousands of new employees. To score one of these positions, highlight your talents, your love for fashion and your favorite ways to give back to the community on your application.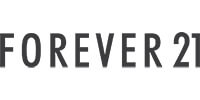 How to Apply for Employment at Forever 21
If you want to make a difference in the world while earning discounts on some of the country's most fashionable clothes, Forever 21 has the right job for you.
Not only does the company support online and in store applications, Forever 21 hosts job fairs, searching for just the right candidates.
Application Information
Minimum Age Requirement: Applicants hoping to land a job at Forever 21 must be at least 16 years of age. There are several reasons the company could have made this requirement. In the United States, teens under the age of 16 are not permitted to work past 7 p.m. Sixteen-year-old candidates may also have retail fashion experience from their first two years of employment eligibility.
Hours of Operation: Most Forever 21 locations open at 10 a.m. local time and close at 9 p.m. daily. Sunday hours are shorter, often 12 p.m. to 6 p.m. The stunted hours are a plus for student workers, allowing time to finish Monday's term paper or to cram for a midterm.
Methods of Application: After you've determined that you would make a great candidate for Forever 21, you will have to decide how you want to apply. Some applicants take the chance of applying in store (download a PDF application here) in hopes of catching the hiring manager for an immediate interview. Search Forever 21 locations here to find the nearest store to you. The company also hosts a job seeker portal, where candidates can submit a resume online. Search for a job matching your qualifications here. For applicants with a Monster profile, Forever 21 offers an Apply with Monster option. After signing in, one click will submit your resume and cover letter. Finally, applicants can meet Forever 21 hiring managers at sponsored job fairs. Find the next meet and greet near you here.
Uploading Information to the Forever 21 Application From Your Resume
Starting the online application process at Forever21.com requires information from your resume.
Candidates may upload content from a Monster profile, upload a resume, import from LinkedIn or fill out the information manually.
If you don't have a resume readily available, make a list of your schools, past jobs and references prior to beginning the application. This will help the process sail along more smoothly.
How to Best Set Up Your Application Account
First-time applicants are required to create a user name and password, which will help track their resume after submission, and provide an email address.
It is important to keep these choices professional. Choose a username that is a combination of your first and last name.
Ditch your fifth grade email address, [email protected], and any email address that suggests drugs, drinking, sexuality or other hobbies you wouldn't want your boss to know about.
Your first initial and last name is the most simple, professional route to take.
Watch Out for These Important Questions
Like most job applications, Forever 21's application asks for information regarding convicted felonies. It is important to read the preceding paragraph carefully.
The instructions indicate that residents of Hawaii, Massachusetts, Minnesota and Rhode Island should answer not applicable to certain questions.
There are also specific instructions for residents of Baltimore, MD, Buffalo, NY, Newark, NJ, Philadelphia, PA, and Seattle, WA. Closely following these directions will get you one step closer to landing an interview with Forever 21.
Application Tips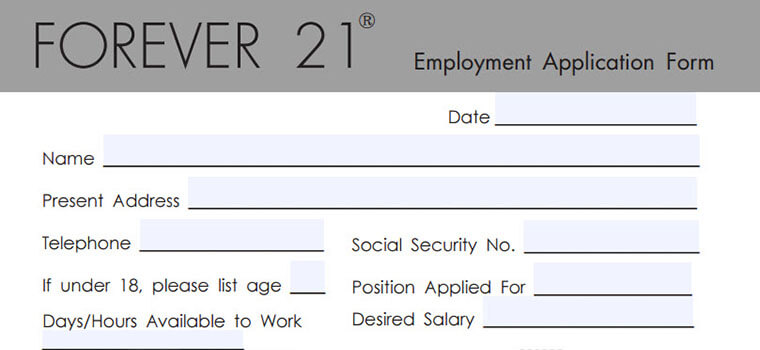 While creating a resume profile on Forever21.com, candidates will be asked to complete two important fields: availability, and a self-descriptive phrase.
Tip #1: Be Available
A contact comment is a short notation regarding the best way the hiring manager can reach you.
Whether you provide a best time to call or supply that email is your preferred method of communication, make sure you are readily available for contact.
Tip #2: Ace the Phrase
Applicants will also be asked to create a descriptive phrase. Think of this as a three to five-word title of the book that is you.
Some examples you might try (or build from): experienced cashier, fashion major or seasoned customer service representative.
Tip #3: Going Above & Beyond With Attachments
Forever 21 is known for challenging fashion boundaries and individuality. Show how truly unique you are by utilizing the attachments portion of the application.
On this screen, candidates may upload documents to accompany their resume.
Submit a cover letter, list of references and portfolios. In your cover letter, show how you pushed a club, organization or employer to better itself, its mission or its sales.
Attach a copy of an award earned for going above and beyond, whether it is academic or from a former employer.
This is the place to make yourself shine and jump off the page. Make yourself memorable by sharing experiences that have made you uniquely you.
Tip #4: Don't Skimp on Details
Be descriptive when creating your resume.
Forever 21 states that they are looking for talented, hard-working employees.
When describing duties at a previous job, tailor the statements to reflect the values of Forever 21.
Highlight events where you worked well in a team. Explain the increase of responsibility after a promotion and how you faced the challenges.
Add an awards section to your resume, which can showcase your talent. Were you the best sales representative? Did you create a new marketing idea? Were you able to coordinate a charity event?
Although a piece of humble pie can be the best medicine, your resume is not the place to hold back.
Polish the words until you shine.
Application Status & Following Up
To check the status of your application, log in and click Career Center.
You will be able to view your resume submission history. Each job you applied to will appear with a status under Applied.
For candidates who filled out an application in person, a follow-up phone call never hurts.
Ask to speak to the hiring manager. If he is not available, ask when a better time to call would be.
By speaking directly to the hiring manager, you are putting yourself in the forefront of his mind and closer to the short list of interviewees.
Positions and Salary Information
Forever 21 has a goal to become an $8 billion company by 2017.
Over the course of the next three years, 600 new stores will create thousands of store associate and store management positions across the United States.
From corporate office positions to interactive cashier jobs, Forever 21 has a position for all experience levels.
Assistant Store Manager – Supervise store associates, create a fun and challenging work environment, participate in co-managers in training – The average assistant store manager makes between $13 and $14 per hour.
Cashier – Maintain Forever 21's outstanding customer service standards, process sales, count and close register – The average cashier can expect between $8 and $9 per hour.
Co-Manager – Participate as manager-in-training, become co-accountable for store sales and profits, supervise store staff – The average co-manager makes between $16 and $17 per hour.
Customer Service Representative – Answer high volume of inbound calls, provide website and product support, investigate lost and delayed orders – The average customer service representative makes $13 per hour.
District Manager – Oversee stores within a given district, maximize sales and profits, ensure excellent customer service – The average district manager brings home approximately $60,000 per year.
Head Cashier – Assist store management team, oversee cash wrap register, oversee other cashiers – The average head cashier makes between $10 and $11 per hour.
Sales Associate – Greets customers, provide professional behavior, create visual presentations – The average sales associate makes between $8 and $9 per hour.
Stock Associate – Receive and process incoming merchandise, create floor displays, maintain Forever 21 visual standards – The average stock associate makes $9 per hour.
Stock Logistics Manager – Oversee all incoming merchandise, work closely with store manager and visual manager, assist in promoting store – The average stock logistics manager makes approximately $30,000 per year.
Store Manager – Ensure customer service standards, follow loss prevention procedures and minimize risk, supervise store employees – The average store manager makes $50,000 per year.
Visual Merchandise Manager – Create visually appealing displays, work closely with store management, maintain Forever 21 vision – The average visual merchandise manager makes between $16 and $17 per hour.
Visual Merchandiser – Create appealing window displays, follow Forever 21 visual guidelines, maintain professional customer service – The average visual merchandiser makes $13 per hour.
Forever 21 is an international company that also offers career opportunities in Canada, Mexico, England and Japan.

Best Entry-Level Positions
Entry-level positions at Forever 21 are far from a dead-end track.
The company supports employees who want to climb the ranks from cashier, to store manager, to corporate executive.
Forever 21 offers a fun workplace, employee discounts, growth opportunities and passion for fashion, beginning with entry-level positions.
Cashier
One of the easiest ways to break into Forever 21 is applying for a position as a cashier.
Qualified candidates will have experience in customer service, a high school diploma or GED, and ability to do basic math. A positive attitude and friendly demeanor go a long way in exhibiting how well you are prepared for the position.
A cashier will assist customers in checking out, provide accurate change and maintain customer service standards.
Assistant Store Manager
If you're looking to break into management but have very little experience, consider applying for the entry-level management position: assistant store manager. Several positions are available nationwide.
The assistant store manager candidate has one to two years of experience in fashion retail management. Qualified applicants will also have a flexible schedule, computer proficiency, excellent customer service skills and the ability to work well under pressure.
The assistant store manager is responsible for opening and closing the store, motivating Forever 21 team members, and interacting with customers.
Customer Service Representative
Available in Pennsylvania and California, the call center customer service representative position is a great way to break into corporate Forever 21.
This entry-level position requires a high school diploma or equivalent trade school experience. Candidates must have at least one year of experience in a call center environment. Strong oral and written skills help predict successful candidates.
Customer service representatives answer inbound calls. Customer problems can range from late shipments to navigating Forever21.com.
Forever 21 Careers in Management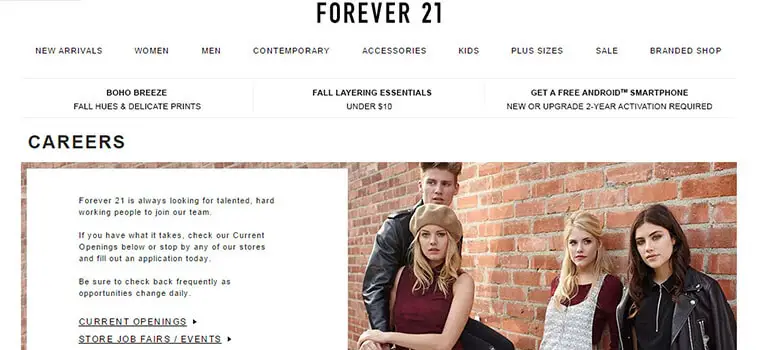 Forever 21 prides itself on helping employees climb the ranks of the company to build successful careers.
The management training program takes candidates through several positions, including associate store manager, co-manager, store manager and district manager.
Although many management positions are available at local stores, there are also management opportunities at Forever 21 headquarters in Los Angeles, California.
Co-Manager
The first non-entry-level opportunity is the position of co-manager.
Within the Forever 21 family, all co-managers are considered managers-in-training, supporting the company's drive to promote from within.
Co-manager candidates will have two to five years of retail fashion management experience. A proven ability to train and motivate team members is desired quality among applicants. Excellent customer service skills predict successful candidates.
Co-managers are co-accountable for the financial success of the store, creating ways to increase sales and profits.
Store Manager
With positions available across the United States, a store manager at Forever 21 shoulders many of the store's responsibilities.
Store managers follow loss prevention tactics, while creating visually appealing displays.
This position requires time management skills, attention to employee needs and ability to resolve problems quickly. The ideal candidate will have two to five years of management experience.
Let your organizational skills, positive attitude and punctuality shine through in your interview.
District Manager
District managers are responsible for all Forever 21 stores within a given area.
The number of stores and the size of the district depends on how heavily populated the area is. District manager candidates will have two to five years of experience managing a group of stores.
Applicants should possess the ability to recruit new members and develop leadership capabilities of supervised managers.
The district manager is responsible for loss prevention, scheduling and terminations.
Occasionally available management positions:
Inventory Account Manager
IT Project Manager
Online Marketing Manager
Production Manager
Interview Questions & Tips
Your application is the first glimpse a hiring manager will have of you.
After creating a professional username and email address, it is important to follow through and present a serious candidate.
Dress for the Job You Want
Regardless of the position you applied for, ditch the jeans and sneakers for your interview.
Dressing for success is just as important as a firm handshake. It gives the interviewer a sense that you are serious about employment with Forever 21.
Rehearse Your Answers
Rehearse answers to standard interview questions prior to meeting the hiring manager.
Practiced answers will help you come across as a confident applicant.
Think about why you want to land a job at Forever 21:
Do you value charity contributions? Do you enjoy helping people choose outfits that fit their styles and personalities? Do you love getting your hands on the newest fashions as soon as they hit stores?
Show the interviewer why you are perfect for a position at Forever 21 by illustrating how your personality fits with the values and ethics of the company.
Preparing for an Interview at Forever 21
Always bring a copy of your resume and a list of references to your interview.
Being prepared may prevent the hiring manager from sorting through piles of paperwork while you awkwardly wait for your interview to begin.
Helpful Research for Your Forever 21 Interview
For many, the most dreaded part of the interview is your turn to ask questions.
Research the history, mission and values of the company prior to your scheduled appointment (granted, we've already done that for you in the proceeding paragraphs).
Extra pro tip: browse the newest trends at Forever21.com to show interest in store merchandise.
History of the Company
Forever 21 began as Fashion 21 in 1984.
Over the course of 30 years, the company has released the 21 Men's line, intimates and lingerie, cosmetics, Forever 21+, Love 21, and Forever 21 Girls.
In its first year, the company racked up $700,000 in sales in a location that had seen three prior business failures.
Today, Forever 21 hopes to become an $8 billion company by creating 600 new stores in the next three years.
In Canada, Forever 21 became a baby's namesake when her mother almost gave birth in the store. The girl's name is Tiev Forever Golding, and her parents are considering legally changing her first name to Forever.
What Employees Say about Working at Forever 21
Many employees have described Forever 21 as a company with a fun, fast-paced atmosphere.
Rather than watching the clock tick by, employees are distracted by dynamic customers and new fashions.
Although an employee discount is usually an incentive, many employees wish for an increase from the current 10%.