Footaction Jobs & Careers – Application, How to Apply, Requirements & Interview Tips
Last Updated:
September 20th, 2019

by

If you enjoy working with the latest shoes and hottest fashion trends in footwear, get ready to fill out and submit your Footaction job application today.

Footaction is an athletic footwear and apparel retailer located in the United States and Puerto Rico. The company has 319 different stores located in these regions and operates mainly in malls although they do have standalone retail locations.

Each Footaction store is roughly 2,900 square feet in size and each one carries a variety of products from shoes to shirts, socks, and hats.

Footaction hires employees to work throughout their stores and the environment is not only upbeat, but fun for employees. You will find a variety of opportunities from working as a sales associate to managing the store as an assistant manager.

If you are looking to work closely with shoes and athletic apparel, a career at Footaction may be the right choice for you.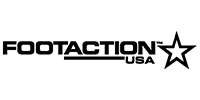 How to Apply for Employment at Footaction
To apply for a position at Footaction, the most commonly used method is through the company's online application portal.
Application Information
Minimum Age Requirement: The minimum age required to work at Footaction is 16 years old.
Hours of Operation: Footaction is open Monday – Saturday from 10:00 am until 8:00 pm and on Sunday from 12:00 pm until 7:00 pm. Store hours may vary by specific location.
Methods to Apply: Interested applicants can apply for a position at Footaction by filling out and submitting an online job application.
Searching for an Open Position
To search for an available position, interested applicants will need to visit the location page. From here, you will enter in your location and all stores in the area will be displayed.
From here, you will need to click the "apply now" button. Upon doing so, you will be taken to a page that shows you all open positions for that location.
Applying for a Job
To apply for a position, you will need to click on the "apply now" button located under the open position you are interested in.
You will now be prompted to create an account on the website. Once you create the account, you will be required to enter in your personal details including the type of work you want, your availability, and the salary you expect to receive.
You will also be asked if you have ever been convicted of a theft-related misdemeanor or a felony.
The next section asks for your work history and your educational experience. You will also have a section to enter in any relevant skills that you have.
You will be prompted to add two references next. After the references, you will be asked to take an assessment that lasts about 20 minutes. This assessment will ask job-related and ethical questions.
After the assessment, you can sign and submit your job application for consideration.
Application Tips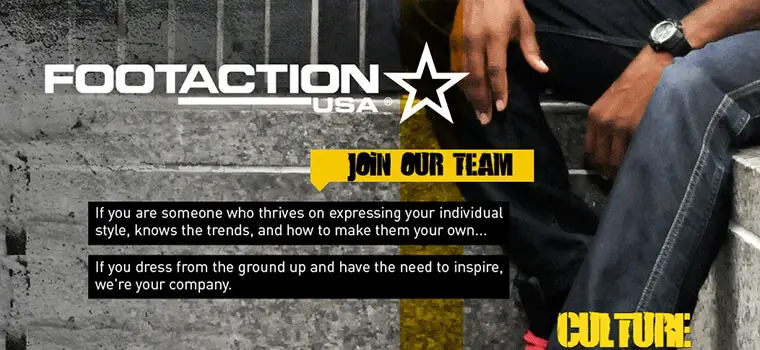 As you go through the application, you may be faced with questions that you do not know how to answer. Below, we will go over some tips to help you get through these sections.
Read the Felony and Misdemeanor Section Carefully
As you approach the part about any felonies and misdemeanors, make sure you read it carefully. There are some locations that do not require you to explain or list any convictions.
If you have been convicted and you are required to list the information, make sure you include all relevant information on your application.
Don't Forget to Sell Your Skills
There is a section on the application that allows you to enter in any additional skills that you have. Take the time to sell yourself and your skills to the Footaction hiring manager.
For example, if you have won awards for customer service, let them know this. If you have experience in marketing or arranging display caps, let them know this as well. The more skills you have, the more valuable you become.
Take the Assessment Seriously
Once you have finished the application, you are prompted to take an assessment. This assessment needs to be taken seriously as it is used to determine if you are a fit for the position.
You will be asked a series of questions about your morals, ethics, and similar situations. Take your time as the assessment is supposed to take about 20 minutes to complete.
Should You Follow Up?
You can follow up on a submitted job application by logging back into the account you created when you applied for the position.
Once logged in, you can view all applications you submitted and the status of those applications.
In addition, you can call the hiring manager at the specific location you applied to. You should give the hiring manager a couple of days to look over your application before you do call in.
When you call, make sure you ask to speak directly with the person in charge of hiring. If he or she is unavailable at the time, ask when a better time to call back would be.
Positions and Salary Information
Footaction hires employees to work in their 319 stores throughout the US and Puerto Rico. The company offers both entry-level and management positions.
If you are first starting out and this is your first job, you will find that the entry-level positions provide you with the skills you need to succeed in the workforce.
If you are looking to step into a management role and become a leader, Footaction has a number of opportunities for you to seize.
Sales Associate – The Sales Associate is responsible for helping customers find the products they need. He or she will help customers complete purchase transactions as well. As a Sales Associate, you can expect to make between $20,000 and $25,000 per year.
Sales Lead – The Sales Lead is responsible for staying active on the sales floor and upselling customers. As a Sales Lead, you can expect to make between $22,000 and $30,000 per year.
Assistant Manager – The Assistant Manager is responsible for leading the Sales Associates and Sales Lead on their daily tasks. He or she will take control and oversee the store's operations when the Store Manager is absent. As an Assistant Manager, you can expect to make between $35,000 and $40,000 per year.
Store Manager – The Store Manager is responsible for making sure the store is profitable, hiring new employees, and handling all customer complaints and issues. As a Store Manager, you can expect to make between $40,000 and $50,000 per year.
Best Entry-Level Positions
Footaction hires employees to work in entry-level positions throughout their stores. These entry-level positions are the heart of the company and each employee must be comfortable assisting and working with customers.
Each entry-level position paves the way for you to move up into a management position and take on leadership roles.
Sales Associate
The Sales Associate breathes everything Footaction from wearing the brand to helping customers love the brand. He or she will assist customers in finding the right products as well as completing their transactions.
The Sales Associate needs to have strong customer service skills and not be afraid to sell something.
Sales Lead
The Sales Lead is responsible for helping customers in the store and ensuring that all customers enjoy their time shopping. He or she will wear clothing and shoes that draw the customers' attention to the brand.
The Sales Lead is knowledgeable about all products and isn't afraid to upsell a customer who cannot decide between products. The Sales Lead is in charge of the store operations when the Assistant Manager and Store Manager are absent.
Footaction Careers in Management
Footaction hires employees to work in management roles throughout their stores. Each management role is responsible for leading team members and ensuring that customers have the best shopping experience possible.
All full-time positions enjoy competitive pay, benefits, and paid time off.
Assistant Manager
The Assistant Manager is responsible for delivering the best in-store experience to all customers. He or she will lead the entire team and help employees meet all daily goals.
You will be responsible for helping customers with all of their inquiries and concerns throughout the store.
In addition, you will take over all operations when the Store Manager is absent and you will drive sales and maximize the profits within your store.
Store Manager
The Store Manager is responsible for leading his or her store team and always coaching employees on how to better perform in their positions. In this role, you will set goals for each employee to meet, hire new employees, and ensure the store is profitable.
The Store Manager will handle escalated customer concerns and inquiries. In addition, the Store Manager will arrange the displays in the store to look nice and help out when needed.
Interview Questions and Tips
Before you go in for your interview, it is important to prepare yourself. To help you prepare, we will go over some questions that you may be asked.
What is Your Availability?
Your interviewer will likely try to gauge what your availability is and when you are willing to work. If you have open availability and no preference of shifts, you should let the interviewer know this.
Also, keep in mind that many retailers are looking for employees who are available to work holidays, nights, and weekends.
Are You Comfortable Upselling a Customer? How Would You Do It?
Upselling is a big part of the job and it is important that you are comfortable doing it. If you are asked how you would upsell a customer, think of ways that you can.
For instance, if a customer is purchasing new shoes, you could upsell them by asking them if they need any new socks and showing them some that will match their new shoes.
Why Did You Leave Your Last Job?
If you do not have previous work history, you will luck out on this question, but for everyone else, you may have to answer this.
It is important that you are honest with your interviewer and let them know why you did leave. Maybe your position was being phased out or maybe there was no room for advancement in the company.
Helpful Research for Your Footaction Interview
Footaction is a large athletic footwear and apparel company that specializes in selling shoes, apparel, and accessories including socks, hats, and the like. The company has roughly 319 stores throughout the United States and Puerto Rico.
Each store boasts a selling space of 2,900 square feet to provide as much product to consumers as possible. The company is well-known in many mall locations and has some standalone stores as well.
What Employees Say About Working Here
Employees working at Footaction are happy with the management teams and how understanding they are. Many of the employees say that the environment is upbeat, which makes it a pleasure to work there.
Other employees mention that they receive discounts on all store purchases. There is room to advance in the company as well.