Foot Locker Jobs & Careers – Application, How to Apply, Requirements & Interview Tips
Last Updated:
September 20th, 2019

by

If you like athletic sports and footwear and have a desire to work in retail sales, you may want to consider filling out a Foot Locker job application.

With 1,171 locations, just here in the United States alone, Foot Locker has become one of the biggest and most successful athletic footwear and apparel retail companies in the world.

Foot Locker's stores provide a fun, athletic environment that encourages a friendly and casual shopping experience. With all of the latest sports and footwear you'll be sure to find what you're looking for.

It is no wonder so many young adults seem genuinely happy to be working here.

Let's go over some things that can help you land that job at your local Foot Locker.
How to Apply for Employment at Foot Locker
After you have decided that applying for a job at Foot Locker is what you want to do, make sure you have everything in order. It's always a good idea to have an updated resume with a list of references. If for nothing else, you can use it for a quick reference guide to help you fill out your application.
Application Information
Minimum Age Requirement: Generally, candidates must be at least 18 years of age, however if you are a minor they may request a work permit before starting.
Hours of Operation: Depending on the store employees can expect to work anywhere from 8am-10pm.
Methods of Application: There are few ways to do this. You can apply online through Foot Locker's website or print one off to bring into the store. The store should also have blank applications available if you'd rather fill one out there.
The Best Time for You to Apply
The nice part of having access to an online application is that you can fill it out on your own time.
However, if you are planning on dropping one off or completing one in the store, I would try to find a time when they are not that busy. This way you may be able to get a more one on one interaction with a manager or lead sales rep.
Application Tips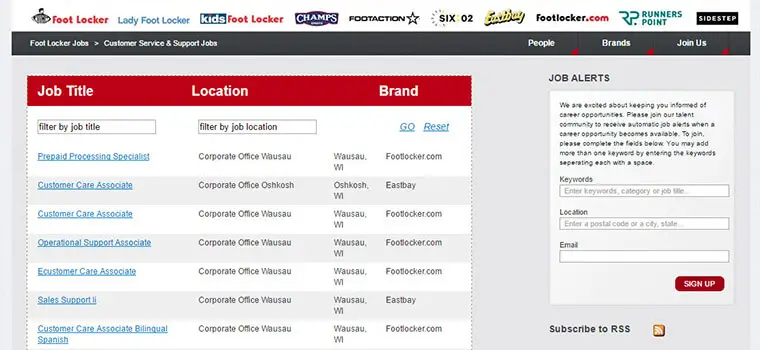 Look Sharp
When applying to any job you want to look your best. Even if you apply online, if selected, you will most certainly have a face to face interview.
Find an outfit that suits the environment. You may not need a suit and tie as this may be too formal. A freshly iron collared shirt tucked into some dress pants, with a clean pair of dress shoes should do you just fine.
Get your outfit ready the night before. This will help put your mind at ease when you get up the next morning.
Be Yourself
You want to make a good impression, but at the same time show a little bit of your personality. This is a good thing, especially in sales. You want to set yourself apart from the others in the stack.
Be respectful and try and get the interviewer or manager to relate to you. Always make it a point to look them in the eyes.  This lets the other person know you are recognizing them and engaged in the conversation.
Have Good References
It's important to have good references. Don't go putting down Aunt Sally and your brother, but stretch to find good professional references that will have good things to say. It's okay to put down family as long as it is secondary to professional references.
Call those references ahead of time to let them know someone may be contacting them in regards to your application. This will help ensure they are prepared to make a statement and are not caught off guard by a number that they may not recognize.
Previous co workers do just fine. You don't always need a supervisor listed. Maybe someone you have previously worked with would be willing to vouch for you.
Should You Follow Up?
Wait 3-4 days before calling the store location.
You've already expressed your interest in the position so don't be pushy. They need time to look over all applicants and make a decision. Processing can take time.
When you do call, ask to speak with the hiring manager. If he/she is not available try and make an appointment to speak with them in the near future. Let the person know that your call is regarding a job application that you have recently completed.
Positions and Salary Information
Foot Locker has over 1,800 stores in 26 different countries and is worth an estimated $7.15 billion.
The company has over 44,000 employees abroad covering all sorts of different positions to keep this operation up and running. The most common jobs in the company are customer support related.
Because they have their corporation is so big their variety of job opportunities are in no way lacking. Here are some of the more common job listings you can expect to find with estimated wages.
Merchandiser: Allocates product assortment, understands and utilizes market trends, and reviews weekly performances of stores- Typical salary ranges from $49,983-$56,502 per year
Sales Lead: Delivers sales, good customer experience, merchandising, visual, and operational expectations-Expected hourly rate is around $8
Stock Associate: Assists in inventory shipments and upkeep, cleans and organizes, as well as prepares merchandise.-Average wage is $9.26 per hour
Store Manager: Carries out expected standards, coaches and trains employees, manages store and employees, and keeps in communication with corporate-Average salary of $44,794 per year.
Assistant Manager: Acts as a partner between customers, sales associates and store leadership-Average salary is $26,146 per year.
Cashier: Providing an overall satisfying checkout for the customer and assists with customer service. Average pay is $8.28 per hour.
Associate Buyer: Place, manage, and track any necessary Purchase Orders. -Typical salary ranges 48,746-$53,162.
Best Entry-Level Positions
FootLocker has many job different job opportunities. As a young adult with little job experience, you may want to consider applying for an entry level position that may not have as many job requirements.
This will only increase your hiring potential and could service as a stepping stone for your
Cashier
Every customer wants to feel like they've made a good decision after making a purchase. The cashier is there to assure them that they have done that.
Being friendly and accurate while checking someone out is imperative. Commenting about how a product is a good buy may be the difference of someone's experience.
You must be upbeat, have good attention to detail, and be confident when interacting with customers.
Sales Associate
Sales associates are responsible for helping the customer find the right product. A friendly directed conversation toward that product is expected.
Must be tentative and answer questions. Listen to the customer and sell based on their wants.
You will be expected to know each product inside and out, as well as availability dates, and fluent with brand terms and styles.
Stock Associate
Organization is key when stocking inventory. You will help with shipments received as well as displaying merchandise.
Cleaning and keeping shelves and storage areas clean and ready for product is critical. Everything must be in the right order so proper inventories can be done.
You must be able to follow direction and sometimes work with little supervision.
Foot Locker Careers in Management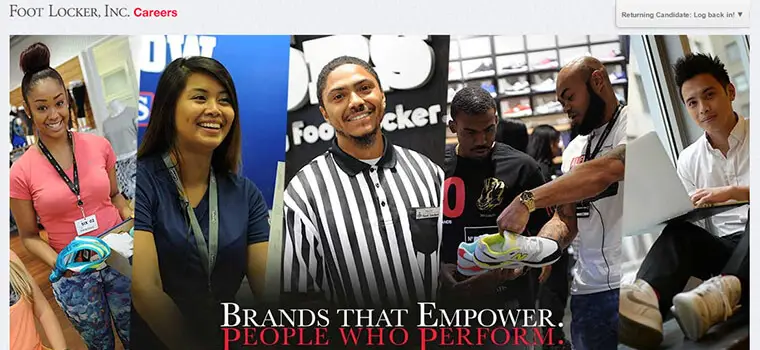 Store Manager
In this position communication is key. You must manage the store by coaching and managing employees, as well as overseeing the store's overall performance and reporting back to corporate.
You have to have excellent customer service skills to handle any problem that a customer may bring to you. Also knowledgeable on day to day operations so you are always in the loop of what's going on.
Professionalism is also paramount in success. You have to be respectful to customers, employees, corporate office all while maintaining your store while keeping the standards that are set for you.
Merchandiser
As a Merchandiser, you are responsible for interpreting market trends and meeting those demands by making allocating product assortment throughout Foot Locker's stores.
You will also be doing this by looking at stores performances relative to the product those stores have available. You must be great with computers and spreadsheets and have good communication with your corporate office.
Interview Questions and Tips
Are you familiar with Foot Locker?
They know that you are familiar with the brand Foot Locker. What they generally mean by this is have you done your research? What are your perceived notions of the position to which you've applied?
Tell them what you know from your shopping experiences. Also share with them your research on the position and how you think you fit the bill. Be enthusiastic.
Why Do You Want to Work Here?
What drew you to this job? Answer honestly. Maybe sales interests you and you think you have a personality style that would work well for that position.
While you are explaining what it was that sparked your interest, remember to mention the brand.
After all, they want someone who genuinely likes and is interested in Foot Locker.
Why Should We Hire You?
Because you are reliable and ambitious? Do you follow directions well?
Prove your worth by expressing your qualities. Mention past jobs where you have succeeded and your knowledge in relation to the position.
Explain what sets you apart from all the other candidates. Get them excited about you.
Helpful Research for Your Foot Locker Interview
Foot Locker was founded in September 12, 1974 by F. W. Woolworth
The company was around for a long time before really taking off in the early 2000's
In 2004, Foot Locker was worth $160 million and decided to branch out and put stores in more urban areas
Today, over a hundred years later, Foot Locker has a 400 rank in the Fortune 500 and is worth an estimated $7.15 billion
What Employees Say About Working Here
Most of the individuals in the stores have complained about starting wages. Thought most would agree that the work environment is quite nice.
There is plenty of room for growth and job security does not seem to be an issue in any department.
Generally, most of the jobs are filled with young adults ranging from 20-30 years old who make enough money to live a sustainable lifestyle.
Also, no one is complaining about the 30% employee discount.