Five Guys Jobs & Careers – Application, How to Apply, Requirements & Interview Tips
Last Updated:
September 20th, 2019

by

Excitement, challenge and opportunity await when you launch your Five Guys career. With sales exceeding $1.4 billion in 2015, Five Guys is one of America's fastest growing burger chains. When you join Five Guys, you'll join an already successful business and be part of their continued growth.

Five Guys was founded in 1986 by Jerry and Janie Murrell and their sons in Arlington, VA. Five Guys focused on quality from the start – grilling hand-formed burgers and serving them with fresh-cut fries cooked in peanut oil. Their approach hasn't wavered, and it's paid off with loyal customers and a widespread reputation for delicious, quality food.

With nearly 1500 franchise locations worldwide, Five Guys is always ready to hire people who want to work hard and have fun. All employees are trained to work every position, which promotes team unity. The open kitchen concept makes for a loud and fun working environment.

This employment guide will show you how to get started with Five Guys. You'll learn what opportunities they offer, and how best to apply for a Five Guys career.

Whether as a crew member or part of the restaurant management team, a career with Five Guys can be rewarding in more ways than one. Join the dynamic Five Guys team today.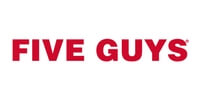 Five Guys Jobs & Careers

The best way to begin your Five Guys career is by applying online. A full listing and applications for over 4,000 available jobs is available at this website.
New employees train through Five Guys University, the official training center for Five Guys. Training may be completed online or in-store. Advanced courses are also available beyond the core courses to further your career success.
Five Guys positions include:
Crew Member
These staff members work throughout the restaurant performing essential tasks including runner/frontline coordinator, dining room attendant, cashier/order taker, grill operator, sandwich maker and fry station.
Crew Members provide friendly, fast and accurate service with a focus on an excellent customer experience. You'll work to keep the restaurant clean, neat and accessible to our customers, and support your fellow team members to complete their tasks.
Five Guys prefers Crew Members to have a high school diploma or equivalent and 1-2 years of experience in food service or retail, though they do not require it. You should have good communication and basic math skills, and be able to stand for long periods and physically perform essential job functions.
Shift Leader
These staff members perform the same essential tasks as Crew Members, and also direct the restaurant's daily operations when the General Manager and Assistant Manager are absent.
Shift Leaders provide friendly, fast and accurate service with a focus on an excellent customer experience. You'll supervise, motivate and train employees, open and close the restaurant, make sure food preparation is complete, manage employee shifts and complete shift summary reports.
Five Guys wants Shift Leaders to have a high school diploma or equivalent and 1-2 years of supervisory experience in food service or retail. You should have excellent communication skills, basic math and computer skills and be able to read, analyze and create general business memos and documents. You'll need to stand for long periods and be able to physically perform essential job functions.
Assistant Manager
Assistant Managers lead and motivate employees to build team unity and foster crew energy. Responsibilities include financial and inventory management, crew assignment, customer relationship management and full accountability for how things run during your shift.
Assistant Managers need to be able to work at a fast pace, provide good communication and be high energy leaders. You should be at least 18 years old and have a high school diploma (with some college a plus). Five Guys prefers you to have 1-2 years leadership or management experience and 1-2 years in food service. ServSafe Certification is a plus.
Benefits available to Assistant Managers include health insurance, paid personal and holiday time, complimentary meals for you and your immediate family, excellent starting pay and raises based on performance, opportunity for advancement and more.
Shift/General Manager
Restaurant General Managers have overall responsibility for the daily operations of the restaurant, ensuring compliance with company standards including product preparation and delivery, customer relations, restaurant maintenance, inventory, team management, financial accountability and more.
General Managers have extensive duties that cover every aspect of the restaurant's functions, from hiring and terminating employees, to controlling profits and losses, to maintaining a safe working environment and ensuring food quality and customer satisfaction. The General Manager also works with corporate level human resources and brand marketing efforts.
Five Guys General Managers need a high school diploma or equivalent. 2-4 years of supervisory experience in food service or retail is required. You'll need a proven track record of managerial skills and leadership, as well as excellent communication, computer and business math skills as well as problem solving and decision making skills.
You'll earn competitive base pay with excellent bonus potential, free meals while you work and 401k, medical, dental and vision coverage.
How Much Does Five Guys Pay (Hourly & Salary)

Five Guys offers competitive salary and benefits to its employees. Benefits include paid vacations, bonuses, free or discounted meals, 401k, and medical, dental and vision coverage, depending on the specific position.
Pay rates vary regionally, and start at around $8/hour for Crew Members. Pay is on par with other fast-casual dining jobs such as Chipotle and Smashburger. Five Guys pay ranges include:
Crew Member: $7 – 12/hour, $8.72 average
Shift Leader: $8 – 13/hour, $10.62 average
Assistant Manager: $8 – 15/hour, $11.94 average; $34,104/year
General Manager: $30.937 – 57,912/year; $45,526 average
Salary information can be found on Glassdoor.com.
Minimum Age to Work at Five Guys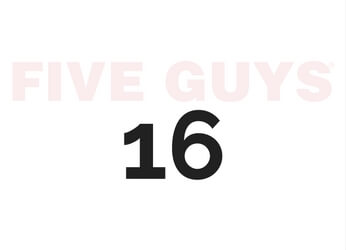 The minimum age to work at Five Guys is 16 years old. Five Guys employees should have a high school diploma or be nearly complete for entry-level positions like Crew Member.
Management level positions (from Assistant Manager and up) must be 18 years old and have also experience in food service or retail management.
Crew Member: 16 years old
Shift Leader: 16 years old, plus 1-2 years supervisory experience
Assistant Manager: 18 years old, plus 1-2 years supervisory experience
General Manager: 18 years old, plus 2-4 years supervisory experience
Does Five Guys drug test?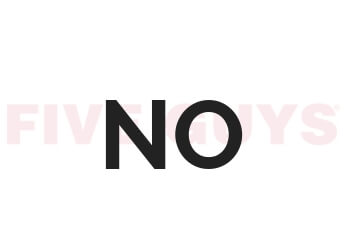 According to our research, Five Guys does not typically drug test. Background checks may be required for management level positions, although the Five Guys careers website does not specifically say so.
Five Guys does check U.S. employment eligibility using E-Verify. You can learn more about E-Verify at the Department of Homeland Security's E-Verify site.
Possible Five Guys Interview Questions & Tips

Here are some typical interview questions that have been reported by Five Guys job candidates.
Why do you want to work for Five Guys?
Remember, Five Guys is a fast-paced, fun environment with a strong focus on quality and customer service. Mention that these aspects of the job appeal to you and are important to you. If you show eagerness and high energy, you will impress the hiring manager!
How do you motivate a team?
Team unity and support are important at Five Guys. Emphasize that encouragement, positive reinforcement and willingness to help out your teammates are part of your approach.
How do you deal with high-pressure situations?
Think about other times in your life or work when you've been under pressure. Remaining calm and staying positive make a difference, as does the ability to think quickly and problem solve.
Other tips for a successful interview
Dress neatly and present yourself professionally. Be on time for your interview. Prepare to write down details of your employment history (dates, locations, references, etc.).
Make sure you offer a phone number where the hiring manager can easily reach you if they have more questions or want to make you an offer. And don't forget to smile and be polite! You'll make a strong impression with your positive attitude. Good luck!