Online Five Below Job Application – Employment Form & Job Interview Tips
Last Updated:
September 20th, 2019

by

If you are passionate about providing excellent customer service to customers in a retail setting, get ready to fill out and submit your Five Below job application today.

Five Below is a retail store that offers affordable products ranging from one dollar to five dollars. The company focuses on products in the teen and pre-teen market.

They have a large selection of consumer goods for teens including games, candy, bath and body products, and more.

The company was first founded by David Schlessinger and has grown substantially in size since it first opened.

Five Below hires employees to work in their stores and you may find yourself working as a Freight Crew Associate or even a Key Holder.

With over 700 stores spanning from Texas to Maine, you are sure to find a position that meets your needs. If you want to let your love for affordable consumer products shine, apply to Five Below today.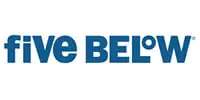 How to Apply for Employment at Five Below
To apply for a position at Five Below, the most commonly used method is through their online application portal.
Application Information
Minimum Age Requirement: The minimum age for employment at Five Below is 16 years old.
Hours of Operation: Five Below is open Monday – Saturday from 10:00 a.m. until 9:00 p.m. and on Sunday from 12:00 pm until 6:00 pm.
Methods to Apply: Interested applicants can apply to Five Below by submitting an online application.
Searching for an Open Position
To search for a position at Five Below, you will need to click on the "apply here" button located on the jobs page.
You will be directed to a page where you can select the state you live in. Once you have selected the state, all stores in the state will be displayed.
Once you select the store that interests you, you will be asked to fill out an application for consideration.
Applying for a Job
To apply for a job, you will need to follow the steps above to search for a store in your area. Once you select a store, you will be able to start filling out the job application.
You will be asked for your basic information first including your name, address, and phone number. You will also be asked a series of questions about whether you have worked at Five Below before, your age, and your right to work in the U.S.
The next section asks you about why you want to work there, the position you desire, your availability, and some other basic questions about the position.
You will then be asked about your education and work experience. The last section asks for three references, your signature, and your resume.
Once you have navigated through the entire application, you can submit it for consideration.
Application Tips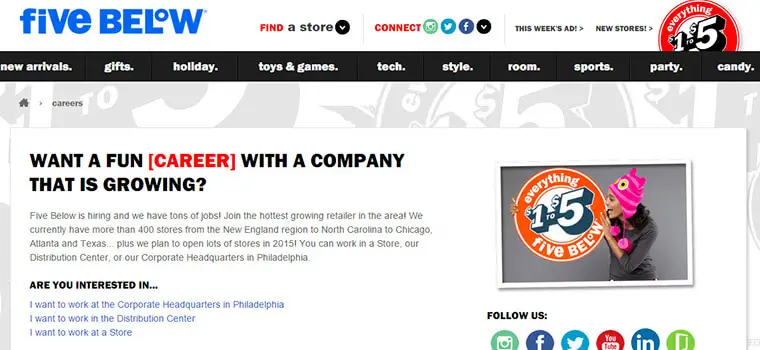 As you fill out your application, you may come across questions you do not know how to answer. Below, we will go over some tips to help you get through the application smoothly.
Have Your Resume Ready
At the end of the application, you are asked to upload or paste your resume. It is important that you do so.
If you do not have a resume, you should make one and include your education history, work experience, and any relevant achievements you have.
Don't Forget the References
The application asks you to provide three references. You should always fill in this field as most employers do call your references.
It is okay to use personal references; however, professional and education references are preferred.
Why You Want to Work at Five Below
The application includes a small text box that wants you to answer why you want to work at Five Below. You should answer honestly and let the company know why you want to be employed by them.
Should You Follow Up?
You can follow up on a submitted application by contacting the hiring manager at the store you submitted your application to. You should give the manager a couple of days to look over your application before calling.
When you do call, make sure to ask to speak directly with the hiring manager. If he or she is unavailable at the time, ask when a good time to call back would be.
Positions and Salary Information
Five Below offers both full-time and part-time entry-level and management positions throughout their 400 stores. Each employee will find that Five Below offers great benefits, opportunity to grow within the company, and a competitive salary.
Whether you are looking to enter the workforce for the first time or you are looking to start your career, Five Below may be the right career move for you.
Sales Associate – The Sales Associate is responsible for running the cash register and providing quality customer service. As a Sales Associate, you can expect to make between $7 and $10 per hour.
Key Holder – The Key Holder is responsible for helping the Sales Associates and ensuring the store runs smoothly. As a Key Holder, you can expect to make between $8 and $11 per hour.
Assistant Manager – The Assistant Manager is responsible for overseeing team members and handling all customer service issues. As an Assistant Manager, you can expect to make between $11 and $17 per hour.
General Manager – The General Manager is responsible for overseeing all company operations including setting financial goals for the store to reach. As a General Manager, you can expect to make between $39,000 and $52,000 per year.
Best Entry-Level Positions
Five Below hires employees to work in their 700 stores throughout the U.S. Each entry-level position works face-to-face with customers. You will be responsible for helping all customers who enter the store.
These entry-level positions also allow you to move up into management roles, should you choose to make a career out of your time with Five Below.
Sales Associate
The Sales Associate will provide superior customer service and help check customers out once they are done shopping. The Sales Associate will run the cash register and handle all monetary transactions.
You will also be responsible for maintaining your area and ensuring that all shelves are stocked.
Key Holder
The Key Holder is responsible for helping out wherever he or she is needed. He or she will help make sure the store runs smoothly when the General Manager and Assistant Manager are not available.
In this role, you will help out with merchandising products, checking customers out, and keeping the shelves stocked.
Five Below Careers in Management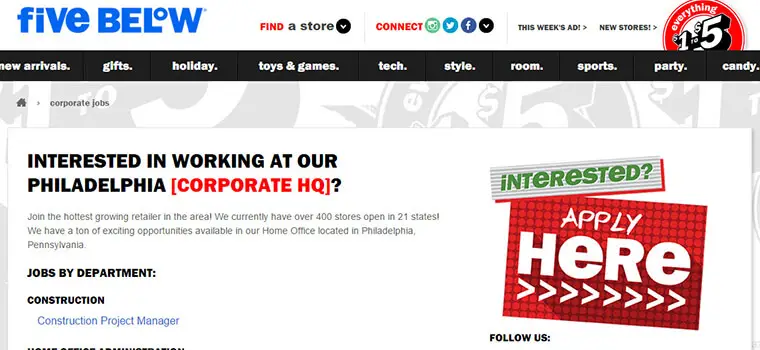 Five Below offers management positions to its employees. Each position allows you to step into a leadership role and assume more responsibility. The management team is responsible for
providing support and guidance to all members under them.
Assistant Manager
The Assistant Manager is responsible for helping the General Manager while providing support to the team. He or she will help with daily activities in the store including administrative duties, ensuring the store looks nice, and customer service.
General Manager
The General Manager is responsible for leading the entire team by example. He or she will help ensure the store looks nice, employees arrive on time and ready to work, and that all customers are happy.
In this role, the General Manager will also drive his or her team to success while overseeing all operations in the store itself.
Interview Questions and Tips
Prepare ahead of time for your interview at Five Below. If you have never been to an interview before, you may not know what to expect. Below, we will go over some of the questions your interviewer may ask you.
Are You Open to Working Weekends?
Since the store targets pre-teens and teens, the busiest times are on the weekend. The interviewer may ask you if you are willing to work the weekends. The more available you are; the better chance you have of the manager hiring you.
What Do You Like to Do?
Your interviewer may ask you what you like to do in your free time. You should answer honestly and let them know what types of things you do. Whether it is cooking, playing video games, or taking hikes, there is no right or wrong answer here.
What is Good Customer Service to You?
They may ask you what you think good customer service is. You should answer this question honestly. To do so, think of a situation when you go into a store.
What is it that you would expect to happen? Maybe you want the cashier to ask you how your day was or maybe you want someone to offer to help you find a product.
Helpful Research for Your Five Below Interview
Five Below is one of the leading retailers that offers products to the pre-teen and teen market. The company prices their items at or below five dollars. Consumers will find all types of products in the store including candy, games, and novelty items.
Employees who work at Five Below can enjoy many benefits including paid vacations, a 401k, and employee discounts.
What Employees Say About Working Here
Employees who work at Five Below are happy in their positions and they enjoy interacting with the customers that come into the store. The employees say that their management teams are great and understanding.
In addition, employees working here say that there are opportunities to move up in the company and training is always available when needed.