Dillard's Jobs & Careers – Application, How to Apply, Requirements & Interview Tips
Last Updated:
September 20th, 2019

by

This Land Your Life guide will help you with your Dillard's job application and increase your chances of a match.

Is it your goal in life to dress people up exceptionally well? Well, that's exactly what Dillard's mission happens to be.

Dillard's sells fancier clothes for reasonable prices, and is the place that millions of people go to buy clothes for jobs, school, and fancy events.

This is a department store that specializes in fashion, and as such – their stores are packed with styles from all over.

As mentioned above – Dillard's is a fashion store – so if you don't like working with clothes, this isn't the job for you.

However, if you like to see the latest fashions, and maybe even be the one putting them on the rack, then this could be a perfect fit for you.

Let's start the application process and see if you can find a place at this retailer.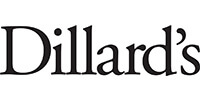 How to Apply for Employment at Dillard's
Dillard's prefers for most of the employees they hire to apply online, through their career website.
They hide their online application page well, either through iffy website design or because they only want people who are committed to getting the job.
Before you go hunt down that application link, though, let's make sure you understand what you're getting into:
Application Information
Minimum Age Requirement: You must be at least 15 to work at Dillard's, unless your state has a mandatory education policy that forbids employment younger than 18.
Hours of Operation: The earliest Dillard's is open at 10 AM, and the latest it closes is 9 PM. Some Dillard's have different hours on the weekends, but it always falls within the 10 AM to 9 PM range.
Methods to Apply: You can apply in person at some of the stores, but it is preferred that you apply online. There is not a printable PDF of the application to look over, as most stores are going to the online application system.
Create An Account
Applying to Dillard's requires that you make a login with them. This is normal, and you will first have to pick a state and city you want to apply in.
Remember that if you live in a small town within driving distance of a larger city, you might have better luck applying to a store there than you would applying to the one in your town.
Choose A Location
You can choose up to five location. Once you choose a location, the website will redirect you to a page asking you for your personal information.
Make sure you fill this out correctly and as thoroughly as possible as any future jobs you apply to at Dillard's will use this information.
Read The Terms of Service Agreement and Privacy Policy
This is the first application site that I've seen that has a Terms of Service agreement and a Privacy Policy listed, so make sure to scroll through those two extra-long documents before agreeing and moving on.
They're basically the standard legal documents that you click through whenever you install iTunes or some other program.
When Applying In Person
If you apply in person, make sure you write clearly, and ask if you can go off and fill it out instead of standing at the counter or wherever they handed you the clipboard. Focus on keeping it short and readable.
Application Tips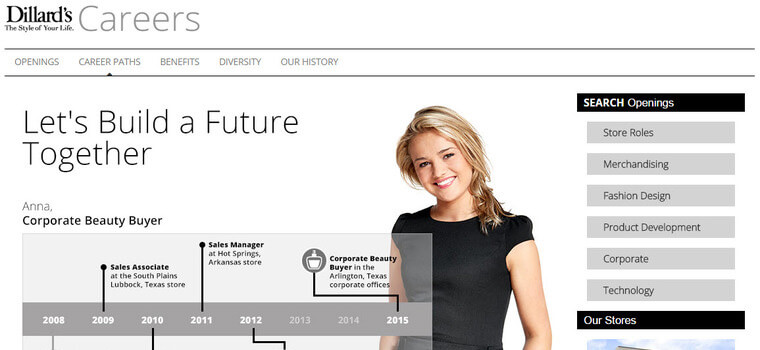 This application allows you to choose to not specify your gender, which if you have privacy concerns or other reservations, make sure you click on the "Questions" link next to the Gender question and check the box at the bottom of that window.
Security Check Code
The website asks you to input a security check code. This code did not load for me the first time that I opened the application page, so make sure that you have all of your pop-up blockers turned off.
If it still doesn't show up, check that you have your plugins updated, such as Adobe Flash and Java.
Online Applications Are Processed By Third Party
If you apply online, your application is not actually being accepted by Dillard's directly, but instead it is being funneled through a third party, a company called Basalt that's owned by Infor.
So, if you have privacy concerns, make sure you go into the store and fill out the paper application.
You Can Apply For Multiple Position At Once
You can check multiple job listings to apply for once you have chosen a location. So, if you see multiple jobs that you like, go ahead and check them all, and Dillard's will contact you and let you know if your application fits any of those positions in particular.
Should You Follow Up?
Most stores like Dillard's will contact you within a week or two to let you know if you have an interview.
If you've applied online, you can check the status of your application by going back to the Dillard's job website and logging in. All of your applications will be presented there and you can see the status of each by clicking on them.
If you did not apply online, then you can call your local store and ask to speak to the manager about your application. Be aware that some stores will value this pursuit of the position, and others will be annoyed by it.
Whenever you call the store bugging them about your application, you're taking a chance.
Positions and Salary Information
All the positions actually in Dillard's are either sales positions or management positions.
They have jobs in shipping, truck driving and warehouse management, but as those are satellite jobs and are not directly at a Dillard's store, we will not be including them in this guide. Instead, we'll focus on the jobs that you can get by just walking into a Dillard's store:
Sales Associate – This position focuses on working with the customer and making sales. $12/hr.*
Junior Sales Associate – Works with the Sales Associates to train in their job. $10/hr.
Sales Support – These workers take care of the administrative end of running the store so the Sales Associates can focus on sales. $11/hr.
Cosmetics Associate – Works at the makeup and perfume counters to provide helpful advice about the products. $13/hr.
Shoe Sales Associate – Works solely with shoes and shoe sales. Not available at all stores. $12/hr.
Assistant Manager – Works with the employees to keep the store running smoothly. $18/hr.
Store Manager – Supervises store and directs employees and Assistant Manager to better serve the customer. $20/hr.
*Dillard's does not list their salaries on their website. These figures are taken from the Bureau of Labor Statistics, Glassdoor.com and Payscale.com averages.
Best Entry Level Positions
All Dillard's entry-level positions require a High School degree or GED equivalent, so make sure you can supply proof of graduation or an exemption letter if you're under 18. The best listed entry-level positions are all in the sales department.
Sales Associate
Provides help to the customers as needed, and focuses on trying to upsell the customer on various items.
Checks out customers when they are done shopping, and provides recommendations and coupons as needed.
Junior Sales Associate
Workers in training, these employees follow the Sales Associates around and learn about the job they will be doing.
They will often not have to deal directly with the customer, especially on a one-on-one basis, unless a Sales Associate is there to assist.
Sales Support
Focusing on keeping the store running smoothly, these workers are the ones that change out the lights, pick up and rehang or fold clothes that people have been trying on, run the cash registers (occasionally) and take care of the administrative needs.
You make sure that the Sales Associates can focus on making a connection with the customer instead of picking up clothes.
Cosmetics Associate
Provides information on the different makeup and perfume products to the customers including current sales, and gives out free samples based on the current sales.
Recommends what products would work well for the customers, and directs them in their purchases.
Shoe Sales Associate
Works with men, women and children (although some Dillard's have Shoe Sale Associates that work solely with women) to find them shoes that are not only comfortable but fit into the latest trends according to the management.
Dillard's Careers in Management

Dillard's does not employ Shift Supervisors, and as such either the Assistant Manager or the Store Manager has to be present whenever the store is open. Some stores will employ more than one Assistant Manager.
Assistant Manager
Works with the employees to make sure that they are making enough sales, watches customer/employee interaction and provides constructive feedback to employees if there is an issue.
Makes sure store is kept clean, and provides reports to the Store Manager.
Store Manager
Works with the Assistant Manager to make sure the store is a welcoming environment for the customers, and that all customers are being treated well.
Takes reports from the Assistant Manager and applies the information in them to the management policies of the store.
Interview Tips
If you've managed to land an interview with the store, one of the most important things to focus on with this company is your wardrobe. Because they sell a specific product (upscale fashion), you need to be sure to dress appropriately for this interview.
Dress The Part
Dillard's sells clothes that are proper for interviews, but if Dillard's is a bit more pricy than you can afford, then you can check out the styles in Dillard's and then see if you can pick up the same sort of stuff at a thrift shop.
Make sure that you are presentable, and focus on maintaining a calm attitude throughout the entire interview.
Possible Interview Questions
These are a few of the question you are most likely to get during your interview.
What would you change about the Dillard's store if you could?
Take a moment, before you answer this question, and look around the store to see if there is anything glaringly obvious.
If the store manager has set this question up, they might have purposefully left something out of place to see if you noticed it. Some clothes in the wrong area, or some other mistake that was made purposefully.
Do you have any previous retail experience?
Be honest.
If you have previous retail experience, detail what department, how you made sales, and whether you enjoyed it or not.
What do you like or dislike about being in sales?
Remember, Dillard's is very sales-oriented.
So, make sure to find something that you enjoy about sales even if it's just being able to talk to people) and tell them about that.
Helpful Research for Your Dillard's Interview
Dillard's was founded in 1938 in Nashville by William T. Dillard. He then began to purchase other clothing retailers and quickly built up his style of upscale but reasonable merchandise. By the 1990's, they had over 100 stores.
Dillard's primarily went into shopping malls, working with the malls to provide a different type of clothing line. They recently began going into non-standard shopping centers. Dillard's now has over 300 stores in 28 states.
In larger certain malls, Dillard's has Male and Female stores, separated for the most part but joined together by a single anchor location.
Dillard's grew by 103 stores in the span of just a couple of years by the purchase of a company called "Mercantile Stores Company, Inc."
What Employees Say About Working Here
Most employees speak well of the company, or at least not angrily or bitter.
The biggest plus to working at Dillard's for most employees is the 25% discount on all merchandise. As many employees are also college students or people looking for other jobs, they use this discount to purchase nice clothes for other interviews or presentations.
One employee mentioned that they change health insurance companies every couple of years, and that leads to a range of coverage options and stances. They always provide health insurance to most employees, but it varies from year to year as to the quality of the coverage.
There were several complaints about long hours during the holidays. Dillard's occasionally hires more Sales workers during the holidays to help with the increase in demand, but not in all cases.
If you are working one of the stores that didn't, it can get extremely hectic.
There is significant pressure to sell clothing items. One employee reported that if you do not make enough sales—that is, if you don't sell as much as management expects you to—you can have your pay cut or lose your job.