Learn How To Become A Dermatologist Assistant – Requirements & Expected Salary
Last Updated:
June 27th, 2022

by

A dermatologist assistant specializes in helping dermatology patients, most often in a medical office setting.

Dermatology is the study of the skin. It is a branch of medicine concerned with diagnosis, treatment and prevention of diseases of the skin, hair, nails, oral cavity, genitals and cosmetic care.

Working under the supervision of a physician or surgeon, a dermatologist assistant can perform certain procedures, diagnose and advise patients, sometimes prescribe medications and work directly with patients.

Dermatologist assistants come to their profession with prior medical experience, often starting their careers as registered nurses (RNs) or emergency medical technicians (EMTs). Many have specialized training in dermatology.

Practicing as a dermatologist assistant requires you to first be licensed as a physician assistant (PA). To become licensed, prospective PAs must pass the Physician Assistant National Certifying Program Examination (PANCE) from the National Commission on Certification of Physician Assistants (NCCPA).

Because of the variety and level at which they work, many dermatologist assistants find their careers highly rewarding, in terms of work satisfaction and finance.

Unlike other physician assistant-level jobs, dermatologist assistants are often able to keep standard office hours.

See our related article on How to Become a Dermatologist.  Here we break down everything you need to know including the process, schooling required and availible salary to be made.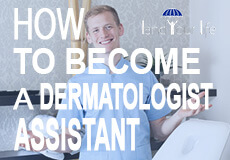 Process for Becoming A Dermatologist Assistant
Becoming a dermatologist assistant requires first becoming a physician assistant (PA). Becoming a PA requires a master's degree from an accredited institution and passing licensing exams.
As a precursor to the master's, you must earn a bachelor's degree.
In sequence, here is a typical career path for a dermatologist assistant:
Read More: How to Become an Immunologist. Interested in different careers in the medical field? We explore how to become an Immunologist in this guide.
Earn A Bachelor's (BS) Degree
Students who aim to become a dermatologist assistant will generally concentrate on a healthcare-related bachelor's of science degree. This is partly because the second degree they will need is a master's of science.
To be most employable immediately after obtaining a bachelor's, candidates will seek programs that offer specialized or practical education (such as an internship in healthcare).
A BS usually takes about four years for students who are able to attend a university full time. Some universities may offer special programs for students who plan to become PAs (similar to pre-med specialties).
Gain Practical Healthcare Experience
While not a required educational step, getting work experience in a healthcare field can help in admission to a master's program, which is essential for becoming an accredited PA.
Most dermatologist assistants/PAs have work experience as registered nurses, emergency medical technicians (EMTs), or paramedics. Each of these specialties required licensing or certification, as well.
For example, all U.S. states require that prospective registered nurses (RNs) pass the National Council Licensure Examination for Registered Nurses (NCLEX-RN) to become RNs.
Earn A Master's
After earning a BS, it will be necessary to earn a master's degree to become a dermatologist assistant.
Master's programs have differing criteria for accepting students, each year selecting candidates based on potential to complete the program and be successful after it. Two important criteria are often a BS and work experience (see above).
Prospective dermatologist assistants need to enter master's programs accredited by the Accreditation Review Commission on Education for the Physician Assistant (ARC-PA).
While it is technically voluntary for a program to be ARC-PA accredited, attending an ARC-PA accredited program is an eligibility requirement for taking the Physician Assistant National Certifying Examination and for licensing in most states.
For this reason, it is important to make sure that any program chosen is ARC-PA accredited.
Lab Work
PA education includes lab work and classroom instruction. Subjects include anatomy, pathology, physiology, clinical medicine, pharmacology, diagnosis and medical ethics.
PA programs usually include hundreds of hours of supervised training. The focus for clinical training is usually family medicine, internal medicine, emergency medicine and pediatric medicine.
Master's candidates often must ask themselves, whether the degree they seek, will be worth the investment of time and money. When it comes to getting a master's degree in physician assistant studies, Forbes thinks it is, claiming the degree is the "No.1 Best Master's Degree for Jobs."
Gain The Credential
All states require PAs to earn their licenses. The national license is administered by Accreditation Review Commission on Education for the Physician Assistant (ARC-PA).
Maintain The Certification
PAs must also maintain their certification with continuing education and re-taking the recertification examination. To maintain certification, PAs (and thus dermatologist assistants) must complete 100 hours of continuing medical education (CME) every two years.
Passing the recertification examination is required every 10 years (prior to 2006, every six years). The CME cycle for maintaining certification offers some variance in requirements period-to-period so it is important to check the American Academy of Physician Assistants (AAPA), for current requirements.
Seek Specialized Internships And Education
While at present, there is no requirement for a dermatologist assistant certification, PAs wanting to specialize in this area should elect dermatology rotations and look for other opportunities to build their dermatology-specific resume.
Examples of specialized coursework in dermatology include pediatric dermatology, dermatologic pharmacology, pigmented lesions and cutaneous manifestations. Disorders studied include connective tissue, hair, nail, pigmentation and eczematous.
The Society of Dermatology Physician Assistants (SDPA) offers ideas and assistance on specializing in dermatology as a physician assistant. This includes a resume posting / job search resource.
Additionally, the SDPA offers a distance learning initiative to help maintain accreditation. This resource is available to SDPA members with at least one year of clinical experience. It is not available to students seeking to enter the field.
Read More: How to Become a Chemist. Work with chemistry to make new products and medicines!
Join A Dermatology-Oriented Practice
PAs work in many settings but dermatologist assistants mostly work in dermatology office settings.
Job opportunities can include positions in dermatology offices as well as medical spas (a fast growing type of medical practice).
Job Description
Dermatologist assistants work at an almost-doctor level of care and should not be confused with medical assistants, estheticians, or other paraprofessionals that may work in skin care settings.
Their responsibilities can be wide-ranging, and may include supervision of other medical staff and students. Dermatologist assistants usually work in a private office setting.
Find A Dermatologist Assistant Job!
What Does an Average Day Look Like For A Dermatologist Assistant?
The average day for a dermatologist assistant can be challenging and varied.
Most dermatologist assistants work under the supervision of a physician or surgeon and are part of an office team. While a physician must supervise medical procedures, dermatologist assistants are allowed to perform them.
Because dermatologist assistants can do so much, they are highly valued, freeing physicians to concentrate on the most difficult clinical problems.
Some tasks a dermatologist assistant in a medical office setting might perform on a daily basis are:
Read More: How to Become an Embryologist. Help couples address their infertility issues and have children in this unique career in the medical field!
Diagnosis
The bulk of skin conditions are ones that a dermatology office sees frequently.
A dermatologist assistant will often meet with patients to perform an initial assessment and possibly diagnose for common conditions like acne and eczema.
The dermatologist assistant will also determine if a patient consultation needs immediate escalation to the supervising physician.
Patient Communication
In a dermatology practice, patients will need assistance and education, both before and after treatments.
Sometimes this will mean explaining how to apply topical medicines or daily care post-procedure.
Other times it may mean detailing what to expect from treatment, instruction, counseling or answering questions.
Procedures
Dermatologist assistants perform at an almost-doctor level. They handle procedures like biopsies, excisions and some therapies.
While physician or surgeon supervision is still required, dermatologist assistants are able to perform these procedures.
Reporting And Record Keeping
Supervising physicians rely on their dermatologist assistants to keep detailed records and report in-depth on patient condition.
Their greater expertise helps physicians get to the core of patient issues more quickly, saving time and money.
Dermatologist assistants must be accurate, detailed and thorough in their documentation.
Prescribing
In some states, dermatologist assistants are allowed to prescribe controlled substances and medicines.
Prescribing requires diagnosis of problems, taking patient medical histories, checking for drug conflicts, determining which medicine a patient needs and writing a prescription for it.
Team Coordination & Supervision
A dermatologist assistant may need to supervise the clinical office team. This might mean teaching team members, supervising their work, planning their work, troubleshooting office and patient issues and more.
Find A Dermatologist Assistant Job!
Are You Suited for A Career As Dermatologist Assistant?
Personality & Skills
Advanced Learning Environment
Being a dermatology assistant can be a rewarding career.
A high level of education is required, simply to become a qualified physician assistant (PA) — a basic criteria for a dermatologist assistant – so candidates should be comfortable and generally proficient in academic settings.
Earning both a BS and MS are necessary steps, education that usually takes at least six full-time years.
Additionally, clinical experience is needed, so academic rigor must be balanced with hands on, practical experience.
Successful candidates for a dermatologist assistant role will seek opportunities to specialize in dermatology. Such opportunities include elective rotations, continuing medical education, and supervised training.
Read More: How to Become a Medical Coder. If you're interested in the medical world, discover everything you need to know about this career and its responsibilities!
Interest In The Topic
The study of the skin must be of interest. This includes diseases of the skin, hair, nails, oral cavity and genitals.
It can include cosmetic care and enhancement.
Work Under Pressure
Being a PA and performing at an almost-doctor level puts any PA under a high level of pressure to be professional, expert and accurate.
Though PAs work under the supervision of a physician or surgeon, they are trusted with advanced-level tasks, making expectations from both patient and supervising physicians high.
Often PAs will function as team leaders in medical practices, adding another level of performance.
On top of all this, PAs must rigorously maintain their credentials, so successful PAs are able to handle the balance of daily work with continuing medical education.
Read More: How to Become a Genetic Counselor. Learn what it takes to pursue this career in the medical field!
Communication
An especially heavy burden of communication falls to physician assistants.
Supervising physicians rely upon them to explain complicated medical information to patients in a manner patients understand, a task a physician would ordinarily do if a PA were not available.
This can include describing procedures, explaining diagnoses, detailing medication instructions and more. A key part of their job is to inspire confidence and compliance with medical treatments and instructions.
Great communication with other healthcare workers is essential as well. Accurate communication with supervising physicians is an absolutely necessity in order to ensure proper patient care, including verifying diagnoses and confirming proper prescribing.
PAs will often provide instruction or directions for nurses, medical assistants and other healthcare workers, even if they are not directly supervising a team.
Analysis & Assessment
Since PAs are often the first – sometimes only – medical professional a patient will see for a particular issue, PAs are tasked with evaluating symptoms, some diagnosis, and sometimes administering treatment.
Independent observation, assessment, and analysis are required to help the patient and the supervising physician. This can require a doctor-level diligence and detail-orientation when investigating complicated medical issues.
Composure And Compassion
There is an expectation that nursing professionals will be compassionate and caring, while doctors are often forgiven for a more clinical demeanor.
PAs, are expected to be as compassionate as nurses and medical assistants, while conveying the sense of expertise and composure of a doctor.
Patients and their families are often stressed, frightened, anxious, and impatient.
Successful PAs are able to keep their composure, quickly identify when issues need escalation, and help patients and their families through difficult situations.
Sometimes the job can feel thankless. It can be emotionally and physically tiring. PAs, like all medical professionals, must rise above these frustrations and put patient care first.
While a dermatologist assistant may not be practicing in as stressful a situation as an emergency unit PA, advancing to the PA level needed for dermatologist assistants requires coping with all the clinical demands of a standard PA.
Lifestyle
Becoming a dermatologist assistant can be an excellent choice if lifestyle is an important consideration.
Dermatology practices are often only open during normal business hours, so a dermatologist assistant may not need to work the shifts typical for a hospital-employed PA.
There is always a demand for PA-level professionals. In addition, the pay is well above the nation's average wage and the job market is international.
While PAs generally work full-time, part-time and shift work may be possible for dermatology assistants.
Most professional jobs in healthcare come with attractive benefits.
Additionally, gaining the PA certification opens up doors to many practice areas, in addition to dermatology, allowing the PA to change course or specialty without losing ground financially or professionally.
Find A Dermatologist Assistant Job!
Certifications & Proficiency
Gaining the certification to become a PA – essential to being a dermatology assistant – requires at least six years of formal education.
Successful candidates will flourish in the structured, disciplined programs required to advance in the field. Basic certifications are:
Top Schools
U.S. News and World Report ranks top physician assistant programs as:
Duke University
University of Iowa
Emory University
George Washington University
Quinnipiac University
University of Colorado
University of Utah
Oregon Health and Sciences University
That said, there is room for debate. For example, study.com ranks Yale, University of Florida and George Washington University as their top three. Ranking criteria varies by reviewer. It is essential to make sure that any program selected is ARC-PA accredited.
How Does A Dermatology Assistant Find Work?
Starting out, most nurses and physician assistants will work in some type of hospital setting.
Demand is high and supervision is available. To improve chances of employment, it is wise to get the most advanced training possible, electing for dermatology rotations and taking dermatology-oriented CME.
Examples of dermatology-oriented coursework are listed on the Society of Dermatology Assistants (SDPA) website.
Bilingual physician assistants are always in demand.
Most jobs for dermatology assistants are going to be located in metropolitan areas where dermatology practices flourish. (In contrast, jobs for physician assistants practicing more generally exist in both rural areas and metro areas.)
Finding a dermatologist to supervise the practice is essential.
Where To Find Job Listings?
Physician assistants are very in-demand, so employers frequently advertise jobs, and they are easy to locate. The dermatologist assistant specialty is also quite findable, though there will be fewer specialized jobs.
Joining a local / state-specific dermatologist assistant organization can help locate jobs. The Society for Dermatology Physician Assistants (SDPA) is another dermatologist assistant job resource.
Online
Local hospitals list openings in career sections of their websites. Medical practices post jobs on job boards, Craigslist, and in local publications.
For physician assistants, many job boards exist and hospitals have standard, navigable employment practices. Dermatology assistant jobs are posted on the SDPA's website.
PAJobsite, PA-Exchange, and Physician Assistant Solutions all specialize in placing PAs. General job sites offer many postings. These include CareerBuilder, Indeed, Monster, and Simply Hired.
Nurse recruiting websites often list physician assistant jobs.
Staffing Agencies
Staffing agencies are also eager to recruit and place PAs.
Additionally, many states have dermatologist assistant organizations who list and refer jobs (these often have the format of state abbreviation+depa or +dermapa. For example, Florida's is fsdpa.org).
What is the Average Salary of a Dermatologist Assistant?
According to the Bureau of Labor Statistics (BLS), the median annual wage for physician assistants (a requirement to become a dermatologist assistant) was $104,860 in 2017.
Wages for dermatologist assistants may have both higher and lower variance. In some cases, pay may be slightly higher, due to specialization.
Conversely, in some cases, average wages may be lower because dermatologist assistants usually work in practices that do not require shift work, emergency and on-call hours.
Wages also vary by location.
Dermatologist Assistant Job Growth & Outlook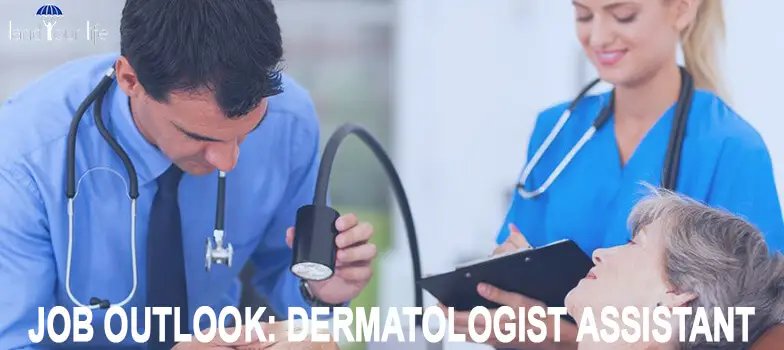 Job growth estimates for physician assistants are excellent, according to the BLS (Bureau of Labor Statistics).
Economic growth drivers for PAs, generally, include a national emphasis on preventative care, extended life expectancy, growing rates of chronic conditions, and baby boomer-inflated demand for healthcare services.
Additionally, it is much less costly to employ a PA than a physician.
For dermatology assistants, the influx of older patients provides some growth opportunities, especially in "retirement states." Dermatology assistant positions will most likely grow at the same rates as dermatology practices.
Top job titles for dermatologist and physician assistants include:
Physician Assistant, Dermatology
Physician Assistant
Dermatologist Assistant
Dermatology Physician Assistant
Clinical Specialist (PA)
Surgical Physician Assistant
Nurse Practitioner or Physician Assistant
Urgent Care – PA
Physician Assistant + Specialty such as Family Medicine, Neurology, Cardiothoracic, etc.
Job Path Snapshot
Once certified, physician assistants have many options for specialization and career development, including working as dermatologist assistants. PAs may have more than one specialty and have many work options. The basic process for becoming a dermatologist assistant is described above.
More Resources
The Society of Dermatology Physician Assistants (SDPA) has more than 2500 members and is the most public face of dermatologist assistants. Many states have individual associations that help organize and connect local practitioners.
Accreditation Review Commission on Education for the Physician Assistant (ARC-PA) is the independent accrediting body for all physician assistant programs in the U.S. It defines standards, and evaluates PA educational programs.
The American Academy of Physician Assistants (AAPA) offers education, publication, advocacy and more to physician assistants. Its primary mission is advocacy.
The Physician Assistant Education Association (PAEA) represents the accredited physician assistant educational programs. Its mission is to foster excellence in education.
The National Commission on Certification of Physician Assistants (NCCPA) acts as an independent certifying organization. It developed and administers the examination called Physician Assistant National Certifying Examination (PANCE).
Many state-specific physician assistant programs are available.