Del Taco Jobs & Careers – Application, How to Apply, Requirements & Interview Tips
Last Updated:
September 20th, 2019

by

If you've got a craving for homemade quesadillas or caramel cheesecake bites, submit your Del Taco application as soon as possible!

Promoted as UnFreshingBelievable, Del Taco serves delicious Mexican meals and tempting desserts.

Growing steadily over the past five decades, there are more than 500 Del Taco locations across the United States.

The following guide will walk you through the application process and help you land a job at Del Taco.

The restaurant has openings for all shifts, as most locations serve meals 24 hours a day. Whether you're looking for a part-time job for textbook money, or full-time career, Del Taco has the perfect position for you.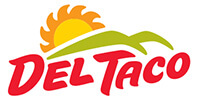 How to Apply for Employment at Del Taco
Candidates can fill out an application in person or online. The faster you submit, the faster you will be enjoying the employee benefit of discounted food.
Minimum Age Requirement: Applicants must be at least 16 years of age. To make a stronger Del Taco candidate, job seekers should obtain a work permit at 14 and gain a year or two of customer service experience prior to applying.
Hours of Operation: Almost all Del Taco restaurants are open 24 hours a day. This stemmed from the founder's attempt to keep up with the growing needs of the 24/7 lifestyle.
Method of Application: Job seekers are able to choose between two methods of application: visiting a local Del Taco, or submitting a resume online. Find a job listing and check out the online application here.
Before beginning the application process, candidates should have a copy of an updated resume.
Applying Online
The online application has a box where applicants can paste a resume.
When applying online, you will need to submit your name, phone number and email address. Candidates will also have the opportunity to include a message.
When finished, click submit and cross your fingers!
Applying at Your Local Del Taco
The Del Taco paper application asks for more information than its online counterpart. Candidates will need to list educational and employment histories.
For those choosing to fill out an application at a local Del Taco, submit a copy of your resume with the application. The Del Taco application is straight-forward and asks for a minimal amount of information, so a resume allows candidates to show off more personality and accomplishments.
Another benefit of bringing your resume with you is that you won't have to remember dates of employment, salaries, or the contact information for former employers.
Application Tips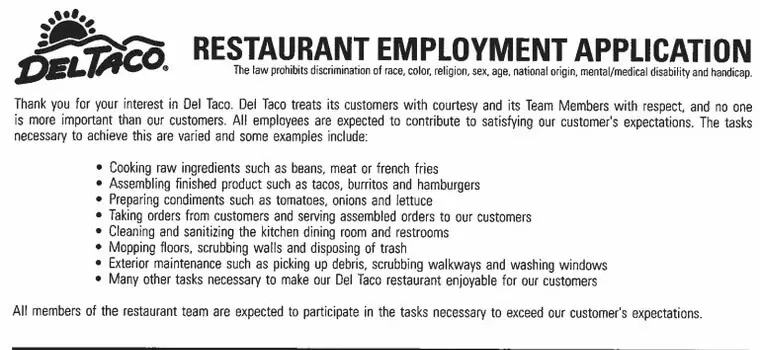 Writing the Online Message
Online applicants should take particular care when wording the message to be included with the application.
Begin with "To Whom It May Concern" or "Dear Sir or Madam." Addressing the letter in this way exudes an air of professionalism, which will keep the hiring manager reading.
Tell your potential interviewer why you would be a good fit for Del Taco.
The restaurant chain values enthusiasm, self-motivation, and individuality. If you have worked in a fast-paced environment, mention that experience to demonstrate how well you can work under pressure.
Bottom line, let your personality shine through in the message section to set you apart from other applicants.
Applying in Person
After searching for an open position here, carefully read any instructions associated with the job post.
Hiring managers may list specific hours for accepting applications. If the listing says to contact between the hours of 8:30 and 10:30 a.m., or 2 to 4 p.m., it is extremely important to follow those guidelines.
Arriving at your local Del Taco at noon to fill out an application will take away your chances of making the short list.
Dress as you would for an interview. If the job positing had specific hours for applications, there is a possibility of landing an interview immediately.
Leave the sneakers at home and opt for slacks or a skirt. Following a business-casual guideline is the best choice.
Should You Follow Up?
To check the status of your application call the hiring manager. If he is unavailable, ask for a better time to call.
Whether you submitted your application online or in person, call between the specified hours on the job listing.
Positions and Salary Information
After a 2013 remodel to create a lighter, fresher, and more contemporary look, Del Taco has been searching for the best candidates to add to its team.
While office positions are available at the Yermo, California, headquarters, entry-level and management positions are available in several states.
Submit an application to enjoy an employee discount, free food and a teamwork environment.
Cook – Prepare menu items, maintain product quality standards, operate grill. The average cook makes between $8 and $9 per hour.
General Manager – Supervise restaurant team, hire new members, manage financial performance. The average general manager makes between $40,000 and $45,000 per year.
Shift Leader – Ensure customer service standards are met, maintain inventory levels, coordinate front and back during shift. The average shift leader makes between $9 and $10 per hour.
Team Member – Maintain designated station, greet customers, take orders. The average team member makes between $8 and $9 per hour.
Best Entry-Level Positions
One of the greatest benefits allotted to entry-level employees is corporate and management's support of your desire to climb the Del Taco ladder. Candidates can expect a fun working environment with self-motivated leaders.
And the discounted food never hurts!
Team Member
The most common entry-level position at Del Taco is team member, which encompasses the order taker, food delivery person, and drive-thru order taker.
Team members are responsible for greeting each customer and ensuring customer service standards are met. Candidates must become familiar with menu items and packaging.
Hiring managers look for applicants who have a proven ability to work well as a team in a fast-paced environment.
Enthusiastic applicants are often given interviews. Successful candidates will love working with people and have an upbeat personality.
Cook
Cooks are responsible for making and presenting Del Taco's menu items while maintaining product quality standards.
Prior grill experience makes a strong candidate; however, Del Taco managers are willing to train the right employees.
All applicants must be at least 16 years of age and be able to stand for most of the shift. A high school diploma is preferred but not required.
Shift Leader
Candidates looking for more responsibility can apply for the position of shift leader.
Job duties include maintaining quality, cleanliness, and customer service standards, and adhering to health and safety codes.
Successful candidates should have one to three years of experience working in a quick-serve restaurant. Del Taco prefers shift leader applicants to be ServSafe certified.
Del Taco Careers in Management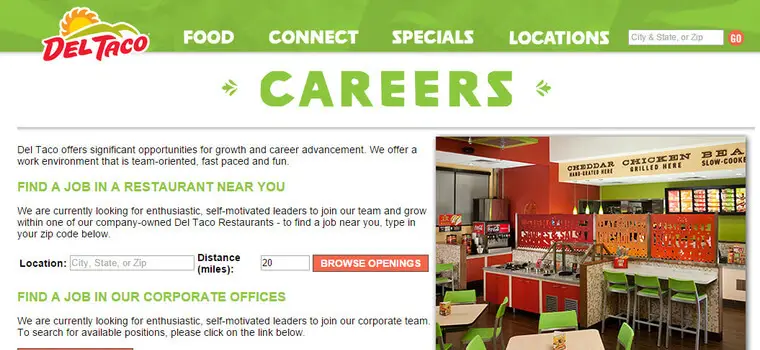 Applicants looking for a challenging and rewarding career should consider applying to Del Taco.
Managers enjoy competitive wages and comprehensive benefits, including medical, dental, and vision insurance, a 401(k) program, and paid vacation time.
Managers who strive for excellence are eligible for performance bonuses.
General Manager
This is Del Taco's sole managerial position.
The General Manager oversees the local Del Taco team. He or she must hire new employees while ensuring customer service standards are surpassed.
Math skills are a plus, as this position entails overseeing the restaurant's financial performance.
Ideal candidates will have a high school diploma and three to five years of experience working in a quick-service restaurant atmosphere. Applicants with prior management experience will easily make the interview short list.
Interview Tips & Possible Interview Questions
Dress to Impress
Del Taco enforces a uniform and grooming policy. When preparing for your interview, give yourself a professional appearance.
Women may wish to create a stylish do to ensure their hair does not look wild.
Men with longer hair should consider slicking it back to assure the hiring manager that their hair will not be in the way during service.
Choose business casual attire, which includes slacks, skirts, button-downs, and blouses. The hiring manager's first impression will come from how you are dressed.
Show Them You Can Stay on Your Feet
Del Taco employees should expect to walk or stand for up to 90% of an assigned shift. So the hiring manager has no doubts, mention previous jobs where you were required to stand for long periods of time.
Have you previously been employed as a waiter or a bank teller? If this is your first job interview, have you played sports that could demonstrate your endurance?
Show your interviewer that being on your feet is not a challenge.
Be Enthusiastic
Del Taco is known for its enthusiastic employees. During your interview, keep you answers upbeat.
Express the excitement you have about this potential employment opportunity.
Discuss opportunities you had to go above and beyond, either in school or at a previous job. Show how dedicated you have been in previous positions.
Show Your Ambition
If you are seeking this job as a stepping stone to management, tell them. Del Taco proudly offers significant growth and career-advancement opportunities.
Hiring managers are more likely to consider employees who wish to move up within the Del Taco ranks. Your interviewer knows that if you have lofty goals you will give the position your all to achieve your dreams.
Helpful Research for Your Del Taco Interview
Learning a company's background prior to your interview will allow you to ask intelligent questions of your interviewer.
Ed Hackbarth and David Jameson opened the first Del Taco in Yermo, CA, in 1964.
On its first day in business, the founders sold tacos for 19 cents and cheeseburgers for 24 cents. The first-day profits were $169, the equivalent of selling 900 tacos.
Already on a roll, Del Taco opened 49 more locations by 1977. Within the year, the company proudly doubled its number of locations and introduced bun tacos, quesadillas, and ice cream sundaes.
In 1988, Del Taco merged with Naugles restaurant chain. Ed and David noted the evolving 24/7 lifestyle and started opening Del Taco's doors 24 hours a day, seven days a week.
By 2008, there were 500 Del Taco locations in the United States.
What Employees Say About Working at Del Taco
The biggest benefit employees enjoy at Del Taco is discounted food. Anyone with a regular hankering for Mexican will love this perk.
Del Taco is also known for supportive co-workers with excellent teamwork skills.
Occasionally employees encounter rude customers. As with any customer service position, employees must smile and resolve complaints, then have a good laugh with awesome co-workers later. Read more employee reviews here.