Dairy Queen Jobs & Careers – Application, How to Apply, Requirements & Interview Tips
Last Updated:
June 15th, 2020

by

Fill out a Dairy Queen job application and see how hard they work to live up to their slogan: "We Make Fan Food, not Fast Food."

What do Bill Gates, Bill Clinton, and Conan O'Brian have in common? They've all come into Dairy Queen (DQ) for a burger, a Blizzard or a "curly-Q" cone.

If you're a fan of Dairy Queen's food, or if it's just a convenient place to apply, there are many opportunities available both in-store and at their corporate offices.

You might be interested in a Cashier, Crew Member or Cook position. Or, perhaps you're looking into a career in management with DQ.

Whether you like the interaction that you'll get as a cashier, or enjoy serving up the soft serve, this guide will walk you through the application process and give you an idea of what this "Fan Food" restaurant has in store for you.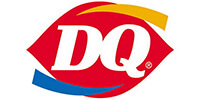 How to Apply for Employment at Dairy Queen
You cannot apply for a job at a Dairy Queen restaurant online. Instead, DQ recommends that you apply in person at the store.
Before heading down to the restaurant, pull up the Store Locator and find the phone number of your local store. Give them a call and confirm that they are hiring at this time.
Application Information
Minimum Age Requirement: Generally, you must be sixteen years old or older to work at Dairy Queen. There are some stores in certain states that will let you be a "Team Member" as young as fourteen, but this is the exception.
Hours of Operation: Hours of operation vary from store to store. Some stores are open from 10 AM to 9 PM, while others are open 24 hours a day.
Methods to Apply: All in-store jobs are available via walk-in applications only. There is not currently an online application option available.
What Kind of Store is Right for You?
Keep in mind when searching through the available stores that not all Dairy Queens serve both grilled food and ice cream. Some are only ice cream parlors, while others (primarily in Texas) serve massive chicken and beef burgers.
If you don't like the heat of the grill, avoid applying at stores labeled "Grill & Chill" and look instead for "Treat Centers." Usually located in shopping malls and outlet stores, these places only dispense soft serve cones and other chilled beverages.
Take time to determine where you would feel most comfortable in the store.
If you don't like frying hamburgers, indicate on the application or at the time of your interview that you would feel more comfortable working in a different area. You aren't guaranteed to get the position you request, but managers generally like to place people where they are most comfortable.
Application Tips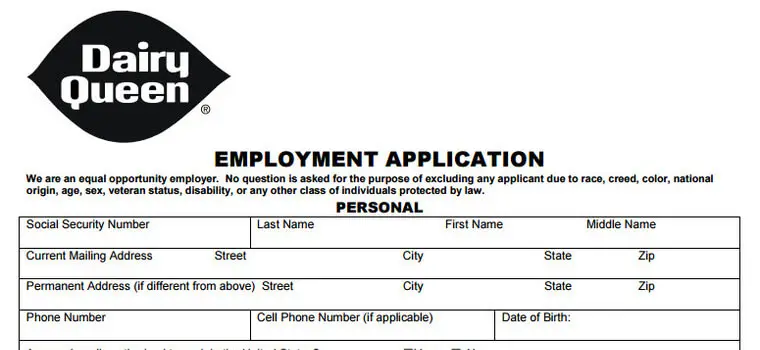 Since you are not able to apply online, be sure to block out a few hours to complete the application process. Make sure you know your social security number and have a couple of references prepared to put on the application.
Tips for References
References are very important when applying for a new job, since they allow prospective employers to gauge your success with the company.
References usually come from previous employers, but if you've never had a job before, you can put down a teacher or a member of a volunteer organization that you've assisted in the past.
Every Store Is Different
If you apply at multiple Dairy Queen locations, remember that this fast food restaurant is a franchise.
Most locations are privately owned and the owner gets some freedom in deciding how it is run. They have to follow some general corporate rules, but do not be surprised if the application process at one DQ is very different from the one six miles away.
Should You Follow Up?
Since most Dairy Queen franchise locations are privately owned, there is a chance that the manager or owner could call you in for an interview as soon as you hand in your application. Be prepared for this when you go in to apply, but do not expect it.
If you aren't interviewed immediately, you will receive a call from the management of the DQ location once they have reviewed your application.
If you don't hear back from them within a week, you can either call the store at the number listed on their Store Locator page, or you can visit the location again and politely ask about your application.
Don't pester the employees as that can hurt your chances of being hired. If the manager is not in, leave a message and exit the store.
Positions and Salary Information
The most common positions at Dairy Queen are cashier, crew member, and cook. Not all of these positions are available at all DQs, so be sure to check with your local store as to their availability.
Cashier – Greet customers with a smile, and take customer's orders. $8/hr.*
Crew Member (Soft Serve) – Focus on filling the customer's order, with an emphasis on soft serve ice cream and Blizzards. $8/hr.*
Crew Member (Server) – Deliver food and soft serve to the customers at their tables. Clean off and wipe down tables. Only at certain locations. $8/hr.*
Cook – Cook and prepare the hot food/grill items for the customer. This position usually requires that you be sixteen or older. $9/hr.*
*Dairy Queen does not post their job listings online. These job positions and wages are taken from phone interviews with Dairy Queen employees, and wage listings on the Bureau of Labor Statistics (BLS) website.
Find Local Dairy Queen's Jobs Near You!
Best Entry-Level Positions
The most common jobs at Dairy Queen are the cashier and the crew member.
Both of these jobs are common in the food industry, and all have on-the-job training. You will be taught by a more experienced employee, by written instructional material, or both.
Cashier
As a cashier, you are the first person that a Dairy Queen customer will see. It is very important that you are able to be friendly, and that you can pay attention to the orders the customer is giving.
This position is the only one at DQ in which you will rarely work with food.
Crew Member
As a crew member, your job can change based on what is needed in the store at each moment.
You might be assigned to a specific place in the store, such as the soft serve counter, but that can change depending on the store's need.
If the number of customers becomes overwhelming, you might be called to help in the kitchen, to clean off tables, or to do whatever else the store manager says is necessary at that moment.
Dairy Queen Careers in Management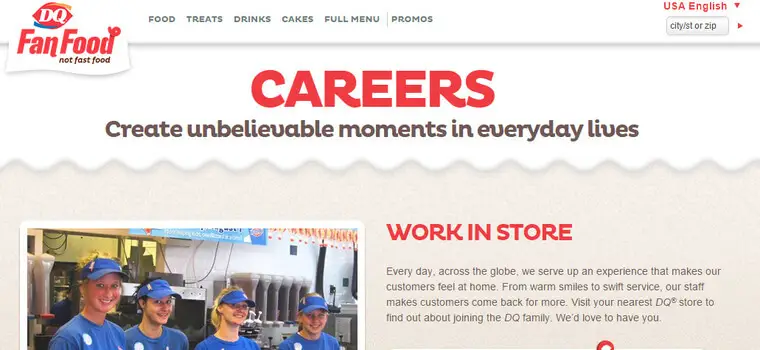 Each Dairy Queen has its own management. In some cases, these managers are also the owners of the franchise. In others, they are people hired by the owner to take care of the store for them.
There are not many opportunities for advancement at the local store level, but if you decide you like the company, you can apply for a job at their corporate office.
The corporate office jobs are only available at two locations: Edina, Minnesota and Montreal, Quebec, in Canada. Some of the corporate jobs include Associate Auditor and Associate Product & Brand Marketing Manager.
Store Manager
Store managers focus on making sure the customers are being treated well by the employees, and that the employees are not being abused by the customers.
They focus on keeping the store running smoothly, as well as assigning crew members to different areas of the store as needed.
Associate Auditor
 An Associate Auditor works with the Dairy Queen franchises to make sure that they are paying the proper franchise fees to the Dairy Queen corporation.
They also make sure that the franchise locations are using the DQ symbols and advertisements properly.
Associate Product & Brand Marketing Manager
This position focuses on increasing brand awareness and building new products to sell at the various Dairy Queen locations.
They also develop the sales and other promotions for use at some or all DQ locations, as well as working with multiple stores in the same area to develop location-specific food items.
Interview Tips
How Should You Dress?
Remember, when you go in to apply there's a small chance that you'll be asked to interview at that moment. Make sure that you are dressed appropriately in business casual attire, or at least in clean and modest clothes.
Even if your interview is not the same day, you should still make sure to dress appropriately when called in. Arrive to the interview a few minutes early and notify the interviewer or another store employee that you are there.
What if the Interview Begins Late?
Do not pester the interviewer if the interview does not begin at the specified time.
The interviewer will probably be the store manager, and emergencies or other tense situations can arise unexpectedly that will divert him or her.
It will make a good impression if you wait patiently until the interviewer is available.
Remember Your Resume
Make sure to bring a copy of your resume. If you don't have a resume, print off the application you gave to the company and bring it with you. It will contain your skills and other pertinent information.
Possible Interview Questions
How Well Do You Work with a Team?
Places like Dairy Queen, where the work requires teamwork and good communication to quickly fill orders, put a strong focus on good group interaction.
Be sure to emphasize any positive experiences you have had working with others, whether at volunteer organizations, school assignments, or previous jobs. If you have ever taken a leadership role in a group, share that experience as well.
What Do You Think This Job Will Entail?
Take time to review the job listing section above before going to the interview so that you are prepared for this question. Focus on the obvious answers for your chosen position, such as "preparing hamburgers" if you're interviewing for the position of the cook.
If you're not sure, don't be afraid to admit it, but at least try to guess.
Why Did You Apply at This Store?
This answer is fairly simple. If, for instance, you chose that particular store because it is close to your house, tell them so.
Whatever the reason, make sure to phrase it in a way that sounds beneficial to both you and the store.
For instance, instead of saying "I chose this store because I don't have to drive very far," say something like "I chose this store because it is close to my house, so I can get here quickly if I am needed."
Helpful Research for Your Dairy Queen Interview
The soft serve dessert formula that Dairy Queen is famous for was invented in 1938 by J.F. and Alex McCullough after years of experimentation. A local businessman, Sherb Noble, agreed to sell the frozen treat at his store.
The frozen dairy treat was a massive hit, and the three decided to open a store in 1940 specifically to sell the soft serve treat.
Fifteen years later, there were 2,600 franchise stores spread out across the nation. Two years later, in 1957, they introduced the Brazier concept, and some Dairy Queen stores began serving burgers and other hot foods alongside their frozen items.
Today, there are over 6,000 stores around the world, with the largest presence in the United States and Canada.
Did You Know?
Texas has its own set of menu items, all of which are large chicken and beef burgers.
The most popular DQ treat in China is the Green Tea Blizzard.
The store is named "Dairy Queen" because the founder said his product was the queen of dairy products.
The original store in Joliet, Illinois is no longer a Dairy Queen, but is still considered a historical location by the city.
What Employees Say About Working Here
Most employees seem to enjoy working at Dairy Queen, with some of the workers staying with the company for six or more years.
The main benefits are that (at some locations) you get a free soft serve and a meal during a long shift, and that is it generally a comfortable working environment. Most locations allow flexible hours, especially if they are open 24 hours a day.
The main complaints are the lack of menu standardization between locations due to the franchise nature of the business, and the late hours due to the business being open late or 24 hours a day.