Culver's Jobs & Careers – Application, How to Apply, Requirements & Interview Tips
Last Updated:
September 20th, 2019

by

If you love working with fresh ingredients and creating masterpieces out of burgers, then get ready to fill out and submit your Culver's job application today!

Culver's first opened in 1984 and started providing delicious burgers, fries, and fresh ice cream to customers in the company's hometown of Sauk City, Wisconsin.

Culver's has earned a reputation of cooking each and every burger to perfection and providing only the freshest food available. The company, still to this day, uses 100 percent fresh beef that has never been frozen.

In addition to fresh burgers, Culver's also makes their ice cream right on sight and you never have to worry about plain ice cream from a carton.

The company has over 541 stores throughout the United States. The company hires employees for both entry-level and management positions and you may find yourself working as a crew member or as a manager.

If you are ready to make fresh burgers, fries, and ice cream, then working at Culver's may be the right move for you.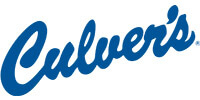 How to Apply for Employment at Culver's
To apply for a position at Culver's, the most commonly used method is by submitting an online application.
Application Information
Minimum Age Requirement: The minimum age required for employment at Culver's is 16 years old.
Hours of Operation: Culver's is open every day from 10:00 am until 11:00 pm. Some hours may vary by store location.
Methods to Apply: Interested applicants can apply for a position at Culver's by submitting an online job application.
Searching for an Open Position
To search for an open position, interested applicants will need to navigate to the job search page. From here, you can enter in search criteria including your location or any keywords.
When done entering criteria, click the search button and all open positions meeting your criteria will be displayed.
To view more information about a position, you can click on the title of the position. Upon doing so, you can see the job's requirements and qualifications.
Applying for a Job
To apply for a position, interested applicants will need to click on the title of the job they are interested in. From the job description page, click on the button that reads, "apply for this job online."
You will be prompted to create an account and once done, you can move on to the application.
The application starts out by asking for your personal information then followed by some basic questions such as your age and eligibility to work in the US.
As you continue on, you will see more questions about your availability, your willingness to work on holidays and weekends, and how many hours you wish to work per week.
Following the availability section, you will have the option to enter in any high school activities that you participated in along with your work experience and education history.
Once done with the above sections, you can sign and submit your application.
Application Tips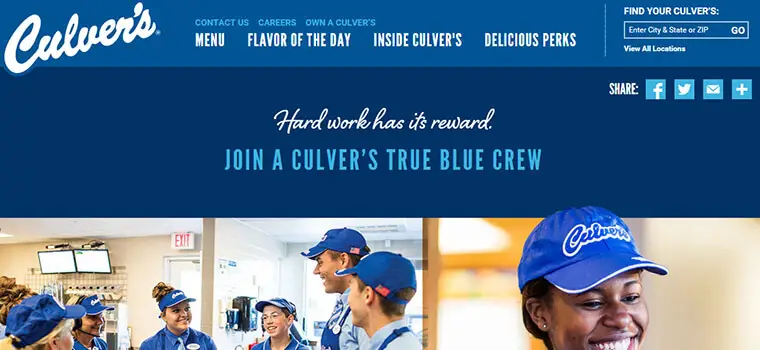 When you go through the application, you may come across some questions that worry you because you do not know how to answer them. Below, we will go over some tips to help you get through the process.
Weekend and Holiday Work
It is important that you are ready and willing to work on the weekends and on holidays. Culver's is open both of these times and since it is a retail position, the company is looking for employees who are available.
Enter in Activities and Don't Be Shy
There is a section on the application that allows you to enter in any high school activities you participated in. It is important that you highlight any special clubs or volunteer activities you took place in.
The company is trying to gauge how well rounded you are and you can showcase your accomplishments during this opportunity.
Be Honest about Your Eligibility to Work
When it comes to the application, do not fabricate whether or not you are able to work legally in the country. Sometimes, employers are willing to sponsor visas for their employees, so do not be afraid to let the company know if you are not a citizen.
Also, keep in mind, if you do lie on the application, most companies check this information and will easily find out that you are not authorized to work.
Should You Follow Up?
You can follow up on your job application by logging back into the account you created when you first applied. From the dashboard, you can see all open applications and view the status of them.
In addition, you can call the specific store you applied to and speak with the hiring manager. Before you call though, make sure you give the hiring manager a couple of days to review your application.
When you do call in, ask to speak directly with the person in charge of hiring and if he or she is unavailable, ask when a better time to call back would be.
Positions and Salary Information
Culver's has over 541 restaurants throughout the United States and they hire employees to work throughout each of the stores. You can find both entry-level and management positions and it is easy to move around in the company.
The company looks for employees who are ready to make fresh food and service customers with a smile on their face.
Crew Member – The Crew Member is responsible for providing superior service and taking customers' orders. He or she will help assemble food when needed. As a Crew Member, you can expect to make between $7 and $10 per hour.
Porter – The Porter is in charge of making sure that the restaurant is always clean and up to par. He or she will also check the temperature of food to ensure it meets the health guidelines. As a Porter, you can expect to make between $7 and $9 per hour.
Assistant Manager – The Assistant Manager is responsible for making sure the restaurant runs smoothly at all times. As an Assistant Manager, you can expect to make between $25,000 and $40,000 per year.
General Manager – The General Manager is responsible for making sure the restaurant is successful and that all employees are performing their jobs correctly. As a General Manager, you can expect to make between $37,000 and $50,000 per year.
Best Entry-Level Positions
Culver's hires interested applicants to work in entry-level positions throughout their restaurants. The entry-level positions are important to the company and you will be interacting with customers on a regular basis.
While working in an entry-level position, you will gain the skills needed to move into a management position throughout the company.
Crew Member
The Crew Member is responsible for manning the cash register and taking customers' order. He or she will also help make food when assigned to the kitchen and deliver orders through the drive-thru.
In addition, he or she will provide quality customer service and ensure that the area in the kitchen and around the cash register is clean at all times.
Porter
The Porter is responsible for checking the restaurant to make sure all areas are stocked with product and that the tables, floors, and restrooms are clean. He or she will pick up any trash leftover on tables and in the parking lot and place it in the correct receptacles.
He or she will also take the temperature of any food items to ensure they fall within the health and safety guidelines.
Culver's Careers in Management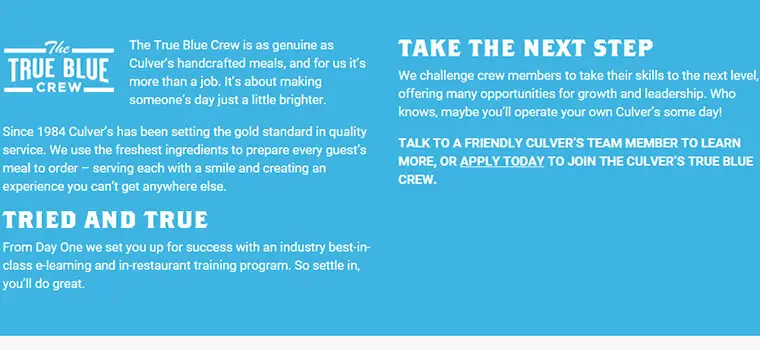 Culver's hires employees to work in management positions throughout their restaurants. These positions allow you to step into a leadership role and you can lead your team to success.
Full-time employees enjoy a variety of benefits including health plans, competitive pay, and more.
Assistant Manager
The Assistant Manager is responsible for making sure that all shifts run according to plan and policy. He or she will help all Team Members achieve success through coaching and showing them how to perform their jobs.
In addition, the Assistant Manager should prepare and review reports based on the cash register totals and inventory.
General Manager
The General Manager is responsible for making sure that only quality product is being produced in his or her store. He or she will always ensure the accuracy of the cash registers and provide additional training to Team Members when needed.
In this role, you will always ensure that employees are following policy including coming into work on time, dress appropriately, and similar.
Interview Questions and Tips
If you have an interview with Culver's, it is important that you take some time to prepare for it. Below, we will go over some questions you may encounter as you go through the process.
Do You Take Health and Safety Regulations Seriously?
It is important that you do take these things seriously as customers can get sick if you are not careful. You may be asked if you would follow all policy guidelines and health standards.
Why Do You Want to Work Here?
There are many different reasons why you may want to work at Culver's and no one reason is right or wrong. Some people want to work here because they love the food or maybe because they love working with customers.
What Do You Do Outside of Work?
The interviewer is trying to get an idea of who you are. You should answer this question honestly and do not be afraid of your answer. For example, some people enjoy horseback riding and others enjoy sleeping. There is no right or wrong answer.
Helpful Research for Your Culver's Interview
Culver's was first started in 1984 by Lea and Craig Culver. The idea behind Culver's was to provide the freshest and best Butterburgers available. In addition to the burgers, the company serves delicious fries and fresh ice cream.
With 541 stores throughout the United States, Culver's is always looking for employees to help carry out service with a smile.
What Employees Say About Working Here
Employees working at Culver's are happy with their positions and many of them talk about how the environment is supportive and great all around. In addition, many of the employees also discuss how the management team is helpful and always willing to teach you something new.
Other employees are happy that the training is spot on and that there is hardly a shortage of people working, which helps make working a breeze.