Citi Trends Jobs & Careers – Application, How to Apply, Requirements & Interview Tips
Last Updated:
September 20th, 2019

by

Share your passion for brand name discounts and become part of the team by filling out a Citi Trends job application. Better your chances for employment by using the tips in this guide, one of Land Your Life's many exclusive guides.

Citi Trends is a store that sells discounted clothing, accessories and home décor sourced from dozens of different nationally known and ranked brands.

Rated as one of America's best small companies by Forbes in 2008 and 2009, Citi Trends knows what its market is, and makes sure that its employees have that same focus and drive.

Working at Citi Trends has several perks, such as employee discounts on all merchandise, and the retail positions are all sales-focused.

This guide will show you how to apply for a job at Citi Trends, and will work to help you get the job.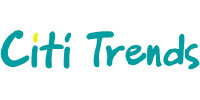 How to Apply for Employment at Citi Trends
Most future Citi Trends employees start their path to employment at the Citi Trends website, by selecting the "Jobs" link at the bottom of the home page.
From there, you can find jobs at your local stores and apply, but keep in mind that there are some restrictions:
Application Information
Minimum Age Requirement: The application page asks if you are over 18, but does not prevent you from applying if you say "no." The youngest anyone reports being hired by Citi Trends is 16.
Hours of Operation: Most stores are open Monday through Saturday from 10 AM to 8 PM, and Sundays from 12 PM to 6 PM.
Methods to Apply: It is highly recommended that you apply online through the Citi Trends website. You can try to apply in person, but most Citi Trends locations will direct you back to the website, or have you apply at an in-store kiosk.
Create An Account
The very first thing that the Citi Trends application process asks you to do is to create an account with them, using an email address as the login.
Once you've made an account, you'll need to create some security questions to make sure you can reset your account.
The author of this guide recommends using obscure information for these questions to make it harder to guess, so dig deep and try to remember the name of your first crush, or the nickname you had for your sister's pet gerbil.
Upload Your Resume
Then they offer you the opportunity to upload your resume to autofill the rest of your application.
You can probably avoid that, because unless the resume is perfectly formatted, the autofill function isn't going to work. Most of the time it tends to put your address in the name field and then fill in the zip code field with your GPA.
Application Tips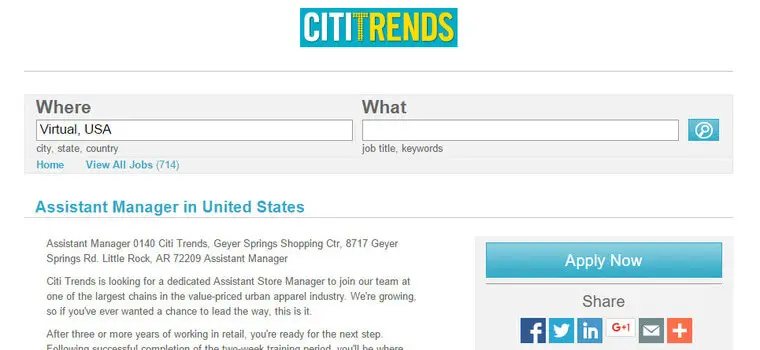 When you apply, be sure to read everything very carefully, as the Citi Trends website sometimes can have formatting issues. Make sure you're typing your information in the right fields.
Complete The Assessment
The application includes a 65 question personality assessment at the end, done by a separate company.
The questions are pretty simple, all true/false or multiple choice. The questions include things like "You get upset with the world when a thief gets away without punishment, true or false?"
If you have to stop your application in the middle of the process, don't worry! The login that you made at the beginning of the process can let you right back to your current application.
Comply To Any Testing
You will be asked if you are willing to submit to a drug test and a background check, as is standard. If you aren't willing to undergo both of these, your chances of getting hired are much lower.
Should You Follow Up?
Once you have submitted your application to Citi Trends, you can check on it as often as you want by going to the Citi Trends' Jobs website and logging in.
You will get a phone call and/or email from the hiring manager once they decide if they're going to offer you an interview.
If you don't hear from the hiring manager for a week after you apply, and the status on the jobs website hasn't changed, you can call the Citi Trends store that you applied to and check on the status of your application. You can find the phone number by finding your store on the store locator.
Make sure that you are polite and if they say that they haven't had a chance to look at it, thank them, and end the conversation.
Positions and Salary Information
The most common job at Citi Trends (and the only real entry level job available) is Sales Associate. There are several management positions, and inventory buyers, but they require a bit of experience.
If you can handle being a sales associate for a year or two, you can move up in the company into one of these positions:
Sales Associate – Manages cash register, performs sales. $8/hr*.
Assistant Manager – Works with Sales Associates to keep store running smoothly, works with Store Manager to implement new store policies. $11/hr.
Store Manager – Works with Assistant Manager to keep the employees working well together and maintain the store. $20/hr.
Area Operations Manager/Assistant District Manager – Works with District Manager to maintain and operate several stores in the district. $22/hr.
District Manager – Runs multiple stores in the district, makes sure stores work to complement each other. $25/hr.
Associate Buyer – Shops around at various clothing, home décor, and accessory stores to find deals on clothing items. $15/hr.
Buyer – Approves purchases of the Associate Buyer, and finds deals and other purchases. $20/hr.
Merchandise Assistant – Assists in the purchasing and organizing of store merchandise as is necessary. $14/hr.
* Citi Trends does not list their salaries on their website. These figures are taken from the Bureau of Labor Statistics Bureau of Labor Statistics, Glassdoor.com and Payscale.com averages.
Best Entry Level Positions
The best and only entry-level position listed on the Citi Trends website is the Sales Associate. All other positions require at least a bachelor's degree and one year of work experience.
Sales Associate
The Sales Associate position is a job that covers many different areas in the store, ranging from running the cash register and performing sales, to helping the customers find the desired products and making sure the store is properly stocked.
Most stores will have multiple Sales Associates working together at the same time.
Citi Trends Careers in Management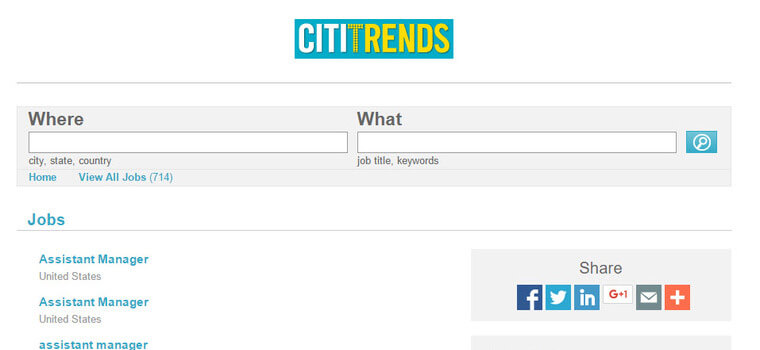 There are many different management positions available at Citi Trends, from the Assistant Manager to the District Manager, all working to make the stores run without issue.
This company claims to have good upward mobility, and with the number of available management jobs available nationwide, it certainly is possible:
Assistant Manager
Helps Store Manager with daily tasks of running the store, maintains needed inventory, and monitors the employees and their customer interactions to make sure the customers are receiving adequate service.
Store Manager
Manages hiring and firing practices of store, responsible for maintaining a fully-staffed store.
Works with Assistant Manager to monitor the customers and the employees to make sure the customers are receiving the best possible service. Makes sure that all employees are obeying Citi Trends policies and procedures.
Area Operations Manager/Assistant District Manager
Visit multiple stores in their district to check up on operations.
Maintains and coordinates a "SOS team" for emergency store help if needed. Works to make sure all stores have necessary inventory.
District Manager
Monitor store sales and other production numbers and makes sure that all the stores are running as profitably as possible.
Works with Assistant District Manager to make sure that all stores have necessary personnel.
Makes sure stores are clean and well-stocked.
Interview Tips
When you go in for the interview, make sure that you arrive at least fifteen minutes early. It might be good to arrive thirty minutes early and spend some time getting used to the store and how it feels.
Notice What's Going On In The Store
Make sure you note if any sales are going on, and if you are asked if you have any questions during the interview, ask why they decided to put that item on sale. This shows that you have an interest in the company, which is always a plus to hiring managers.
Citi Trends is very focused on being affordable and still having quality merchandise. So, when you go in for an interview, it might be a good idea to mention any experience you have had with managing money, and if you are aware of any good sales in town.
What To Expect If It's A Group Interview
The interview might not be a one-on-one event, but rather a group interview.
These are usually much less intense, since you're not the only one being asked the questions. You will be given a slip of paper, and everyone in the group will be asked a question and write out their answer.
If it is a group interview, focus on being original and standing out from the group. Don't go too far off the road, but make sure to give somewhat original answers.
For example, if asked, "Why should we hire you," "Because I will bring a sense of humor to the employee atmosphere" is much better than "Because I like fashion."
Possible Interview Questions
Name a time that you went above and beyond your normal work-related duties.
This question should be focused on something in retail or fashion, since that's the job you're looking to get.
If you don't have any past retail experience, focus on the time you were able to sell your basketball jersey to one of your friends, or when you were the first to wear an outfit that became popular.
If you caught a friend shoplifting, how would you react?
Just a helpful tip here, the wrong answer is: "I would help him/her." Instead, focus on talking your friend out of stealing the item; after all, they're your friend, they should be willing to at least listen to your reasoning.
If they don't listen, then say that you will inform the manager, even if that's hurtful to your friendship.
So you know a customer is wrong, but our policy here at Citi Trends is that the customer is always right. How do you handle the situation?
Most of the time, this is not an argument you can win. If the customer is truly convinced they are right, even if you can tell that the pants they have on are two sizes too small, don't argue with them.
Make that sale, and gently encourage them to save the receipt just in case they run into a problem with the product.
Helpful Research for Your Citi Trends Interview
Citi Trends began as a store named Allied Department Stores in 1958.
Their first store was in Savannah, Georgia, and sold a general selection of items. The company heads decided to focus their product line on the more poor areas of the cities, providing cheap but quality clothing to those who couldn't normally afford it.
There are now over 515 stores nationwide, and two large distribution centers in Darlington, South Carolina and Roland Oklahoma. In 2005, the company went public, with a current share price of $24.96.
Other Interesting Facts
Citi Trends has a whole section of clothes called "Americana" which focuses on clothing patterned with the red, white and blue of the American Flag.
On March 21, 2015, Ed Anderson (CEO of Citi Trends) stepped down in order to retire, and he was replaced by Jason Mazzola, who was previously the Executive Vice President and Chief Merchandising Officer.
What Employees Say About Working Here
The reviews from current employees and ex-employees seem to be mostly negative. The employees that are happy at the company focus primarily on having easy access to the new fashions, and being able to get the clothes at an employee discount rate.
The employees that were unhappy with their jobs focused primarily on the poor pay and the lack of benefits. There were also several poor reviews of the management at different stores.
Some of the employees complained that their managers were terrible and extremely unprofessional, focusing on their own needs and ignoring that of the customers and of the employees.
Others took issue with the manager's lack of loyalty, with one ex-employee claiming that he or she quit after they heard that the manager was planning on clearing out all of the old workers to make room for all new ones.
The greatest incentive to work at Citi Trends seems to be the clothing, so if you want to be on the front-line of fashion, and enjoy working in a friendly place, then this is the job for you.