Cato Jobs & Careers – Application, How to Apply, Requirements & Interview Tips
Last Updated:
September 20th, 2019

by

If you are an individual who has an interest in fashion and enjoy the retail industry, perhaps you've considered filling out a Cato job application.

Cato stores can be found, most commonly, in Walmart owned strip malls found around the United States.

The company, though primarily a women's store, caters to all people of all shapes and sizes. Store divisions tell you what sort of people it pertains to. For instance, Cato plus is for juniors, misses, and plus-sizes.

Workers here are eager to help their customers and find them the apparel they are looking for.

If this sounds like something you'd be interested in, then stay tuned. I will give you a brief guide with some basic tips on how you can land your next job at Cato.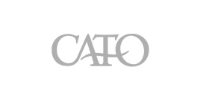 How to Apply for Employment at Cato
So here is some information to get you prepared for Cato's application process.
Included are some tips that are sure to help you do well and stand out to the people that matter.
Application Information
Minimum Age Requirement: Generally, you must be at least 14 years of age to work at Cato and 18 years of age to actually work in-store.
Hours of Operation: Monday through Saturday 10am-9pm and Sundays 1pm-6pm. If employed you can expect to work an hour or two before or after those times to perform duties such as store open/close, inventory and cleanup.
Methods to Apply: There is only one recommended way to apply and that is to print out an application, fill it out, and hand it in to the store to which you are applying.
When You Drop Off Your Application
Be presentable. Don't go to drop off your app looking like you just rolled off the couch. Clean yourself up, dress nice, and looking in the mirror.
Though you are not on your way to an interview, you don't want someone mentioning to the hiring manager that some bum dropped of an application.
Look nice and be cheerful. If you can strike up a good conversation with the worker you hand your information to it may help get your foot in the door.
After You Apply
After you apply you can expect someone to contact you with a decision in about a week. This will either be good news or bad news.
If it's good then they will most likely want to schedule an interview with you. Do good in the interview and you'll hopefully get the job.
Application Tips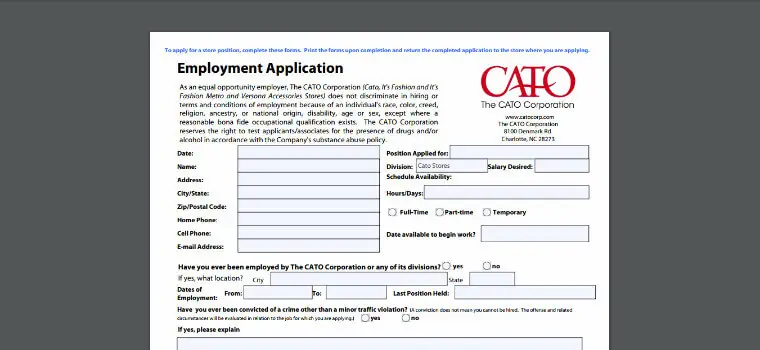 Show Your Personality
When in conversation with the hiring manager, be yourself. You don't have to be some zany, over-the-top character, just don't be dull.
If you're going to be interacting with customers, they're going to want to hire someone who is vibrant and friendly.
Maybe you could share something about yourself. Relate some of those good personality traits with position you are applying for.
What Experience Do You Have?
Instead of trying to think of of something that immediately qualifies you, have a list prepared of any and all experiences that make you a good candidate for the job.
Having a list can help free your mind and structure your speech. You won't have to go searching around your brain for reasons they should hire you.
Get excited when you speak. This will help drive your points home.
Get A Haircut!
This one probably pertains more to the gentlemen, but certainly girls too. Don't show face with a messy do.
It's so easy to go and spend an extra $15 on getting trimmed up and will only add to you're quality of presence.
Same goes with beards. Trim it up. You want to be clean cut so they know you care about how you look. You will be in front of customers everyday and want to set a good image for the company and the store.
Should You Follow Up?
Of course you should. Instead of being too eager, though, you want to let things run it's course.
There is a fine line between being attentive to your application and being annoying to the people in the store.
Don't pick up the phone before 3 days. That's hardly enough time to give to anyone who has to sift through apps and make interview decisions. Especially, because chances are they have other responsibilities throughout the day.
4-5 days would be a perfect amount of time to give before inquiring.
Positions and Salary Information
Sales Associate: Pay averages $8-$10 per hour- You will be on the floor helping customers, answering phones, checking people out and picking up all the stuff those kids knock onto the floor.
Assistant Manager: Pay starts at around $10.50 per hour- You are responsible for assisting the Store Manager in his/her duties as well as perform similar duties of the sales associates. In the absence of the Store Manager you would be the acting Manager.
Store Manager: Average yearly salary is around $30,000- You would be overseeing the daily operations of the store as well as hiring and coaching employees. Making sure corporate's standards are met and keeping in communication with upper management.
District Manager: Average salary is $50,000 per year- As a District Manager you would manage several locations within a specific district, ensuring that each store is meeting it's goals and addressing any bigger issues that may arise. You will be the one who is primarily communicating with corporate keeping them in the loop of how they are running.
Regional Vice President: Around $100,000 per year- As the Regional Vice President you would be in charge of overseeing several districts throughout a certain region. You would be responsible for scheduling meetings to discuss overall progress, work directly with corporate office, and make sure locations are hitting their target numbers.
Best Entry-Level Positions
Sales Associate
A Sales Associate is an entry-level position aimed for a person who is trying to gain work experience with the possibility of moving up in the company.
Responsibilities include helping customers out on the floor, accurately checking people out, helping with inventory, answering phones, and cleaning.
You will be the face all the customers see and will be taking on any additional tasks handed down by managers.
Though this position does not pay the moon and the stars, it is steady, reliable work, with potential to grow with the company.
Assistant Manager
This position would be great for someone who has a few years of retail experience and is looking to take on a more supervisory role.
Tasks include occasionally standing in for the Store Manager while he/she is out, handing out tasks to employees while sometimes performing similar tasks, ensuring daily goals are met and handling customer complaints.
This job is great for anyone looking to move up through the ranks and eventually become a store manager.
Cato Careers in Management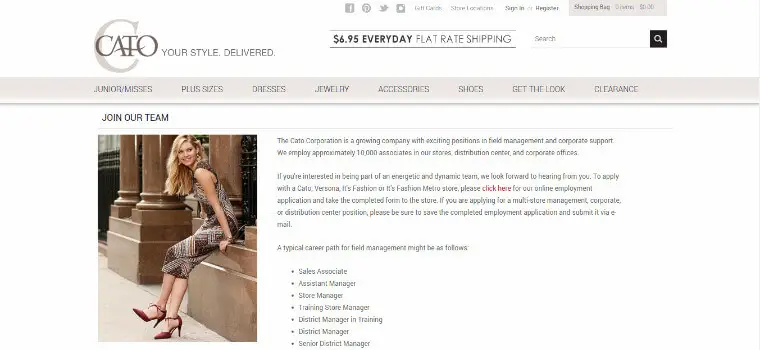 Store Manager
For this position you must have years of retail experience and experience in a supervisory role.
As a Store Manager you will be in charge of overseeing daily operations, training and coaching employees,ensuring your store is meeting corporate's set standards and communicating with upper management. You will also be handling customer complaints and documenting the stores progress.
If you are looking to stay in retail for the long haul and want a chance to possibly move your way up to District Manager, then this is the job you need to get.
District Manager
As a District Manager you must have excellent management and business logistic skills. Communication is the biggest part of this job, though you will have to be experienced in several areas such as marketing, training, computers, etc.
You will be taking responsibility for all stores designated within your district and communicating those store performances and numbers to the Regional Manager and corporate office.
Professionalism is paramount in this role and expectations are high.
Interview Questions and Tips
What Do You Know About Fashion?
If you are applying for a retail job in fashion, you should probably know a little bit about it.
Whether you like being well-dressed, or simply have in interest in apparel, you should share that in your interview.
Gain some knowledge before hand so you are ready for the question. Do not answer, "Not much" or "I'm just trying to find a job." Even if it is an entry level position, they are looking for someone who cares about the work.
Why Are You Applying?
So besides the obvious reason of you wanting to find a job, what draws you to this specific position?
This would be a good time to express what you like about Cato and its stores. Try not to be boring but snappy and upbeat to give the image that you really are sincere about the store.
The manager will appreciate this and will remember the impression you've made.
Helpful Research for Your Cato Interview
Why Should I?
It's always a good idea to do your research on the company you're applying to. There are two reasons for this.
One, is so you know what you are getting yourself into. If it's not a reputable company then you might not want to waste your time going through these steps just to find yourself out of a job in 3 months.
And two, you want to be able to spit some knowledge when you are at your interview. Aim to impress with what you know about Cato. Other people, typically, will not do this. Therefore, putting you ahead in the game.
Below are some key research notes on Cato.
The Company's Start
Cato was founded in 1946 by Wayland Cato.
He included his two sons, Henry Cato Jr. and Edgar Thomas in the upbringing of the company.
It Wasn't Always Smooth Sailing
In 1968 the company when public, when back to private in 1980, then went public again in 1987.
In the 90's the company almost went bankrupt, but saved itself by utilizing a new discount pricing strategy
Today
The company today is considered one of the biggest strip mall fashion retailers in the Untied States.
Cato has 1,346 store locations and is worth approximately $944 million.
What Employees Say About Working Here
As well as researching the company's history, it may be a good idea to research what people have to say about the company.
Here are some of the things both past and present employees have said about Cato.
Well, it seems to be a fairly common opinion that the in-store employees have flexible hours. This is good to hear for people that don't have the same schedule week to week.
Pay is low, but consider the level of position that someone is commenting about. Entry-level jobs do not get you rich.
Job security looks good. Which means if you start out as an associate you have a decent chance to stay and work your way up to a manger.