Carmike Cinemas Jobs & Careers – Application, How to Apply, Requirements & Interview Tips
Last Updated:
September 20th, 2019

by

If you enjoy the latest movies that are hitting the big screen, then get ready to fill out and submit your Carmike Cinemas job application today.

Carmike Cinemas is a cinema theater that is headquartered in Georgia. The company has roughly 270 theaters throughout 41 states in the US. All of the theaters combined have a total of 2,881 screens to show all of the new release movies and hottest films of the season.

The company has a motto of being "America's Hometown Theatre" and as such, the cinemas are often located in larger suburban areas and rural areas as opposed to the largest cities.

The company was first founded in 1982 and has continued to maintain its promise that it would provide quality service to all moviegoers.

Carmike Cinemas hires employees to work in a variety of positions including at the concessions, ticket orders, and even as assistant managers.

If you love the movies and you want to help serve customers who love movies as well, a position at Carmike Cinemas may be the right career move for you.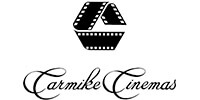 How to Apply for Employment at Carmike Cinemas
To apply for a position at Carmike Cinemas, the most commonly used method is by filling out and submitting an online job application.
Application Information
Minimum Age Requirement: The minimum age required to work at Carmike Cinemas is 16 years old, but some locations require you to be a minimum of 18 or 19 years old.
Hours of Operation: Carmike Cinemas is open Monday – Saturday from 11:00 am until 12:00 am and on Sunday from 12:00 pm until 9:00 pm. Hours may vary by location.
Methods to Apply: Interested applicants can apply for a position at Carmike Cinemas by submitting an online application through the company's website.
Searching for an Open Position
To search for an open position, interested applicants should visit the employment page. From here, you can view all open positions offered by the company.
To learn more about a specific position, simply click on the job title and you can view the requirements and minimum age requirements.
Applying for a Job
To apply for a position at Carmike Cinemas, you will need to click on the apply button located next to the job title and location.
From there, you will be taken directly to the job application, which starts out by asking for your personal details.
The next section asks whether or not you have been employed by the company before and then goes on to allow you to enter in your emergency contact's information.
You will need to verify the position you are applying for and then move on to your start date, expected salary, and whether or not you are available to work full or part-time.
The next sections ask about any criminal convictions you have had, for your work history, and then for any military experience.
Once done with those sections, you will need to enter in three references followed by your education history.
You can now sign and submit the application.
Application Tips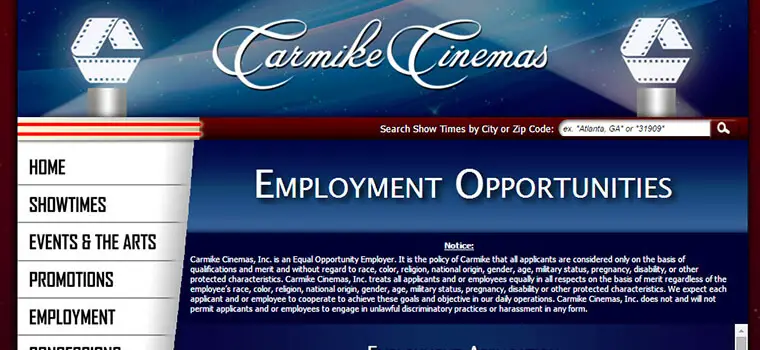 When it comes to the application, you may not know how to answer some of the questions you come across. Below, we will go over some tips to help you get through the process smoothly.
Be Realistic about Your Salary
While you may be tempted to put a high number in for your salary expectations, you should avoid doing so and be realistic. In the section labeled positions and salary information below, we discuss the pay rate you can expect.
Keeping your numbers realistic will help ensure that you are chosen for an interview. For example, if you apply to be a cashier, but put that your expected salary is $25 per hour, you will likely not hear back from the manager.
Don't Hide Criminal Convictions
While it may be tempting to hide past criminal convictions, don't. Not all convictions will disqualify you for a job, and, in fact, the application only asks if you have been convicted of an offense involving fraud, embezzlement, theft, or a felony.
Your References Are Important
The application asks for you to list three references. It is important that you include these references, but you must pay attention to the instructions as well.
The application specifically states that the references should NOT be anyone related to you and you must have known the person for a minimum of one year.
Should You Follow Up?
You can follow up on a submitted job application by calling the specific location that you applied to. Before you call, allow the hiring manager to look over your application for a few days.
When you do call in, ask to speak directly with the person in charge of hiring. If he or she is unavailable, ask when a better time to call back would be.
Positions and Salary Information
Carmike Cinemas employs interested applicants for both entry-level and management positions in their theaters. All of these positions are important as you will be working with the public and helping customers on a day to day basis.
Whether this is your first job or you are looking to make this your career, you will find that Carmike Cinemas has a number of opportunities for you to seize.
Cashier – The Cashier is responsible for taking ticket orders and checking IDs of customers to ensure they can enter the movie based on the rating. As a Cashier, you can expect to make between $7.50 and $9 per hour.
Concession – The Concession worker is responsible for taking customers' food orders and packaging the food according to health and safety regulations. As a Concession worker, you can expect to make between $7.50 and $9 per hour.
Floor Staff – The Floor Staff is responsible for ensuring the theater is cleaned up and neat after customers leave and a movie has ended. As a Floor Staff member, you can expect to make between $7 and $9 per hour.
Assistant Manager – The Assistant Manager is responsible for helping with all operations of the theater including training, customer complaints, and more. As an Assistant Manager, you can expect to make between $25,000 and $30,000 per year.
General Manager – The General Manager is responsible for overseeing all operations of the theater and ensuring that all employees are performing their jobs as described. As a General Manager, you can expect to make between $40,000 and $50,000 per year.
Best Entry-Level Positions
Carmike Cinemas hires interested applicants to work in a variety of entry-level positions. These positions are important because they are the face of the company and you need to be able to provide superior customer service.
Each entry-level position has the opportunity to move up into a management role within the company.
Cashier
The Cashier is responsible for taking all ticket orders at the ticket counter. He or she will be in charge of checking customers' IDs to make sure they are able to enter into the movie based on the rating and their age level.
In addition, Cashiers will provide superior service by answering phone calls and all customer questions about the movies.
Concession
The Concession worker is responsible for taking customers' orders for drinks, popcorn, candy, and more. You will need to check the popcorn and other food items to ensure they are the right temperature.
You must maintain a clean working environment at all times and this includes following all health and safety guidelines set forth.
Floor Staff
The Floor Staff has an important job and you may be stationed in a number of different positions throughout the theater. In this role, you will be responsible for cleaning the theaters, bathrooms, and equipment.
In addition, you will also entertain guests, answer questions, and help show guests around the facility when they are lost.
Carmike Cinemas Careers in Management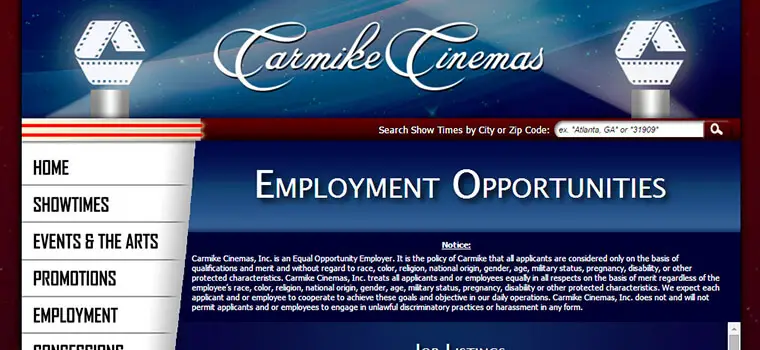 Carmike Cinemas hires employees to work in management positions and the company does like to promote from within as well.
When you take on a management role at Carmike Cinemas, you are stepping into the shoes of a leader and you will need to provide leadership to those under your supervision.
All full-time employees receive a number of benefits including free movies, healthcare plans, and more.
Assistant Manager
The Assistant Manager is responsible for helping the General Manager with all of the daily operations of the company. He or she will help handle customer questions or complaints, train new employees, and lend a helping hand where one is needed.
In this role, you will also be responsible for ordering any supplies that the theater needs and making sure that all departments are meeting goals that were set for them.
General Manager
The General Manager is responsible for managing all of the operations of the theater. He or she will need to lead by example and be a good role model for all entry-level positions.
In this role, you will provide excellent customer service, especially when patrons are upset or flustered about something. You will also need to hire, terminate, conduct payroll, and set the employees' schedules.
Interview Questions and Tips
When you go in for your Carmike Cinemas interview, it is important that you answer all questions honestly and promptly. Before you head off for your interview though, you should always practice your answers and think about some of the questions you may be asked. Below, we will go over some tips and questions that you may encounter.
What Would You Do if You Saw an Employee Stealing?
This is a tough question, but the answer they are looking for is that you would let the employee know it is wrong and alert a manager of the situation.
If you are ever put in a situation like this, you will have to make some tough calls and you may panic, but just take a deep breath and follow your instincts.
What is Your Favorite Movie and Why?
If you are asked this question, do not just throw an answer out there. Take some time to think about your answer and then have a reason for your answer as well.
For example, you may like XYZ movie because it teaches you about morals and how to handle situations with intense pressure, and so on.
How Long Do You Plan to Work Here?
No company wants an employee who wants to simply collect one or two paychecks and run off. Companies invest in you when it comes to training and they do not want to throw away a ton of money on training hundreds of employees.
If you do not want to make Carmike Cinemas a career, that is okay too, but make sure you let the interviewer know of your intentions. For example, if you want to work here until you finish school, let them know you plan to be employed for a couple of years.
Helpful Research for Your Carmike Cinemas Interview
Carmike Cinemas has been in business since 1982. The company specializes in motion picture films and offers 3D animation screens as well.
Carmike Cinemas is a leader in the industry throughout the US and operates 270 theaters throughout 41 different states. All of the theaters combined boast 2,881 screens. Out of the 270 theaters, 257 of them have 3D capabilities.
What Employees Say About Working Here
Many employees working for Carmike Cinemas say that they enjoy the atmosphere and meeting new people every day. The employees seem to like that the theaters stay busy as they always have something to do.
In addition, many of the employees gloat about how great it is to receive free movies and the environment is very professional with management teams that want to be part of your success.