Captain D's Careers & Jobs – Application, How to Apply, Requirements & Interview Tips
Last Updated:
July 14th, 2020

by

If you're interested in working for a fast-casual seafood restaurant, you'll love a career at Captain D's!

This restaurant chain first opened up in 1969 as "Mr D's Seafood and Hamburgers". Its first location was in Donelson, Tennessee. In 1974, it rebranded to focus on shrimp and fish & chips!

Today, the chain has over 500 locations and 6,000 employees. Its headquarters are located in Nashville, Tennessee. 

In this guide, you'll discover everything you need to know to land a career at Captain D's. You'll read about popular jobs you could apply for. Then, you'll see salaries you could earn. There are even interview tips towards the end!

At Captain D's, you can work as a Delivery Driver, Restaurant Staff, Cook, and more!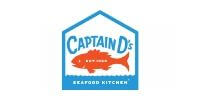 Captain D's Jobs & Careers

To search for jobs and submit an application, head over to the Captain D's careers website. Here, you can find out more about the company's history and work culture.
At Captain D's, there are lots of jobs available like:
Delivery Driver
As a Delivery Driver, your job is to get orders from the restaurant to the customer on time. While you do that, you'll represent the chain towards the customer. Being punctual is important for this role. You'll also do well if you can be professional and friendly with customers.
Restaurant Staff
In the Restaurant Staff role, you'll be serving customers in the dining area. You'll take orders correctly and deliver them once they're prepared. Having a pleasant personality is important. However, being able to upsell customers on food items will also be a plus!
Cook
As a Cook, you'll work as part of a Captain D's kitchen team. Here, you'll prepare fresh food items as orders come in. You'll work with seafood items as well as other side dishes. For this role, you need to be comfortable working in a hot kitchen environment.
Cashier
Being a Cashier means that you'll collect payment from customers. Then, you'll provide them with correct change and receipts. For cashless payments, you'll help process customers' payment cards. In this role, being good at handling money will help you do a good job.
Customer Service Associate
As a Customer Service Associate, you'll interact with customers as well. However, you'll focus on helping them with questions or complaints they may have. Being a good listener is important so that you understand the issue clearly before attempting to resolve it.
Manager Jobs
Captain D's also has a number of Manager roles for you to apply to. These include the Shift Manager and Restaurant Manager roles.
As a Shift Manager, you'll lead a Captain D's restaurant during an assigned shift. You'll lead, motivate, and train your team members to do the best job possible!
As a Restaurant Manager, you'll be in charge of a Captain D's restaurant. Your focus will be on making sure that your location reaches its targets each month.
How Much Does Captain D's Pay (Hourly & Salary)?
When you work at Captain D's, you'll have access to great benefits. This includes Medical, Dental, and Vision insurance coverage. You'll also participate in a 401(k) plan. On the job, you'll even receive staff meals!
At a minimum, you can make $9 an hour as a Prep Cook, 21% lower than the national average for similar jobs elsewhere. Here are a few other salaries you could earn:
Delivery Driver ($18 an hour)
Restaurant Staff ($10 an hour)
Cook ($9 an hour)
Cashier ($9 an hour)
Customer Service Associate ($10 an hour)
Shift Manager ($10 an hour)
Restaurant Manager ($40,000 a year)
How Old Do You Have To Be To Work At Captain D's?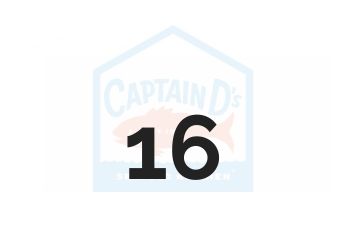 You have to be at least 16 years old to work at Captain D's. For Manager positions, you have to be at least 18 years of age. At 16 years old, you can apply for entry-level positions like:
Restaurant Staff
Cook
Cashier
Does Captain D's Drug Test?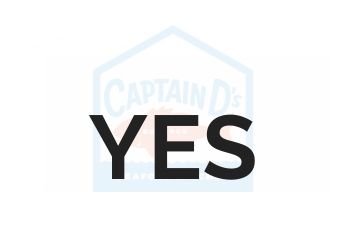 Yes, Captain D's does perform drug tests. However, it's not clear how they perform the test. It's also not clear where the test is performed.
Usually, companies perform drug tests by collecting a hair, urine, or cheek swab sample. The samples are collected on-site or at a third-party medical facility.
Does Captain D's Do Background Checks?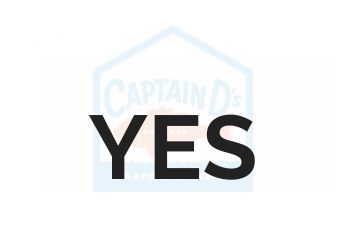 Yes, Captain D's sometimes performs background checks. It's not clear how far back in your history they may check. In the past, applicants with criminal records have been hired.
Possible Captain D's Interview Questions & Tips

Why Do You Want To Work At Captain D's?
Recruiters want to know what your motivations are. A good answer is one that connects your personal goals and interests to the job you're applying for.
Describe Your Work Ethic
A 'work ethic' is your personal philosophy on work. You can tell them that you believe the path to success requires lots of hard, honest work.
What Are Your Strengths and Weaknesses?
Be honest and open about your strengths and weaknesses. Be sure to focus on strengths that will benefit you in the job you're applying for. Tell them how you're overcoming your weaknesses.
What Can You Tell Us About Captain D's?
Do your homework! Recruiters don't expect you to know everything about the company. However, they want to know that you cared enough to learn about their basic history.
How Would You Deal With An Angry Customer?
When it comes to customers, always stay calm. Listen to what the customer has to say. Offer the best solutions you can think of. Don't be afraid to ask a manager or teammate for help.
Captain D's Hiring Process
Past applicants have found Captain D's hiring process to be a positive experience. They found the process to be easy. It should only take a day or two.
Usually, candidates attend walk-in interviews. If you've submitted an application, they may call you for a phone interview first. If you succeed, they'll call you in for an on-site interview.
No matter what job you're applying for, always dress to impress! Attend your interview in a business casual outfit at a minimum.