Cabela's Jobs & Careers – Application, How to Apply, Requirements & Interview Tips
Last Updated:
September 20th, 2019

by

Do you love the outdoors and long to work in an environment that promotes the wonders of outdoor living? Then we highly advise you to complete your Cabela's job application today.

Richard Cabela founded his company, the "World's Foremost Outfitter," when he began selling products from his kitchen in 1961.

Today, Cabela's has grown from its simple beginnings into a company that markets camping, hunting, fishing, boating, and shooting gear. Cabela's sells its products throughout the United States and in Canada, as well as on its website.

Cabela's seeks people who are enthusiastic about the outdoors for positions in their retail stores.

If you have a passion for outdoor activities, Cabela's just might be the right employment fit for you.
How to Apply for Employment at Cabela's
Application Information
Cabela's requires candidates to submit their application for employment online.
Minimum Age Requirement: Those interested in a career with Cabela's are advised that one needs to reach their 18th birthday before being eligible to work for the company.
Hours of Operation: Cabela's stores open at 9 a.m. every day. On Sundays, stores close at 6 p.m., and stores close at 8 p.m. from Monday through Friday each week.
Methods to Apply: The best way to begin the application process with Cabela's is by clicking here.
Searching for an Open Position
The best place to begin the application process for a position at Cabela's is at their job search page.  From this page, you are able to learn about available positions by selecting a country, a location, and inserting a keyword.
Once you press the search button after selecting your criteria, all of the jobs that fit your criteria will appear. You may click on any of the job titles to read a description of the position and then to apply, if the job appeals to you.
Applying for a Job
Once you select a position for which you want to be considered, simply click on that position. Then, you will be able to read an overview of the job, the job functions, and and what the job requires of candidates including education, experience, and skill sets.
If the job appeals to you, click the "Apply" button and you can then begin the application process. You will need to create a username and a password, and then you will need to either link to your profile on LinkedIn.com (if you have one), or build your profile manually.
You will also have the option to submit your resume and a cover letter.
The application also asks you about your education and work history. In addition, you will need to answer standard questions such as whether you meet their age requirement and whether you can work in the United States legally.
Application Tips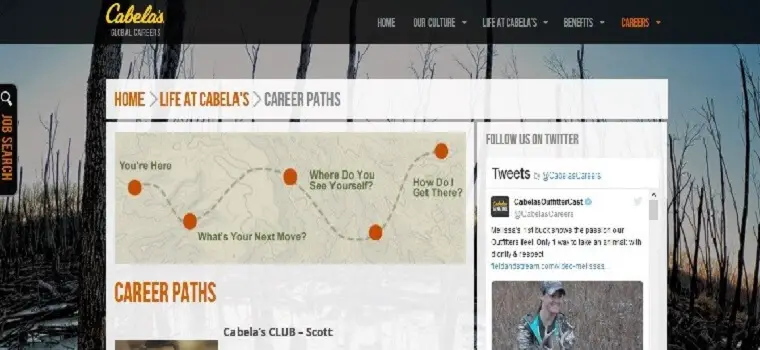 Consider All of Your Options
Be sure and look at all of the positions available and the store, or stores, in which you are interested in seeking employment. Make sure you meet the requirements of any position you decide on, and that you are either able to do the functions of the job, or are trainable to perform those functions.
Organize Your Information
Take time to gather the details of your education, your work history, and your references before you begin working on your Cabela's job application. You will need dates, names, addresses, and phone numbers of educational institutions, places of employment, and references.
Pay Attention to Detail
You will need to fill in the information that is required on the electronic application. When you do, make sure that your work is error-free, meaning all words are spelled correctly and your grammar is correct.
Keep in mind that Cabela's receives multiple responses for all jobs posted and you don't want them to reject you due to a spelling or grammatical error.
Should You Follow Up?
You can check the status of your application with Cabela's by following up with a phone call about a week after you submit your application.
If you are unable to reach the hiring manager, politely leave your name and ask when he or she might be available.
Positions and Salary Information
Cabela's is seeking people who are enthusiastic about the outdoors to fill both entry-level and management positions.
Whether you are new to the work force or a seasoned retail professional, Cabela's just might be a great fit for you.
Retail Cashier – The Retail Cashier is responsible for helping customers select merchandise and complete their transactions. Retail Cashiers at Cabela's can expect to earn between $9 and $10 per hour.
Back-end Outfitter – The Back-end Outfitter is responsible for receiving merchandise into the store and keeping the sales floor stocked with product. A Back-end Outfitter at Cabela's earns between $10 and $11 per hour.
Retail Sales Outfitter – Retail Sales Outfitters are knowledgeable about merchandise within their departments and help customers select appropriate products to enhance their outdoor experiences. A Retail Sales Outfitter typically earns between $10 and $11 per hour.
Department Sales Coach – Department Sales Coaches mentor, train, and supervise the Retail Sales Outfitters and Retail Cashiers. They are responsible for maximizing sales and enhancing customer shopping experiences. Department Sales Coaches often earn between $19 and $21 per hour.
Retail Floor Manager – Retail Floor Managers are responsible for interviewing, hiring, and training staff and ensuring that the store is being run efficiently. Retail Floor Managers can earn between $58,000 and $63,000 annually.
Senior Retail Operations Manager – The Senior Retail Operations Manager oversees all store operations that support the sales force including shipping and receiving, inventory management, and loss prevention. A Senior Retail Operations Manager typically earns between $80,000 and $83,000 per year.
Best Entry-Level Positions
Cabela's hires those who are seeking their first employment experience. However, you
have an advantage if you have experience participating in the outdoor activities
that are featured by the company.
If Cabela's hires you as an entry-level employee, you will be responsible for providing excellent customer service to all store guests. The following positions are considered entry-level jobs at Cabela's.
Retail Cashier
Retail Cashiers at Cabela's interact with customers, suggest products, ring up purchases, and make sure customers find everything they are seeking in the store. In addition, retail cashiers maintain and replenish stock items and help keep the sales floor neat and organized.
Retail Cashiers should possess basic mathematical and computer skills, as well as a friendly and helpful attitude.
Back-end Outfitter
Back-end Outfitters are responsible for unloading trucks and moving merchandise from the warehouse or stockroom to the sales floor, as well as tracking merchandise via computer systems.
Those wishing to apply for Back-end Outfitter positions should be physically able to lift and move merchandise and have a basic knowledge of computers.
Retail Sales Outfitter
Cabela's has many departments within its stores, including fishing, firearms, camping, and boating, to name a few. Each department requires specialists who know and can discuss the finer points of the merchandise with customers.
While Cabela's will train employees for specialist positions within these departments, it helps if candidates have some prior knowledge or experience.
The more knowledge a candidate possesses regarding the outdoor activity for which he seeks to specialize, the more valuable he or she is to the company.
Cabela's Careers in Management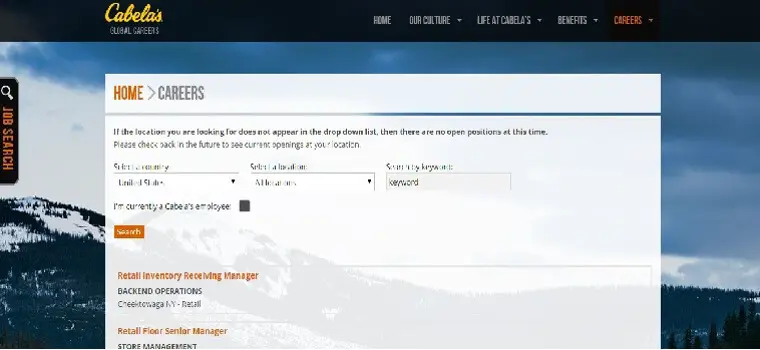 Cabela's offers many management opportunities and often promotes from within. Managers receive competitive salaries and benefits and are seen as leaders in their departments and stores.
Department Sales Coach
Departmental Sales Coaches train and mentor sales associates and help out on the sales floor during peak hours. In addition, they manage inventory, ensure all employees are providing excellent customer service, and help open and close the store.
Retail Floor Manager
Retail Floor Managers supervise and train the sales coaches In addition, they ensure that the store operates in an organized and safe fashion. They also hire and train staff and manage personnel issues.
Retail Floor Managers also share responsibility for opening and closing the store with other managers.
Senior Retail Operations Manager
The Senior Retail Operations Manager is responsible for all operations that support the sales mission. This includes shipping and receiving, loss prevention, and inventory management.
Interview Questions and Tips
How Do You Define Excellent Customer Service?
Cabela's prides itself on providing excellent customer service to everyone who shops in its stores. They seek people who are willing to go the extra mile when working with customers.
Tell your interviewers a story about a time you provided a customer with an exceptional customer service experience. If you do not have that kind of experience, relate an instance when a store employee gave you great customer service.
Why Should We Hire You Instead of Someone Else?
This question gives you an opportunity to sell yourself to your interviewers, and is thus worth preparing for.
Discuss your strengths as they relate to your potential employment. For example, highlight your punctuality, honesty, strong work ethic, friendliness, and initiative.
How Would You Manage Conflict with a Co-Worker?
Cabela's hires many people within its stores and not all of them get along. Interviewers are interested in how you deal with conflict not only with customers, but also with other employees.
Interviewers like to hear stories that illustrate answers to their questions. Consider sharing an experience where you settled a conflict with a co-worker in the past. If you do not have this sort of experience, share a story about dealing with conflict with a fellow student or friend.
Helpful Research for Your Cabela's Interview
Richard Cabela began his company back in 1961. He initially tried to sell some fishing flies by placing an ad in a local newspaper. After that, he slowly but surely grew his business and offered more products for those that loved the outdoors.
Today, the company's headquarters is in Sydney, Nebraska. As of 2018, Cabela's operates 82 stores throughout the United States and southern Canada. Here are a few more interesting facts about Cabela's that may help you in your interview:
Cabela's became a publicly traded company on the New York Stock Exchange back in 2004 (CAB).
Cabela's prides itself on its stores that typically feature scenes from the outdoors including artificial mountains, animal scenes, and aquariums.
The sporting goods company operates a thriving online ordering component of its business.