Burlington Coat Factory Jobs & Careers – Application, How to Apply, Requirements & Interview Tips
Last Updated:
September 20th, 2019

by

This guide will assist those with an exceptional taste for fashion in the best practices for completing the Burlington Coat Factory job application.

Burlington Coat Factory, a one-stop shop for clothing and home goods, offers limitless career opportunities for the right candidates.

Headquartered in Burlington Township, New Jersey, the company supports employees who aspire to move up into management positions.

Offering up to 70% off department store prices, Burlington Coat Factory adds an employee and family discount to sweeten job offers.

The following guide will walk you through applying to and interviewing with Burlington Coat Factory. With more than 500 stores in 44 states and Puerto Rico, there are always open entry-level, seasonal and management opportunities just waiting for the perfect candidate.

To land your job at Burlington Coat Factory follow the helpful hints and tips below. Don't hesitate to check out Land Your Life's other job applications & guides.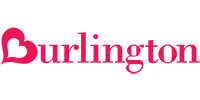 How to Apply for Employment at Burlington Coat Factory
Whether you've chosen to apply to Burlington Coat Factory for price-slashed brand name apparel or because you support their charitable causes, the application process is fairly simple.
Most candidates choose to apply online, although physically going to the store and filling out a paper application is an option.
Application Information
Minimum Age Requirement: All candidates must be at least 18 years of age.
Hours of Operation: Most Burlington Coat Factory locations open at 10 a.m. Monday through Saturday. Employees can expect to work until 9 p.m. daily. Sunday hours are shorter, allowing time for family bonding after 7 p.m. Employees are thankful for an extra hour of sleep on Sunday mornings, due to the store opening at 11 a.m.
Methods of Application: The easiest and most fool-proof way to apply to Burlington Coat Factory is online. The online application is bare-bones and allows candidates to apply quickly and efficiently. Applicants may also fill out a paper application at their local Burlington Coat Factory.
Starting Strong by Uploading Your Resume
When applying online, new job seekers will be required to create a username and password to continue.
You will then have the opportunity to upload or paste a copy of your resume into the application.
The following screen will ask for simple information, including if you are over the age of 18, if you've previously been employed with Burlington Coat Factory and your expected salary.
In this section, you will be able to list the date you can start and your salary requirements.
Wrapping up With References & Employment History
If you do not have a resume, you will be able to fill out your education and employment history on the next screen.
Candidates are asked for two employment references. After you add this information, you will be given the option to review and submit your application.
Application Tips
Have Your Resume Ready in Advance
If you do not have a resume, create one prior to applying to Burlington Coat Factory.
The company's application does not allow much room to showcase personality or achievements. The resume section is the one place you can show off.
When describing previous job duties, include those relevant to the position to which you are applying. If you are seeking a customer service position, list experiences working directly with customers.
Make your resume shine to keep you on the hiring manager's shortlist.
Research the Salary You Want
During the application process, you will be asked your expected salary.
Research the average salary for your job description, many of which can be found later in this employment guide.
For example, an applicant for a cashier position should not request $14 per hour. The average cashier makes between $7 and $8 per hour.
When deciding how to answer this question, create a realistic expectation.
Proofread Your Entire Application
You will be given the opportunity to proofread all your information prior to submitting your application.
Take advantage of this allowance. Spelling mistakes may take you out of the running for employment at Burlington Coat Factory.
Double check references' email addresses and phone numbers. If the hiring manager is unable to contact your references, you will likely be passed over for an interview.
Once you confirm all your information, submit your application with fingers crossed.
Should You Follow Up?
You should make a follow-up phone call 3 to 5 days after submitting your application.
To check the status of your application, log into Burlington Coat Factory's career page.
You will be able to see all submitted applications. Log in here.
Positions and Salary Information
Burlington Coat Factory staffs its stores with entry-level, managerial and seasonal employees.
From clothes to shoes, linens to baby needs, Burlington has the right position for you. The company boasts the support of individuality and special talents, always looking to bring entry-level employees into management positions.
Assistant Store Manager – Train new employees, utilize individual skills, process merchandise – The average assistant store manager makes between $40,000 and $50,000 per year.
Cashiers Associate – Provide outstanding customer service, efficiently use cash register, act as liaison between customers and management – The average cashiers associate makes between $7 and $8 per hour.
Customer Service Supervisor – Ensure customer service standards are met, communicate with cashiers, validate returns, exchanges and voids – The average customer service supervisor makes between $9 and $10 per hour.
Layaway Runner – Organize layaway storage area, assist cashier with bagging items, contact customers for payment – The average layaway runner makes between $7 and $8 per hour.
Receiving Associate – Receive shipments, identify items, operate hand truck to move shipments – The average receiving associate makes between $7 and $8 per hour.
Recovery Specialist – Safeguard company assets, drive sales, participate in year-end inventory – The average recovery specialist makes between $10 and $11 per hour.
Store Manager – Oversee a multi-million dollar location, create and follow payroll budget, boost sales – The average store manager makes between $60,000 and $70,000 per year.
Best Entry-Level Positions
Burlington Coat Factory's entry-level employees can expect full benefits, including a comprehensive health insurance plan, a 401(k) with corporate matching program, and an outstanding employee and family discount.
The company supports the efforts of success-driven entry-level employees to move into managerial positions. With limitless opportunities, getting in on the ground floor will provide you with much room to grow.
Cashier Associate
One of the most popular entry-level positions at Burlington Coat Factory is cashier associate.
Successful candidates will be able to provide outstanding customer service while greeting and acknowledging each guest. Those with previous customer interaction experience will be more likely to land an interview at Burlington Coat Factory.
Once hired, cashiers must maintain awareness of all store promotions and advertisements.
Receiving Associate
Candidates who prefer working behind the scenes should consider the receiving associate position.
Responsibilities include operating a hand truck to move shipments and ensuring each delivery is unloaded. Receiving associates will check, ticket and hang garments prior to stocking them on the sales floor.
Successful candidates will have strong organizational skills.
Recovery Specialist
Like most retail stores, Burlington Coat Factory is worried about loss. The recovery specialist is responsible for safeguarding company assets.
This position requires candidates to know how to generate sales while helping customers locate merchandise.
Excellent communication skills, retail experience and the ability to follow through are traits of successful candidates.
Seasonal Job Openings
During the holidays, Burlington Coat Factory has several seasonal job openings. Stores nationwide hire extra cashiers and layaway runners.
Those working in the layaway department must store and retrieve layaway merchandise. These employees will bring merchandise to the cash register and help bag items.
Successful candidates will be able to work flexible hours and have excellent communication skills.
Burlington Coat Factory Careers in Management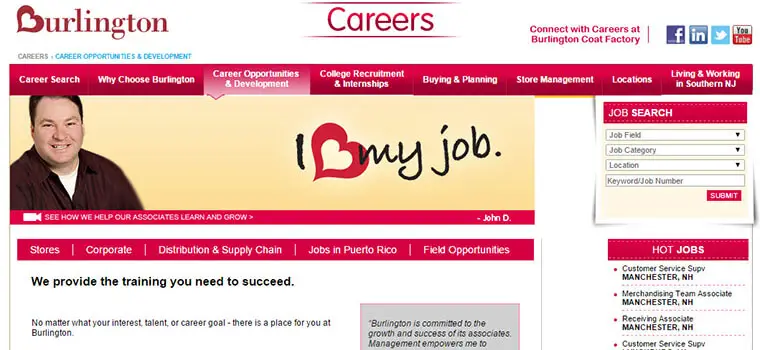 There are three in-store management positions at Burlington Coat Factory.
Candidates can look forward to medical, life and pet insurance, as well as family discounts and referral bonuses.
With great benefits comes increased responsibility. All management positions require employees to act as manager on duty, open and close the store, and train new employees.
Customer Service Supervisor
The first rung on the management ladder is the customer service supervisor.
Job duties include monitoring employee compliance with store policies, ensuring outstanding customer service and maintaining the appearance of the cash register area. Customer service supervisors will also be responsible for validating returns, exchanges and voids.
Successful candidates will have a demonstrated leadership ability.
Assistant Store Manager
Candidates with some management or leadership experience can apply to be an assistant store manager. Positions are available in three departments: operations, service and merchandising.
Assistant store managers are responsible for identifying individual strengths and utilizing those skills. Hiring managers look favorably upon candidates with drive and passion.
Candidates must have flexible schedules and the ability to work nights, weekends and holidays.
Store Manager
Store managers at Burlington Coat Factory are expected to act as role models for other store employees.
The responsibility for a multi-million dollar location falls on the shoulders of these managers. The position requires the ability to create a payroll budget, control expenses and ensure customer service standards are met.
Successful candidates will have five or more years of retail management experience. The desire to succeed is a primary trait among store managers.
Interview Questions & Tips
How Organized Are You (Bring Your Resume)?
Although you uploaded your resume to Burlington Coat Factory's online application, bring a copy of your resume to your interview.
This will allow the hiring manager to have all your information directly in front of him. If asked questions about previous employment, answer the question and refer to your resume.
Draw the interviewer's attention to all the accomplishments you were able to put on paper.
Do You Have Any Experience With Volunteering?
Align yourself with Burlington Coat Factory's values. The company works with many organizations for a variety of causes, including women's heart health and leukemia.
When a new store is set to open, Burlington Coat Factory hosts a Charity Day, where customers can donate $5 to the charity of their choice. Customers will receive a 10%-off coupon and admission to the store a day before the public grand opening.
Show your interviewer the charitable side of you. Have you volunteered at an animal shelter or a nursing home? Do you donate time or money to charity? What are your favorite ways to help people and your community?
By showing the benevolent side of you to the hiring manager, you will be demonstrating how well you will fit into the Burlington Coat Factory family.
Do You Have a Passion for Fashion?
What's your fashion passion? Are you addicted to shoes? Do you collect fun and crazy socks? Do you enjoy helping people dress to impress?
Show the hiring manager your zeal for everything fashion. Showing excitement for the merchandise will put you on the short list.
Burlington Coat Factory is always looking for employees who are passionate about the store's products.
Helpful Research for Your Burlington Coat Factory Interview
It is important to brush up on Burlington Coat Factory's history prior to your interview. Knowing where the company came from will help you ensure the future of the company.
Burlington Coat Factory opened its first outlet store in Burlington, NJ, in 1972.
Although the merchandise was primarily coats, the store has expanded to include suits, shoes, linens, lingerie and baby items.
Burlington Coat Factory supports ABC's Good Morning America's annual coat drive. Stores nationwide also participate in Burlington Coat Factory's Red Dress Event.
Each store creates a section of red dresses. For each dress sold, the company donates a portion of the proceeds to heart health education.
What Employees Say about Working at Burlington Coat Factory
Employees praise Burlington Coat Factory as an understanding and caring employer. Whether you are in school or have a medical issue, the store's management team will work with you to keep your schedule flexible.
Employees also love the generous associate and family discount. Get all your Christmas shopping done for rock-bottom prices.
Although Burlington Coat Factory's fast-paced nature gets under some employees' skin, candidates who thrive under pressure succeed in their positions.