Burger King Jobs & Careers – Application, How to Apply, Requirements & Interview Tips
Last Updated:
June 15th, 2020

by

Fill out a Burger King job application, and one day you might be America's youngest CEO.

That might not be as far-fetched as it seems. Burger King's CEO and CFO are both under 35 years old, and are focusing on bringing up as much talent for their business as they can.

Burger King (BK) has a very simple hiring process for most of their positions, but it quickly gets long and a little complicated if you are applying for any management position.

BK offers entry-level positions as a Team Member, Delivery Driver, Hourly Shift Coordinator, and more.

The restaurant chain also offers careers in management – starting with Assistant Manager & General Manager positions.

This guide will help point you out the position that's right for you, and will walk you through the application process.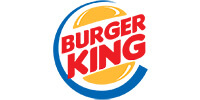 How to Apply for Employment at Burger King
Burger King has application forms available in most of their restaurant locations, but they recommend that you apply online.
Their positions are sorted by category first, then location. You can pick the role you want, and then find a location that is near where you live.
Application Information
Minimum Age Requirement: Burger King states that all workers must be at least 16 years old. They do specify that the age limit can vary by state, as some states will allow students to work as young as 14. Generally, you must be 16 to work in an entry-level position, and 18 to work in any management-level position.
Hours of Operation: Burger King's standard hours are from 6 AM to 11 PM.
Methods to Apply: The online application process with Burger King is relatively easy compared to most other fast food or retail outlets, as long as you're only applying to an entry-level position. You can apply in person at some Burger Kings, but all Burger Kings post their job listings on the Career portion of the main website. You cannot apply over the phone to BK.
At most locations, if you are applying to an entry-level job, you will only need to fill out a single page application that can be found by clicking on "Careers," then "Apply."
You'll be asked for the standard personal information (name, address, phone number), and some questions about your work history and availability. Once you fill out and submit the form, you're done.
Keep in mind the fact that Burger King does not require any sort of diploma to work in their entry-level positions, so don't let an incomplete education stop you from applying.
Applying to a Higher Level Position
If you're applying to a higher-level position, such as Hourly Shift Manager or Assistant Manager, at most restaurants you will be asked to fill out an extensive application with a lengthy questionnaire that has at least sixty questions.
Some restaurants use the same simple one-page application for the Managers as they do for the Entry-Level workers, but most use the longer form.
Most of the questions you will be asked on the questionnaire will be related to either your personality (Do you like to be in charge of things?) or to your management skills (How important do you feel it is to show commitment to team goals?).
Be honest on this questionnaire, but don't be afraid to answer a bit more positively than you might feel at the moment. Businesses like someone who seems like a team player.
Application Tips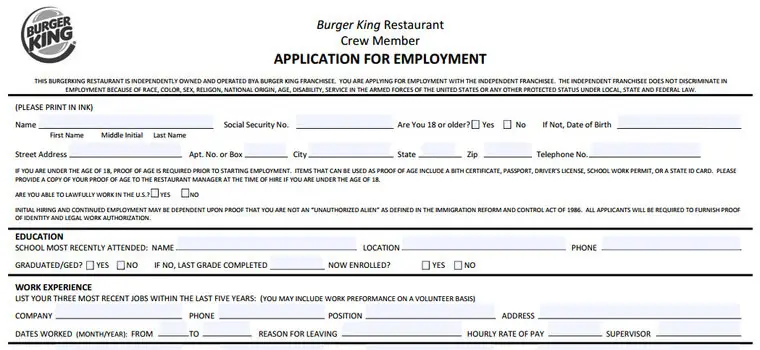 Some restaurants have a simpler application process than others. When you apply for a position, after you have searched for the Burger Kings nearest you, look at the listings.
If they offer bilingual applications (English and Espanol), then the process will be more complex, and will require you to fill out the questionnaire for all positions, entry-level included. If it just says "Apply," then there is a high chance it will just be the single page application.
If you end up with the lengthier application, make sure you block out thirty minutes to an hour to finish it. Burger King does let you save the application for later, but it will be better to finish it all at once and avoid any chance of losing your saved application.
The Importance of Ambition
Burger King emphasizes the importance of ambition. They really want to know that you have the drive to move up in the business.
If you are given a chance on the application, make sure that you emphasize your desire to move beyond a entry-level position.
Should You Follow Up?
If you applied with the long application, you will have been asked to create a login and password at some point during the process. You can use that to log in and check on the status of your application.
If you applied with the simple form, you can call the store after four days to see if they received your application. Other than that, you don't have any other avenues to check on the status of your application.
Positions and Salary Information
The Burger King website only lists five in-restaurant jobs, including two management positions.
The most common and versatile job is the Team Member. Team Members keep Burger King up and running, making the food and attending to customers.
Team Member: Operates cash register, takes orders, prepares food and drink products, stocks inventory. $8/hr.*
Delivery Driver: Takes orders, prepares food and drink products, delivers food products to customers. $8/hr.
Hourly Shift Coordinator: Manages Team Members and Delivery Drivers during an assigned shift. May be asked to supervise when management is not present. $10/hr.
Assistant Manager: Supports General Manager, manages Team Members and Delivery Drivers, as well as managing the normal function of the restaurant. Has full responsibility for restaurant when General Manager is not present. $14/hr.
General Manager: Manages a single restaurant and all employees within, makes sure that customers are satisfied, and adjusts business practices at store if customers or employees are unhappy. $18/hr.
*Burger King does not post their salaries on their job listings or on their website. All wages estimated from Bureau of Labor Statistics (BLS), Glassdoor.com and PayScale.
Find Local Burger King Jobs Near You!
Best Entry-Level Positions
Employees that start on the lowest rung at Burger King are encouraged to have ambitions to move up in the business.
BK encourages employees to work hard and focus on their next step up the corporate ladder.
You can start as a Team Member without a diploma, and move up once you get sufficient education.
Team Member
Responsible for the customer's experience from the moment they enter the restaurant until they leave. Keeps store clean, takes orders, prepares food and drink orders, and responds to other needs as they arise.
Delivery Driver
Has many of the same job responsibilities as the Team Member, but is also responsible for delivering catering orders to customers, and passing out flyers to businesses when orders are slow.
Seasonal Job Openings
For ten weeks each year, Burger King offers a new series of internships to college students during the summer semester.
They have both Undergrad and MBA internships available, but make sure to apply early (March or April), as these positions tend to go quickly.
Burger King Careers in Management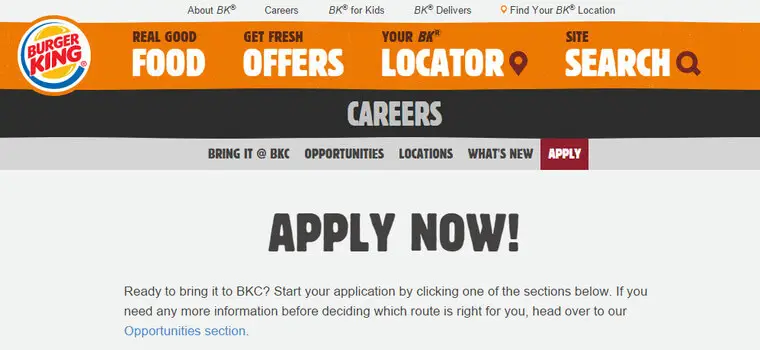 Burger King has three available management opportunities at all of its restaurants. They all require at least a high school degree or GED, and you must be 18 years old or older.
Hourly Shift Coordinator
Provides direction for Team Members, enforces and displays company standards, delegates necessary tasks to Team Member and Delivery Drivers as the need arises.
Assistant Manager
Provides support for General Manager and runs store when Hourly Shift Coordinator is off work. Provides directions to Hourly Shift Manager and provides training to Team Members.
General Manager
Crafts policies, standards, and instructions for all members of the management and employee chain. Instructs Assistant Manager on any important procedures or issues in the restaurant that need to be resolved. Manages employees from Team Members to Assistant Manager.
Interview Tips
Many employees and ex-employees state that the interview process at Burger King is very simple.
Be prepared for a few questions about your work ethic, your desire to move up in the company, and your personal experiences with customer service.
Focus on being pleasant at the interview, and answer their questions clearly and quickly.
Dress appropriately for the interview. You don't need to wear a suit, or even a blazer, but make sure you are dressed at least in slacks and a polo shirt, or a modest dress.
If you have a resume, bring it with you to the interview, especially if you never had a chance to post it to your online application. If you don't have a resume, print off the application and bring it with you.
Be ready to answer questions about when you can start working. The manager may ask you to begin training right after the interview. Either make it clear to the manager when you can start, or reserve some time to learn the ropes.
Possible Interview Questions
Can You Learn Quickly?
If an employer asks you this question, they are probably short-staffed and do not have much time to train new employees extensively.
This is both good and bad: good because it means they need you, and bad because it means that you'll likely be thrown in with little to no formal training. If that's a deal-breaker, make that apparent to the interviewer.
Why Did You Choose Fast Food?
This question has a different answer for everyone, so be honest. If it was just the closest employer, say that, but then mention a positive aspect of Burger King that you hadn't realized until after you applied.
If you really enjoy cooking hamburgers or working with customers, mention that as well.
What Is Your Favorite Part of Past Jobs?
This question is all about your history, so focus on the positives in your past jobs.
If you had an enjoyable group of coworkers, talk about the fun you had while working with them. Or if you had clear-set job responsibilities and really got satisfaction out of finishing them, tell them that.
Helpful Research for Your Burger King Interview
Burger King was started under the name "Insta-Burger King" in Miami in 1954, and sold primarily hamburgers. Thirteen years later, Burger King, having dropped the "Insta" from its name in 1963, was bought by the Pillsbury Co. and quickly begins to grow.
With several thousand stores, Burger King went public in 2006.
The restaurant was purchased by 3G Capital and made a switch to a private company, then back to a public one a few years later.
There is now a merger in the works with Canadian company Tim Hortons. Burger King plans to move its headquarters to Canada if the merger goes through.
Did You Know?
In 2002, Burger King provided "Cheezy Flavor Blast" packets to customers who wanted differently-seasoned fries.
Burger Kings in Japan offer a Pumpkin Burger, which contains squash and other veggies, but no pumpkin.
With a ground-breaking partnership with Star Wars in 1977, Burger King was the first fast food restaurant to include product tie-ins with their kid's meals.
Delivery drivers are not available in all 50 states.
Burger King has a "suicide burger," which is four hamburger patties and four slices of cheese with bacon.
What Employees Say About Working Here
Employees that start working at the fast food giant at a young age (sixteen) have mostly positive things to say about the company. Many of the young employees are excited to work with other employees their own age, with some remarking that it felt more like an extension of school than a job.
Other employees remarked that they enjoyed the training, and said that it was very well-organized.
There were several mentions of employees being thrown directly into the work without much, if any, formal training, but even those employees mentioned that they were helped by instruction cards and by their peers.
The biggest complaint was that the hours could be intolerable at times. One employee claimed to be required to work 60 hours a week, with only one day off. Other complaints included a lack of respect from the Managers, and that it was too busy during the rush periods.
Overall, Burger King seems a good place for current or newly graduated high school students to start their first job.