Buffalo Wild Wings Jobs & Careers – Application, How to Apply, Requirements & Interview Tips
Last Updated:
September 20th, 2019

by

Get ready for a whole new ball game with Buffalo Wild Wings careers and jobs, from entry-level to management.

Do you want to work in a fast-paced food and drink service environment? Buffalo Wild Wings current openings may appeal to you!

For over 35 years, they've been selling authentic Buffalo, New York-style chicken wings. They have a range of locations. You could be the next person to join the team.

Working at Buffalo Wild wings is about more than just serving food and drink. There's a passion to remain the ultimate venue for enjoying your friends' company, watching sports and, of course, wings and beer.

The good news for you is that they're also committed to staff development. So your opportunities could be amazing.

If you want to work with Buffalo Wild Wings, some of the jobs you may be interested in include Kitchen Team Member/Cook, Cashier/Greeter, Server, Shift Manager and Bar Manager.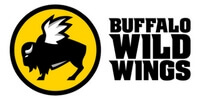 Buffalo Wild Wings Jobs & Careers

Applying for a job at Buffalo Wild Wings is as easy as powering up your laptop and filling out a form. There aren't even any complicated job descriptions and guidelines to follow – just visit the careers section of the website, select the relevant category, register and apply.
The application will take around 30 minutes to complete, and the same process applies for all jobs.
Hourly Kitchen Employee
Buffalo Wild Wings has made a name for themselves for serving excellent Buffalo wings, so they need outstanding kitchen employees.
With your responsibilities including properly and safely handling food, cleaning, stocking and organizing the restaurant, and providing great service, you'll need to be a motivated, friendly, and professional person to succeed at this job.
Open availability and previous restaurant experience is preferred.
Cashier/Host
As a Buffalo Wild Wing's cashier/host, you'll be the face making the first impression on guests. Greet everyone as though they're part of the team and you're genuinely happy to see them walk in.
This varied role involves a lot of multi-tasking, as you may be managing takeout orders, finding the perfect spot for a group to celebrate in, and helping departing guests pay for their orders all in the space of a few minutes.
A passion for excellent customer service, unwavering positive, friendly attitude and the ability to work a busy shift on your feet are a must.
Server
People flock to Buffalo Wild Wings for the wings, beer, fun environment and welcoming atmosphere. Think you could handle making that happen?
As a server, you'll be the go-to person for all that Buffalo Wild Wings has to offer – from expertise on the sauces, to information on the beers, you'll have the answer to any question ready, or know where to find it quickly.
Passion for hot food, cold beer and great sports is very much desirable.
Bartender
Those wings wouldn't be quite as good without the right beverage to accompany them, and that's where you come in.
The role of Bartender at Buffalo Wild Wings isn't just about pouring drinks, it's about enhancing the experience. Chatting to guests about their favorite sports teams, which beer to pair with their favorite sauce options, and generally being a friendly, welcoming individual are all key.
A great attitude which encourages people to keep coming back is a winning attribute for this job.
Takeout Professional
Buffalo Wild Wings taste just as good when you're watching the game at home, even though you may be missing out on the atmosphere of the restaurant.
As a Takeout Professional, you're in charge of getting those wings to the customer efficiently, checking telephone orders for accuracy, and packaging carefully so they get from restaurant to home without losing their magic. As you'll be taking orders, you'll need great communication skills, and should be able to work a computerized register.
The ability to remain stationery for long periods, as well as lifting, bending and stooping, is essential.
Buffalo Wild Wings Manager Jobs
For the wings to be so mouthwatering, the service to be so outstanding and the atmosphere to be fun, Buffalo Wild Wings needs equally excellent managers. If you're looking to further your career, or take the first steps into management, there may be something perfect for you.
Managers work a five-day working week, taking charge of their Buffalo Wild Wings outlet and helping the business to flourish and grow. An excellent training, salary and benefits package is available. Management experience is essential.
General Managers oversee and coordinate the management team and hourly employees, using their strong leadership skills and extensive experience for the benefit of one of the US's fastest-growing restaurant concepts.
Details of all Buffalo Wild Wings manager careers can be found on their careers website.
How Much Does Buffalo Wild Wings Pay (Hourly & Salary)?

Buffalo Wild Wings offer a decent rate of pay, as well as a fast-paced, fun working environment.
Hourly rates at Buffalo Wild Wings start at around $4.51 for a server, rising to around $88,229 annual salary for a regional manager. For comparison, Red Robin pays servers an average of $6, while an Applebee's server earns around $4.51 an hour.
Some of the most popular jobs at Buffalo Wild Wings are paid at the following average rates:
Server: $2 – $15/hour
Line Cook: $7 – $15/hour
Cashier: $7 – $12/hour
Assistant Manager: $30,000 – $50,000
Bartender: $7 – $11/hour
Regional Manager: $56,000 – $102,000
Manager: $31,000 – $102,000
How Old Do You Have to Be to Work at Buffalo Wild Wings?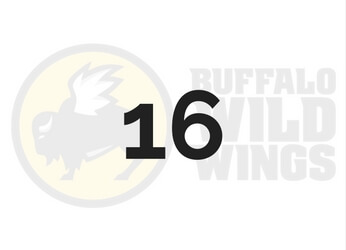 Buffalo Wild Wings may hire 16-year-olds for some positions, although most roles have a minimum age of 18, or 21 where alcohol is involved.
16 and 18-year-olds can apply for the following jobs at Buffalo Wild Wings:
Does Buffalo Wild Wings Drug Test?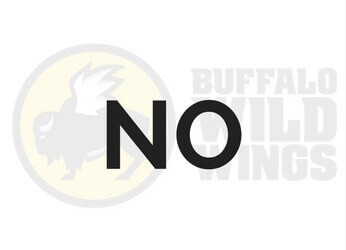 Buffalo Wild Wings do not drug test during the recruitment process, but does frown upon drug use among employees.
Possible Buffalo Wild Wings Interview Questions & Tips

Have you done well and landed an interview at Buffalo Wild Wings? Congratulations! To help you get that job, here are some possible questions you should be prepared to answer.
Why do you want to work for Buffalo Wild Wings?
If you have previous restaurant or retail experience, you could say that you love providing great customer service and want to stay in that type of job.
Otherwise, being keen to work in a fast-paced and challenging, yet rewarding, environment may be a strong answer. Don't forget to mention your teamwork skills.
What can you bring to Buffalo Wild Wings?
Here's where you detail your excellent track record. In addition, mention your previous service-related work experience. Tell them about any examples you think may boost your chances.
Remember, Buffalo Wild Wings places an emphasis on fun. Tell them how your personality fits in with their ethos. Tell them how it enables you to have fun while working hard and delivering outstanding service.
What is your favorite wing sauce?
If you don't have one, make sure you know at least a little about some of the various wing sauces Buffalo Wild Wings offer, and why a customer may want to choose a particular one.
It may also help to know which beers go best with your favorite sauce, especially if you're interviewing for a bartender role.
How to dress for your Buffalo Wild Wings interview
You must dress presentably for your Buffalo Wild Wings interview. Khakis, a button-down shirt, skirt or dress should all be fine. Make sure your clothes are ironed and tucked in neatly too. Don't forget the shoe polish.
If you're interviewing for a manager role, it's generally advisable to wear a jacket and tie, or similarly smart outfit.