Bruster's Jobs & Careers – Application, How to Apply, Requirements & Interview Tips
Last Updated:
September 20th, 2019

by

If you enjoy ice cream and all of the sweet treats you can put on it, get ready to fill out and submit your Bruster's job application today.

Bruster's was first opened in 1990 with the idea that fresh delicious ice cream rules. Bruster's is dedicated to making sure that all of its customers, both young and old, are happy.

The company takes pride in the ice cream and other treats it offers and each store makes their cakes and cones fresh in the shop. The sweet smell of the cones baking fills the air and customers are delighted to step foot in the building.

Bruster's offers a variety of positions in their locations and you may find yourself working as an ice cream scooper or even as an assistant manager.

If you want to smell freshly baked goods all day and serve up some of the best ice cream scoops around, Bruster's may be the right career choice for you.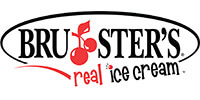 How to Apply for Employment at Bruster's
To apply for an open position at Bruster's, the most commonly used method is by filling out and submitting a paper application.
Application Information
Minimum Age Requirement: The minimum age required to work at Bruster's is 15 years old.
Hours of Operation: Bruster's is open daily from 11:00 a.m. until 10:00 p.m.
Methods to Apply: Interested applicants can apply to Bruster's by filling out a paper application and submitting it to their local store.
Searching for an Open Position
To search for an open position, you will need to call the store of your interest and ask the hiring manager if they are hiring.
To locate a local store, you can use the "find a location" search bar at the top of the company's homepage.
Simply enter in your zip code or city and state and all stores around you will be displayed.
Applying for a Job
To apply for a position at Bruster's, you will need to fill out a job application.
The application can be downloaded, printed, and filled out by hand. The application is not long and asks basic information including your personal information, availability, education experience, and personal references.
The last section of the application is a short quiz that asks you monetary math questions. Once done, you can turn your application in to your local store for consideration.
Application Tips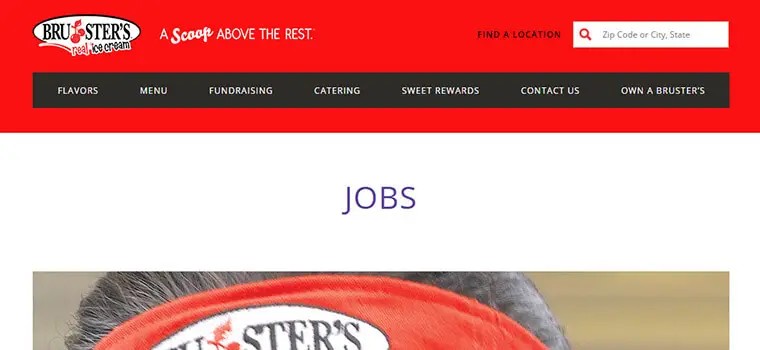 As you go through your application you may come across questions you do not know how to answer. The
tips
below will help you get through the application quickly and smoothly.
Your Availability
When it comes time to answer the availability section, the application lets you know that closing staff stays about 30 minutes after close and opening shift starts between certain hours.
It is important to keep these in mind when you are filling out what hours you are available to work.
Don't Forget Your References
The application asks you to list three personal references. You should include professional references first, education references, and then friends and family.
Try not to leave any of the reference fields blank and fill them out in their entirety.
Concentrate on the Math Questions
The last section of the application asks you some math questions dealing with money. Make sure that you concentrate and double check your answers as some of them look close to the same, but are different.
Should You Follow Up?
You can follow up on a submitted job application by contacting the store that you applied to. You should always give the hiring manager a couple of days to review your information before you call.
When you do call, ask to speak with the hiring manager. If he or she is unavailable, ask when a better time to call back would be. You should try to avoid leaving a message and be persistent as it will pay off in the end.
Positions and Salary Information
Bruster's hires employees to work in their locations throughout the U.S. All employees should be customer-service oriented and strive to ensure all customers are happy.
The company's mission is to offer the best ice cream, ice cream cones, and customer experience so you must always have this mission in mind.
Ice Cream Scooper – The Ice Cream Scooper is responsible for scooping ice cream, serving customers, and helping customers complete transactions. As an Ice Cream Scooper, you can expect to make between $7 and $12 per hour.
Ice Cream Maker – The Ice Cream Maker is responsible for making ice cream and ensuring the quality of the ice cream at all times. As an Ice Cream Maker, you can expect to make between $8 and $9 per hour.
Assistant Manager – The Assistant Manager is responsible for providing stellar customer service, overseeing the other employees, and making sure all policies are followed throughout the store. As an Assistant Manager, you can expect to make between $11 and $12 per hour.
General Manager – The General Manager is responsible for overseeing all operations of the store. As a General Manager, you can expect to make between $27,000 and $30,000 per year.
Best Entry-Level Positions
Bruster's hires employees to work in a couple of different entry-level positions. These positions are the face of the company and provide services to the customer.
It is important that you are always focusing on customer service in these roles. Each entry-level position paves the path for you to move up into a management position.
Ice Cream Scooper
The Ice Cream Scooper is responsible for taking customer orders and scooping ice cream according to the Bruster's scooping policy. He or she will add treats and desired items into the ice cream as requested by the customer.
The Ice Cream Scooper will also run the cash register and check customers out once the receive their ice cream.
Ice Cream Maker
As an Ice Cream Maker, you will be responsible for following the company's procedures for making ice cream. This includes mixing ingredients and freezing the ice cream until it is ready for use.
In addition, the Ice Cream Maker will ensure that their workstation is clean at all times and always help out the front of the store when it is busy.
Bruster's Careers in Management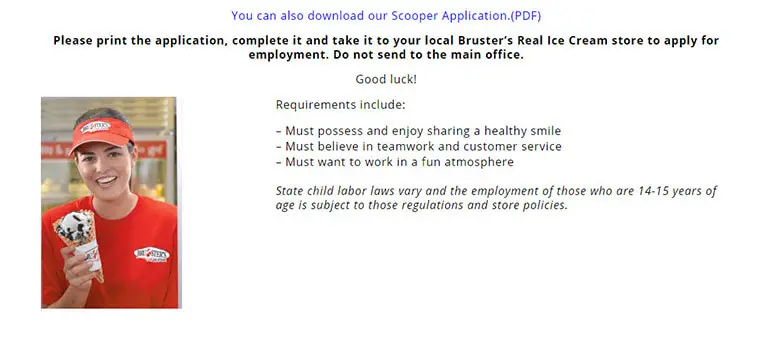 Bruster's offers management positions and they enjoy
hiring from within the company
. Each management position offers you the chance to step into a leadership role and assume more responsibility.
Full-time management team members enjoy benefits, company perks, and more.
Assistant Manager
The Assistant Manager is responsible for overseeing the Ice Cream Scoopers and Ice Cream Makers. He or she will ensure that all policies and procedures are followed including sanitation guidelines.
The Assistant Manager will also make sure that all goals are met throughout the store and handle any customer complaints if they arise.
General Manager
The General Manager is responsible for overseeing all operations in the store. He or she will make the schedule, hire new employees, and manage payroll.
In this role, he or she will always provide quality customer service and handle any customer or employee complaints.
Interview Questions and Tips
Before you go in for your interview at Bruster's, it is important that you prepare for it. Below, we will go over some questions you may encounter while you are at your interview.
How Well Do You Know Our Ice Cream?
They may ask you how well you know Bruster's ice cream and products. Be honest and let the interviewer know the extent of your knowledge. You can always learn new things and let them know that you would be willing to.
What is Your Favorite Flavor Ice Cream and Why?
They may ask the above question and if you are, take your time to tell the interviewer why you like the flavor you chose. For instance, you could say you like chocolate because it reminds you of a hot day on the beach or something similar.
Why Do You Want to Work at Bruster's?
They may ask why you want to work at Bruster's. This question will require you to be honest and you should let the interviewer know what attracts you to the position or why you feel you want to be around ice cream.
Helpful Research for Your Bruster's Interview
Bruster's was first opened in 1990 in Bridgewater, PA. The company cares deeply about its customers and their mission is to produce the freshest, best tasting ice cream.
Bruster's is dedicated to offering only freshly made products in their stores. The company is always looking for new employees who want to share in their mission.
Bruster's looks for employees who want to work in an atmosphere that is similar to a large family.
What Employees Say About Working Here
Employees working at Bruster's enjoy the atmosphere and are happy in their positions. Many of the employees say that you receive free ice cream and you also make tips throughout the day.
In addition, some employees say that the company is quite understanding when it comes to scheduling and they understand everyone needs time off.