Books A Million Jobs & Careers – Application, How to Apply, Requirements & Interview Tips
Last Updated:
September 20th, 2019

by

This Land Your Life guide will help you with your Books A Million job application and enhance your chances to get booked (ahem… hired).

Do you have a love for books, and for reading in general? Books A Million just might be the best place for you to build a career for yourself.

Books-A-Million (BAM!) owns America's second-largest bookstore chain, and each store is packed with books, magazines and trinkets.

Many of their smaller stores can be found in shopping malls, and their superstores are quickly growing in number.

If you love to read and are looking for a job that supports your passion for books, or if you just want to find someone to discuss your latest novel obsession, BAM! is the place for that passion.

Read on, and you'll find out how to apply for a job at this novel store (OK, that's as cheesy as we're going to get, maybe).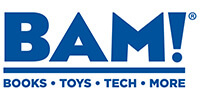 How to Apply for Employment at Books-A-Million
BAM! has a pretty extensive online application system that covers all of the available BAM! jobs and allows you to sort based on several different filters at a time.
You can even post jobs from the site to Facebook or Twitter right from the job application site, in case you spot a job that's perfect for your friend or family member.
Application Information
Minimum Age Requirement: You must be at least 16 to work at BAM! unless you have an exemption letter from the proper authorities. This is less strictly enforced in some states, but it is a policy of BAM!.
Hours of Operation: The normal hours of operation are from 10 AM to 9 PM. Certain stores stay open later on the weekends.
Methods to Apply: You can apply in the store that you want to work in, or you can use their website to apply.
If you apply in the store, it will be the standard application, where they ask for your contact information and hours of availability. Then they'll call you in for an interview.
The online application allows you to skip going into the store, and also allows you to bypass some of the initial interview questions by answering them in advance online.
Create An Account
When you go to apply, you'll need to create a login and password for the site, and a security question to back up your account. You get to create the security question instead of picking a premade one. Once you have done this, you automatically get a "Job Cart."
The Job Cart allows you to search through all of the available jobs and select as many as you want. These jobs all go to your Job Cart where you can look through them later, and decide which ones you want to apply to.
Application Tips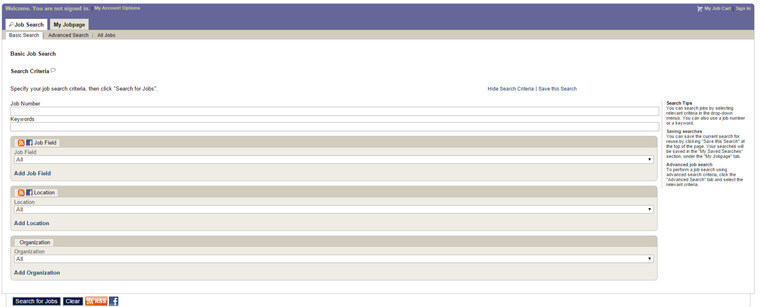 When you go to apply, make sure to pick several different jobs from the same store or several nearby stores and apply to them all. It's better to have many options than just one chance.
Show Your Personality
You will be asked a series of questions about your personality in two separate questionnaires. Most of the questions are very simple, asking you how you would deal with certain retail situations or what you do when you get mad.
The more difficult questions are not too hard, they just require you to do some reasoning as to how you would deal with a difficult situation. They're not that important unless you are applying for a management-level position.
This application site is unusual because they allow you to submit a resume to be considered if a job opens up. It works like the normal application process, except you don't specify a certain job, they call you and ask you if you want it.
Should You Follow Up?
Once you've submitted your application, take a deep breath and wait. If you've submitted your application online, you can log back in whenever you want and check on it.
If you completed the in-store application, you just have to wait or call the store manager.
Once they've had a chance to look over your application, they'll give you a call and set up an interview. Most interviews at BAM! happen in the store.
Positions and Salary Information
There are quite a few positions at BAM!, but not all of these positions are available at all stores. Check with your local store or the job website to see if the job you want is available before you apply.
Bookseller – Works to sell books and magazines to customers. $8/hr.
Sales Associate – Works the check-out station, and sells customers loyalty cards. $8/hr.
Procurement Manager – Works on making sure the store has all the necessary stock, and new products to interest the customers. $12/hr.
Café Lead – Runs the café in certain stores. $11/hr.
Buyer – Purchases books and items from sellers to maintain a stock of items in store. Works with Procurement Manager. $10/hr.
Café Barista – Makes drinks and passes out light snacks to customers. $9/hr.
Co Manager – Some stores have two managers that work together to make sure the store is functioning, being equal instead of an assistant manager and a general manager. $14/hr.
Key Holder – Key holders are regular employees with the responsibility of unlocking the store in the morning and locking it at night. $12/hr.
Used Bookstore Buyer – Same job as the buyer, only with used books. $10/hr.
Assistant General Manager – Runs the store, keeps the store selling products. $15/hr.
General Manager – Works with Assistant Manager to keep the store running smoothly. $17/hr.
Books-A-Million does not list their salaries on their website. These figures are taken from the Bureau of Labor Statistics, Glassdoor.com and Payscale.com averages.
Best Entry Level Positions
BAM! has many good entry-level positions, allowing 16 year olds to work in retail positions. The entry-level positions are all sales or food-prep jobs.
Bookseller
Reads reviews of books and learns about the latest books so they can recommend them to customers. Work off of book sales commission, so they work hard to sell books.
Sales Associate
Works the check-out station, sells loyalty cards, and helps the bookseller when the store gets busy.
Café Lead
Runs the café, makes sure there is enough inventory, keeps the baristas focused and working hard.
Café Barista
Takes orders from customers, makes drinks and food items at the customer's request.
Books-A-Million Careers in Management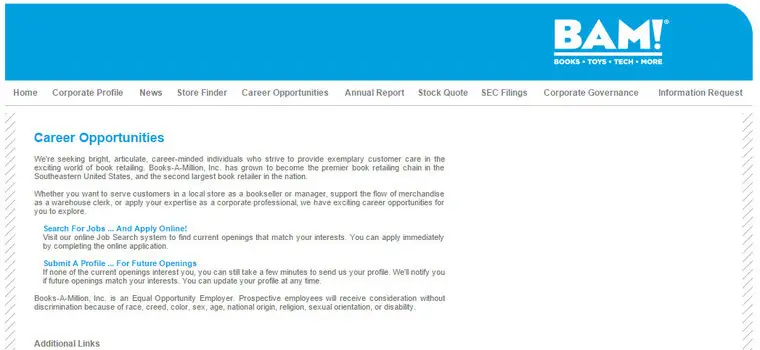 The management structure at BAM! is a little stagnant, but not impossible to move up in. There is a clear path upward, but you have to wait for people to leave rather than move up themselves.
Key Holder
Key holders are the first step to management.
They have all of the responsibility of opening and closing up the store, but with none of the power of actually being a manager.
Assistant General Manager
Runs the store in the General Manager's absence, prepares reports about employee behavior for General Manager.
Keeps track of the employees' sales and recommends pay based off of those figures to the General Manager.
General Manager
Talks with Assistant Manager to figure out status of employees, makes changes to store and store employees if need be.
Creates policies for the store.
Co Manager
Some stores are busy enough and open long enough that they need more than one manager.
Instead of having disproportionate management structures, some BAM! companies have two equal Co-Managers that work on different shifts.
The Co Managers have the same job responsibilities as both the Assistant Manager and the General Manager, just split between two people.
Interview Tips
When you get an interview with BAM!, make sure you bring your favorite book.
Show Your Passion For Books
They want someone who is passionate about books working at the store, because people who are passionate about the product will sell the product. Feel free to make that point word-for-word in the interview.
Find Out What You Can Expect When Hired
Don't be afraid to ask about the pay structure and the way that the commission system at the store works.
If you're not comfortable with how the pay would work, then let the interviewer know this and leave. You don't want to work in a place you're not comfortable with, and they don't want you there.
Don't Forget The Other Positions You May Have Applied For
If you applied to more than one position, you can ask at the end or the beginning of the interview if they received those other applications, and if they did and one of them contains a job you'd prefer, talk to the interviewer about that.
Be Punctual
Don't be late. There's nothing worse for an interview than for the person being interviewed is late.
Possible Interview Questions
These are some question you could expect when you go to your interview.
What does customer service mean to you?
Take a few minutes to think about this question before the interview. Obviously don't just pause for a few minutes at the interview to think about this, prepare beforehand.
Think about a time that poor customer service ruined an experience for you, whether it was a fancy meal, a skydiving trip, or a burrito made in a food truck. Then explain that experience to them and relate it to the importance of good customer service.
What would you do if the store was slow, and you had to sell 10 books?
This is a difficult question, because with a company like BAM!, you'll have to figure out how to meet your commission goals, or else you'll lose money. Don't be pushy, because nobody likes to buy stuff from a pushy salesman.
Instead, focus on the fact that there is a book for everyone, and sometimes there are dozens of books for one person.
The people in a BAM! store when the store is almost empty are probably the die-hard readers, so focus on them and direct them to books you think they would like based on their choices.
What assurance do I have that you won't start, get trained and just leave?
With stores like this that have tough hours, low, commission-based pay, and sometimes difficult management, there's going to be a lot of turnover, and the store will be a bit paranoid about it.
Just assure them that you're aware of all of the issues, and that you plan to stick it out for a while, at least.
Helpful Research for Your Books-A-Million Interview
Books-A-Million (BAM!) is a company that exploded onto the bookstore market in 1988.
The first store opened in 1917 in Florence, Alabama, under the name Bookland. The store really picked up when they opened up the BAM! Superstores, where they sell not only books but all sorts of assorted gifts, food, and other items.
The BAM! Superstores usually feature Joe Muggs cafés, and they sell Joe Muggs merchandise. They are currently the second largest book wholesale company, with only Barnes & Noble beating them in that market.
Other Interesting Facts
BAM! owns a self-serve yogurt company called Yogurt Mountain.
When BAM! opened their website in 1998, their stock jumped over 1000% due to the dot-com craze. Their stock was back to normal two years later, in 2000.
BAM! has a loyalty program that allows customers to rack up points and save money for future purchases. Their main competitor, Barnes & Noble, has a similar program.
BAM! also sells magazines and periodicals.
What Employees Say About Working Here
BAM! had the distinction of winning "Worst Company to Work For" from 24/7 Wall Street, based on employee reviews. This is probably due to the fast growth of the company and the growing pains that come with it, and the struggle that comes with trying to compete with Barnes & Noble.
The biggest complaint that employees had was that there was too much stress and not enough reward for it. They also had complaints about the pay structure, which is commission-based.
Commission-based employers tend to have very low ratings because employees feel that they get unjustly punished in the long term for a single bad week. This is especially true at BAM!, since their primary commission items are the hard-to-sell magazines and discount cards.
This low rating has improved in the last year as BAM! attempts to adjust to being a big company. They have changed out management in some stores, and this has led to an influx of praise for the new management.
The two big pros to the job are obvious: The employee discount, and getting paid to work with books. These are not pros for everyone, but any employee that loves to read raves about these benefits in their review.
One employee mentioned that they would spend their lunch breaks with a book they purchased from the store, eating in the in-store café.