Belk Jobs & Careers – Application, How to Apply, Requirements & Interview Tips
Last Updated:
September 20th, 2019

by

Do you enjoy working with people in a friendly retail environment that caters to an upscale clientele?  If so, consider submitting your application to work at Belk department stores.

Belk is a major department store retailer based in the southeastern United States and actively seeks people who enjoy working with people and have a sense of fashion.

Founded in 1888, Belk operates nearly 300 stores and employs over 24,000 people and features products including clothing, bedding, furniture, jewelry, and beauty products.

If you have high energy and enjoy sales and providing excellent customer service, check out the following information about how to score a position at Belk.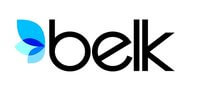 How to Apply for Employment at Belk
Belk asks candidates to submit their application for employment online, and most stores have computer kiosks where those who visit the store can fill out their online applications.  Those interested in applying at a store are advised to inquire whether they have kiosks in-house.
If you decide to visit a Belk store to apply, always make sure that you dress "business casual" and pack at least three copies of your resume with you.  Though you may not be interviewed when you visit the store to complete your application, you should always be prepared in case that occurs.
Application Information
Minimum Age Requirement: Most jobs at Belk require candidates to be at least eighteen years of age, but there are some entry-level positions that may be staffed by those who are at least sixteen years old.  Belk is very open to hiring young people who are entering the work force for the first time, provided that they meet employment requirements.
Hours of Operation:

Belk stores typically open at 10am Monday through Saturday and close at either 9pm or 10pm. On Sundays, stores open at either 11am or 12pm and close at either 6pm or 7pm.

Methods to Apply: All candidates will need to begin their application process online, whether they apply at a kiosk in the store or online from the comfort of their homes.  Click here to explore employment options at Belk and to submit your application.
Application Tips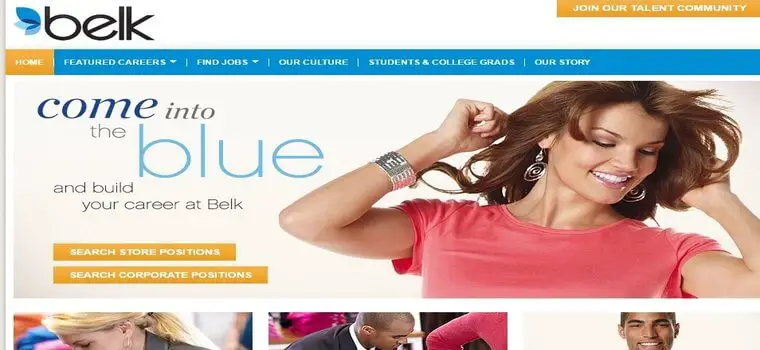 As you fill out your employment application in order to secure an interview at Belk, be confident and answer all question honestly and completely.  Here are some tips to help you prepare for the application process.
Prepare Your Resume and References
Take the time to prepare your resume and a list of your references before you begin the application process online.
Having this information in front of you while you complete the application is much easier than trying to remember employment history, educational history, and names and other information regarding your references.
In addition, have an electronic version of your resume because you will need to submit it along with your application.
If you plan on applying at a kiosk in a store, make sure you bring along a few hard copies of your resume so that you can have it for interviewers if they should ask you to interview on the spot.
Read the Fine Print
Applicants are asked to signify their agreement with disclosures, depending on the state in which they live.  Read those that apply to you carefully.
In addition, you may be asked to submit to a background and a credit check, and you must agree to going through these procedures in order to be hired.
Polish Your Interview Skills
When you submit an application at Belk, you are letting them know that you are willing and able to begin the interview process.
Be prepared, especially if you are filling out an application in the store.  Although it is not a guarantee, you may be asked to interview after you complete the resume at a store kiosk.
Take a look at the possible interview questions below, and consider any other questions you may be asked. The more prepared you are, the better.
First Impressions Are Critical
Belk is all about fashion and trends, and they seek to hire people who can help them maintain their image as a friendly and crisp company that markets to a clientele that appreciates upscale merchandise.
Never discount the importance of body language in an interview.  Shake hands firmly.  Sit up in your chair when you are interviewing.  Be sure and make good eye contact with your interviewer.
Be sure to dress business casual when you enter a store to apply or to interview, and make sure that you answer questions clearly and with confidence.
Should You Follow Up?
After you have completed Belk's online application, you will receive an email confirming that you have applied.
Contact the store at which you applied about a week after you submit your online application, and ask to speak to the hiring or personnel manager.
Be tactful, as personnel managers are busy people.  When calling, always be polite and respectful.  If the person in charge of hiring is not available when you call, ask about a better time to call.
Positions and Salary Information
Belk is based in Charlotte, North Carolina. The company operates nearly 300 stores and employs 24,000 people.
The following is a list of positions available at Belk, along with what you can reasonably expect to be paid.
Sales Associate – Work directly with customers demonstrating merchandise, making sales, working the cash registers, and keeping the merchandise organized on the sales floor. The average sales associate makes between $9.50 and $11 per hour.
Stock Clerk – Receive and process merchandise, deliver merchandise to the sales floor, build store fixtures. Stock clerks may start at $9 per hour but can earn up to $12 after they prove themselves.
Beauty Advisor – Assist customers with skin and hair care products and demonstrate same. Beauty advisors earn between $11 and $12 per hour.
Loss Prevention Associate – Monitor store systems designed to prevent internal and external theft and other issues related to store shrinkage. Loss prevention associates are paid between $11 and $12 per hour.
Sales Team Manager – Maintain responsibility for specific departments and assist sales associates attain their sales goals. Sales team managers earn an average of approximately $40,000 per year.
Assistant Store Manager – Assists the store manager in the overall operation of the store and typically oversee hiring and training personnel. Assistant store managers may expect to earn approximately $55,000 per year.
Store Manager – Oversees all operations of the store and ensures sales performance goals are met.  Provides leadership and helps develop employees to their maximum potential.  Store managers earn over $60,000 per year.
Best Entry-Level Positions
Management at Belk recognizes the value of hiring entry level people and places a focus on training new folks to deal with customers and merchandise in ways that increase their bottom line.  Although the company prefers to hire those eighteen years of age and older, they do employ some people who are at least sixteen years of age for some positions, provided that they show initiative.
Belk often hires from within their company, so new employees have opportunities to achieve their employment goals once they prove themselves.
Retail Sales Associate
Belk sales associates are responsible for interacting with customers, explaining the features and benefits of the merchandise, operating cash registers, keeping their departments neat and organized, and providing excellent customer service.
An ideal sales associate takes pride in his or her appearance and possesses a friendly and outgoing personality.
Stock Clerk
Stock clerks at Belk are responsible for receiving merchandise, loading and unloading trucks, stocking shelves, and building displays.
Applicants for stock clerk positions should be in good health and easily lift up to 75 pounds.  Previous stock clerk experience is preferred for this position but not absolutely necessary.
Seasonal Job Openings
Like most major retailers, Belk offers extended store hours during the holiday hours and typically hires people to handle the increased business.
You would be wise to apply early, as many of these positions are filled by those who return each year.  Follow the application procedures outlined in this article.
Belk Careers in Management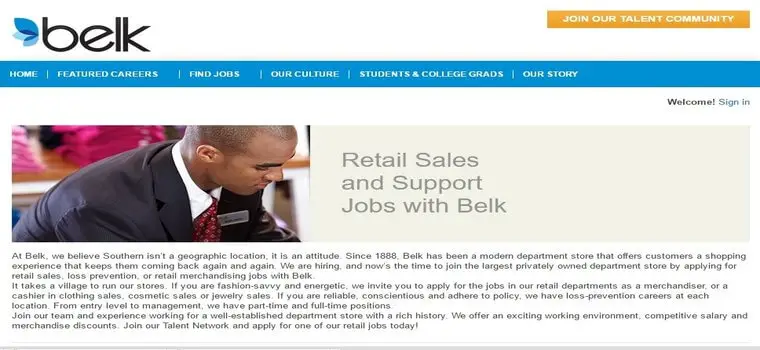 Management positions at Belk offer opportunities to learn and grow in the retail industry for people who want to advance their careers.  Those interested in management positions can apply  here.
Sales Team Managers
The sales team managers are charged with overseeing specific departments within Belk stores.
Sales team managers assist sales associates achieve their sales goals, plan and manage store events, and work with their teams to provide top quality customer service.
Those who aspire to obtain this position can expect to be placed in a 21-week in-store training program that will focus on management, merchandising, and operations.
Assistant Store Manager
Assistant store managers assist the store managers in the overall strategic planning and operations of Belk department stores.
Those candidates who wish to be assistant store managers must plan on going through a rigorous manager training program that will include both classroom and on-the-job training.
Often, assistant store managers are chosen to be promoted to store managers.
Store Manager
Store managers at Belk are responsible for the overall operations of the store.  They hire and promote the management team and develop staff, handle customer complaints, resolve personnel issues, and make sure the store is meeting its sales and performance goals.
In addition, store managers work with district and regional personnel to plan marketing strategy and design and implement store promotions.
Store managers must be effective leaders who are able to motivate their staff to provide the best quality customer service in order to retain customers, and attract new customers.
Interview Questions and Tips
Belk prides itself on providing quality products and excellent customer service to its clientele and strives to hire people who are willing and able to help them achieve their goals.
Take a look at the following interview questions that you may be asked during your Belk interview.
What would you consider your most challenging weakness?  Your greatest strength?
As you consider your answer to this type of question, keep in mind that you always want to frame your greatest weakness so that it appears to be an asset to the interviewer.  For example, if you are applying for a sales associate position, you may want to talk about your fierce competitive nature
Focus your response to queries about your strengths so it relates to the position for which you are applying.  Play up your excellent communication skills, your ability to tolerate difficult people, or your success as a team player, for example.
What experiences have you had working with the public?
This is a fairly easy question to answer if you have held previous positions in which you worked with people.  However, if you have not had that experience, think of the group work you have had to do in the classes you have taken, any volunteer work in which you have been involved, or any other experience you have had working with others and discuss those experiences.
In asking a question such as this one, the interviewer is trying to gain an understanding of your level of enjoyment working with the public and your level of comfort with the work.
How would you handle an angry customer?
Sadly, not every Belk customer is going to be happy all of time, and any person who has ever worked in retail for any length of time has come across a customer who feels he or she has been wronged in some way.
If you are asked about your temperament in an interview, don't simply respond by saying that you have good control of your emotions.  Instead, tell a brief story about a time you faced someone who was upset and how you handled it.
Helpful Research for Your Belk Interview
Headquartered in Charlotte, North Carolina, Belk targets middle-class and upscale customers with an appreciation of quality goods.  The company was founded in Monroe, North Carolina in 1888.
The company operates 293 stores in sixteen southern states and also markets their merchandise online.
According to its 2014 Annual Report, Belk employs over 24.000 people.
What Employees Say About Working Here
Employees report that the Belk working environment is very supportive and employees support each other as they strive to create a positive shopping experience for customers.
Belk is also cited by employees as a great place to learn about the retail industry and customer service in general.
Employees also enjoy the flexibility of the work schedule, a generous employee discount program, and a management trainee program for those interested in furthering their career with Belk.