Bath and Body Works Jobs & Careers – Application, How to Apply, Requirements & Interview Tips
Last Updated:
June 15th, 2020

by

If you love smelling flowers, pumpkins, apples, and more, then fill out your Bath and Body Works job application today. Bath and Body Works provides an upbeat and wonderful smelling opportunity for all of its employees.

For over two decades, Bath and Body Works has been creating fragrances that will make you smile from ear to ear. The company sells everything from home fragrances to luxurious body lotions, body washes, and some of the most irresistible body mists.

The company offers a variety of positions from working as a sales associate on the floor to managing the sales associates as a store manager.

You can enjoy smelling your favorite fragrances and helping customers pick out theirs all while working for Bath and Body Works.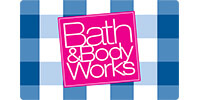 How to Apply for Employment at Bath and Body Works
When applying for a position at Bath and Body Works, applicants will need to submit a paper application. There is no online method to apply for a position.
Application Information
Minimum Age Requirement: The minimum age for employment at Bath and Body Works is 16.
Hours of Operation: Bath and Body Works is open Monday through Saturday from 10:00 am until 9:00 pm and Sunday from 12:00 pm until 6:00 pm.
Methods to Apply: Interested applicants can apply to Bath and Body Works by filling out a paper application and submitting it to their local store.
Searching for an Open Position
Before you submit an application, you should search for an open position at a store near you. You can use the online wizard to find open positions and view the requirements for the position.
To perform a search, you can edit the text boxes on the left of the screen to customize your search by city, state, zip code, position, and more.
Once you have edited the information, click the search button and all open positions within your search criteria will be displayed.
You can click on the job title to learn more about the position.
Applying for a Job
The paper application is easy to fill out and is not a long drawn out process. The application does require you to fill out every answer on it and not doing so could result in dismissal of the application.
The application starts out by asking for your personal information such as where you live, your name, and phone number.
After the personal information section, you will need to fill in all of your educational experience and previous employment history.
The application does delve into some other areas including any academic or professional achievements you have won, any special skills, and whether you have been employed with the company previously.
Lastly, the application requires references, specifically one from a co-worker and two from previous employers. You will need to sign the credit check authorization form as the company requires a credit check before hiring.
Application Tips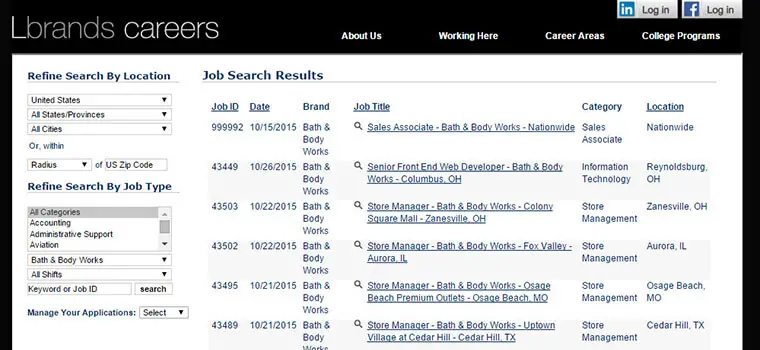 As you are filling out the application, you may be faced with some questions that you are unsure of how to answer. It is important that you are honest, no matter what the answer is. Before you begin to panic, take a deep breath, and look over the following application tips to help you.
Wage Expectations
The application does require you to fill in what your desired salary or wage expectations are. This can be a difficult question to answer because you do not want to give an outrageous number, but you want to make sure you put an honest answer as well.
A good tip of advice is to read over the positions and salary information below. You will have an idea of how much each position pays and you can write in your expectations within that limit.
Don't Skimp on Employment History
Make sure that you include all of your previous employers on the application. Do not skip over any and always account for any time that you were not working. For instance, if you volunteered somewhere, put that in one of the employment places.
The application does require additional references if you have less than four previous employers, so keep that in mind too.
Be Available
One question that comes up on the application is about your availability. Keep in mind that the more availability you have, the more likely you are to be hired.
Should You Follow Up?
You can follow up on any position you applied for by contacting the store manager where you submitted you application. A simple phone call to the store will suffice.
Before you do follow up, make sure you give the hiring manager a couple of days to look over your application, call your references, and perform a credit check.
When you do call the store, ask to speak with the hiring manager. If he or she is unavailable at the time, ask when a better time for you to call is. It is best to speak directly to the manager and not leave messages.
Positions and Salary Information
Bath and Body Works has over 1,600 stores throughout the United States and Canada, with many of the stores in mall locations. Bath and Body Works falls under the larger L Brands umbrella, which employs over 80,000 associates.
As a leader in the personal care and fragrance industry, Bath and Body Works offers a variety of positions from sales associates to managers.
Sales Associate – A Sales Associate is the face of the company and should be upbeat and friendly. Sales Associates work with customers on a daily basis to help them find the products they need. As a Sales Associate, you can expect to make between $7 and $13 per hour.
Sales Lead – The Sales Lead is responsible for customer satisfaction. Your responsibility is solely to focus on the customer and provide the best experience. As a Sales Lead, you can expect to make between $9 and $14 per hour.
Co-Manager – A Co-Manager is responsible for the sales, organization, and customer experience in the store. This position works to develop short-term and long-term goals for the company. As a Co-Manager, you can expect to make between $15 and $22 per hour.
Store Manager – Store Managers are responsible for the day-to-day operations in the store and help boost productivity and sales. As a Store Manager, you can expect to make between $45,000 and $63,000 per year.
Regional Manager – Regional Managers are the middle man between the corporate office and the individual stores. Regional Managers work with all stores in their region to develop and set goals. As a Regional Manager, you can expect to make $50,000 and $80,000 per year.
District Manager – District Managers manage multiple stores throughout their assigned district to ensure profitability, training, and more. As a District Manager, you can expect to make between $66,000 and $120,000 per year.
Find Bath & Body Works Jobs Near You!
Best Entry-Level Positions
Bath and Body Works hires employees for a variety of entry-level positions in their stores. These positions are responsible for providing great customer service and the entry-level positions are the face of the company.
Whether this is your first job or you are looking to start your career, you will find there is room for growth.
Sales Associate
The Sales Associate position is a great first-job and stepping stone for applicants. In this role, you will be responsible for helping customers find the products they need and checking them out.
You will need to use your knowledge of the company's products and ingredients to help guide customers to the right products.
Sales Associates are responsible for greeting customers, helping them choose products, operating the cash register, and providing a great shopping experience.
Sales Lead
The Sales Lead is responsible for providing the absolute best customer experience. In this position, you are responsible for helping customers choose the products they need.
Your sole focus is on the customer. You will greet customers warmly and help them choose gifts, products for their home, and more.
Seasonal Job Openings
Bath and Body Works does offer seasonal job positions during the holiday season. Recruitment for their seasonal position typically starts in October and will last throughout Thanksgiving and Christmas, often into the New Year.
Seasonal Sales Associate
Bath and Body Works offers both part-time and full-time seasonal sales associate job positions.
The sales associate is responsible for helping customers pick out products. The associate should be knowledgeable about the brand and be able to direct customers to the right products. The expected salary range for this position is between $8 and $12 per hour.
This position has the opportunity to turn into a part-time sales associate role.
Bath and Body Works Careers in Management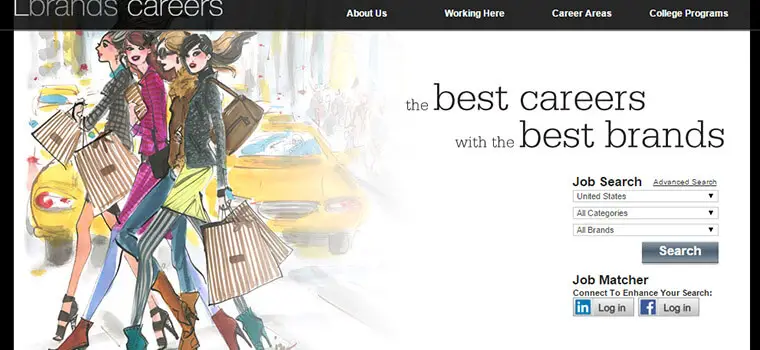 Bath and Body Works offers a number of management positions that allow you to move up the ladder. The company offers many benefits to employees including life insurance, paid sick and vacation days, and more.
Co-Manager
The co-manager position is an entry-level supervisor position that is responsible for managing the employees in the store and helping to ensure all company policies are followed.
The co-manager works under the store manager and will ensure customer satisfaction on a daily basis.
Store Manager
Store managers are a key role inside each individual store. They oversee the day-to-day activities and set goals for their employees.
In this role, the store manager will help increase the store's profit, drive sales, and ensure all policies and procedures are closely followed.
Regional Manager
Regional managers manage stores throughout their region. They answer to the district managers and are the key link between the corporate office and each individual store.
Regional managers help to increase profits, grow sales, and also develop strategies to help move product quickly.
District Manager
District managers are responsible for managing a number of stores throughout their assigned district area. In this role, you will need to ensure that the Bath and Body Works' brand is well-displayed and clear throughout the stores.
In addition, the district manager is responsible for recruitment and training of all employees in their area.
Interview Questions and Tips
Bath and Body Works provides quality products to their consumers. The company strives for complete customer satisfaction at all time. Below, you will find some interview questions and tips to help you survive.
What Would You Do in This Situation?
Throughout the interview, you will be asked a variety of questions that involve what you would do in a specific situation.
You may encounter a questions such as, "What would you do if a customer came in and was unhappy because they did not like the scent of a specific product?"
You should think about how you would personally hand the situation and then explain step-by-step what you would do to make the customer happy again.
What Did You Dislike Most about Your Previous Job?
You are likely to encounter this question and it is one of the most difficult. To answer this question, take your time and be honest.
Everyone has an aspect of their previous job they did not like, but make sure that when you are explaining it, you do not say anything negative about the company or employees as this could negatively affect your chances of being hired.
How Well Do You Know Bath and Body Works Products?
You will probably be asked how well you know the Bath and Body Works products. Take some time before your interview to learn about them, so that you can answer this question if it is asked.
Helpful Research for Your Bath and Body Works Interview
Bath and Body Works is considered one of the leading retailers in the home fragrance and personal care industry. The company carries a large variety of products for tweens, teens, young adults, women, and men.
Nicholas Coe is the companies CEO and President. Bath and Body Works is enveloped under L Brands, which covers a number of other retailers including Victoria's Secret.
There are roughly 1,648 stores throughout the United States and Canada. The company has produced net sales in the $613,000,000 range.
L Brands employs over 80,000 associates worldwide.
What Employees Say About Working Here
Employees who work for Bath and Body Works are happy with their positions. Many employees talk about how great the benefits are and how there is opportunity for growth within the company.
In addition, employees seem to be happy with the employee discounts and bonuses they receive as well.