Learn How To Become An Astrophysicist – Qualification Requirements & Expected Salary
Last Updated:
January 24, 2018
Albert Einstein, Stephen Hawking, Michio Kaku, Carl Sagan, Neil deGrasse Tyson: care to enter into such lofty ranks with a career as an Astrophysicist?
These are just a few of the notable figures who have dedicated their lives to understanding how the universe works.
Astrophysicists analyze how the laws of chemistry and physics, as expressed in mathematics, explain the life cycle of galaxies, stars, solar systems and planets (including our own). Put simply, astrophysicists seek to understand the nature of life.
Nebula, black holes, worm holes, dark matter, anti-matter: these concepts are part of the daily language of an astrophysicist. Thanks to the work of people like Carl Sagan and Neil deGrasse Tyson (both of "Cosmos"), we are familiar with these concepts, which have become part of our culture thanks to movies ("Star Wars") and television ("Star Trek").
Most of us cannot follow in the footsteps of Albert Einstein or Stephen Hawking. However, if you are a curious, intelligent person who loves science and mathematics, and you're prepared for a lengthy and (at times) solitary intellectual journey – becoming an astrophysicist may be an ideal career choice for you.
In fact, most people who choose this field have been curious about the workings of the universe and have felt comfortable with math and science since their childhood.
A research career as an astrophysicist is not a job, it is a calling. Asking, and trying to answer, why the universe operates in the way that it does isn't work for an astrophysicist – it's a passion.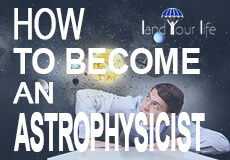 Process for Becoming An Astrophysicist
To remain an astrophysicist dedicated to academic research, an advanced doctoral or professional degree is required, and that can only be achieved by performing well in high school or perhaps even a bit earlier.
Becoming a success as an astrophysicist is inextricably tied to success as a student, beginning with high school and continuing through university, graduate and post-graduate work. Only by distinguishing yourself will you be able to reach the lofty pinnacle of academic scientific research.
With each advancing level of education, the number of people you will be working with will get smaller, while the subject becomes more esoteric. You will be working with fellow graduate students, postdoctoral candidates, and your teacher; with luck, you will find a mentor among them.
For example, at Canada's world-renowned McGill University, there are 55 astrophysicists (ten faculty members, 35 graduate students and 11 post-doctoral students) working "at the forefront of a wide variety of major astrophysical research areas, including neutron stars, pulsars, magnetars, pulsar wind nebulae, X-ray binaries, thermonuclear bursts, black holes, gamma ray bursts, active galactic nuclei, galaxy evolution, galaxy clusters, microwave background, cosmology and exoplanets."
Take Advanced Placement Classes In High School
It all begins early. Seek out every opportunity to learn.
In high school, don't be afraid to be a "geek," because joining astronomy clubs and physics clubs and excelling in math and science, particularly in A.P. classes, will be important to securing a spot in a prestigious university, which will be important to later success.
If your family can afford it, there are excellent private summer camps and internships; Summer Discovery and Summer Fuel have programs at universities throughout the U.S. and abroad.
NASA has a wide variety of summer programs.
The Summer Science Program, a non-profit organization that offers financial aid, has outstanding programs at the University of Colorado in Boulder and at the New Mexico Institute of Technology.
It is affiliated with two outstanding universities in the field, the Massachusetts Institute of Technology and the California Institute of Technology.
Bachelor's Degree In Astrophysics (Or Astronomy Or Physics)
Your career path will be easier if you gain entrance into one of the high-calibre schools listed below, which include some Ivy League schools and several in California.
However, not all schools offer Bachelor's Degree in Astrophysics. According to Startclass.com, the top ten colleges offering astrophysics degrees include
Harvard,
Princeton,
California Institute of Technology,
Columbia University in the City of New York,
Swarthmore College,
Williams College,
Rice University,
Carnegie Mellon University,
the University of California at Berkeley and Wellesley College; they have acceptance rates ranging from 5.3% (Harvard) to 29.1% (Wellesley College)
Ohio State University also offers a degree in astrophysics, as well as a co-curricular program, in which astrophysics majors work with faculty on research programs.
According to the Ohio State brochure, "Areas of research (to be conducted with faculty) include extrasolar planets, quasars, cosmology, dark matter, stellar structure, instrumentation, and galaxy evolution."
If you opt for a school that offers outstanding graduate programs in astrophysics, but not an undergraduate degree in the field, get your Bachelor's Degree in either Physics or Astronomy and make the other field a strong minor.
Wherever you pursue your Bachelor's degree, make sure to obtain a solid background in computer science, because many astronomers and physicists write computer programs that help gather and analyze data.
Continue to remain active academically during the summer, pursuing internships or other educational programs (see above).
Graduate Degrees And Beyond (Temporary Postdoctoral Research Fellowships)
After your four years of college, if you want to remain in research and academia, you will need to pursue a Ph.D. (which may take up to six years) and then obtain paid post-doctoral research fellowship positions, which usually last three years.
To reach the highest levels of academia, you may need to do two or three research fellowships, before becoming a member of the junior faculty. After another three to five years of research and writing, publishing and teaching, you may get tenure.
If you choose to stop your higher education or pursue a Master's degree, you can still get very satisfying work in the field (see below).
Job Description
According to the Bureau of Labor Statistics, "Physicists and astronomers study the ways in which various forms of matter and energy interact … and the nature of time and the origin of the universe."
Modern astronomy applies the laws of physics to the study of celestial objects; it is an observational science (as opposed to an experiential science such as chemistry or biology).
Astrophysicists can only suggest theories based on data supplied from "incoming radiation from space. Observations over the entire electro-magnetic spectrum (gamma rays, x-rays, ultraviolet, visible light, infrared, microwave and radio waves) are collected with both earth-based and space telescopes." (from the Ohio State University brochure).
The astrophysicist interprets that data and proposes a theory. After that, other astrophysicists try to prove or disprove that theory; each refinement of the theory advances human knowledge to some degree.
Occasionally, such as with Albert Einstein, this work even makes a "quantum leap" (another expression we use thanks to physics) in human knowledge.
Getting The Facts Straight
People's fascination with the universe occasionally leads to excitement over false claims, particularly given our 24-hour news cycle and the lightning speed with which the Internet moves information.
In 2014, James Franson, a physicist from the University of Maryland, published an article claiming to have found evidence, based on observing a supernova, that the speed of light is slower than previously thought.
If this were true, then everything that follows from Einstein's famous E=mc² would have been incorrect. The headlines shouted, "Einstein is wrong!"
Other astrophysicists soon pointed out that the original article was published in an uncritically reviewed journal (not peer-reviewed) and that Franson incorrectly assumed that the speed of light was wrong, instead of positing that our understanding of supernovas is incomplete.
In fact, the constant, unchanging speed of light, or "c," has been verified over and over in the decades since Einstein's work.
Not Making Headlines Doesn't Make The Work Less Important
Most astrophysicists' work doesn't make the headlines, but it is very important and at the cutting edge of human knowledge. Astrophysicists work in laboratories, observatories, or universities.
They may also work for the federal government (the Department of Energy, perhaps NASA, the Air Force or the Navy), or by federally-supported observatories and laboratories, such as the National Radio Astronomy Observatory or the National Optical Astronomy Observatories.
Some astrophysicists who choose to focus on more technical matters might work in the aerospace industry.
What Does an Average Day For An Astrophysicist Look Like?
If an astrophysicist remains in academia, a typical day will be spent on research (likely including observing and measuring celestial bodies or otherwise verifying data), working on collaborative research projects, which may involve meetings with colleagues, including fellow professors, postdoctoral students, graduate students, and on teaching duties.
An important duty will be writing research proposals for federal funding; competition for government grants is fierce. (http://www.brightknowledge.org/knowledge-bank/science-and-maths/physics-careers/copy_of_my-job-explained-astrophysicist)
Astrophysicists who choose other fields or career paths (see below) may be applying their knowledge, rather than engaging in research, so they may not be required to research and submit academic articles in respected, peer-reviewed publications.
Are You Suited for a Career as an Astrophysicist?
Personality & Skills
"Mathematics is the language with which God wrote the Universe," said Galileo Galilei.
Very strong mathematical, analytical and problem-solving skills are a must for the budding astrophysicist, who must be able to understand problems, research the results and express those results in mathematical terms.
However, they must also be able to express those results to others, so good communication and writing skills are important as well, for grant applications, reports, and requests for funding.
Astrophysicists must also be able to collaborate with others on research projects. Successful astrophysicists cannot be complete loners, tinkering over the perfect calculation in a tucked-away laboratory or paper-strewn office.
The academic world is a hierarchy, and as such, a certain amount of "schmoozing" is necessary to advance in one's career. The BLS indicates that there were only 23,300 physicists and astronomers in the United States in 2012, so the field is clearly quite competitive.
Astrophysicists must be able to work with their peers, because participating in high-profile, "large collaborative projects that employ expensive, cutting-edge instrumentation" is critical to career success, providing visibility in the field, access to "insiders" and future employers and collaborators, notes the American Astronomical Society, "Women of Color in Astronomy and Astrophysics,"
Certifications & Proficiency
Advanced Placement Classes In High School
Bachelor's Degree In Astrophysics (Or Astronomy Or Physics)
Graduate Degrees And Beyond (Temporary Postdoctoral Research Fellowships)
See above for detailed information about the process for becoming an astrophysicist.
Top Colleges and Universities
According to the U.S. News and World Report's 2014 annual rankings, the best places to earn Bachelors' degrees and Ph.D.s in astrophysics, mathematics or physics are either in the East Coast, in California, in Chicago or in Michigan's Ann Arbor.
Those focusing on astrophysics and living in Texas have an excellent school in that field in their own backyard, the University of Texas in Austin, the state capitol. UT also performs quite respectably in other sciences such as chemistry (12th) and computer science (9th).
The strength of a school's astrophysics program is tied closely to the quality of its mathematics and physics programs, so rankings in all three are listed below. Not surprisingly, most of the same schools re-appear on all three lists.
Astrophysics Rankings
According to US News the ten best schools for studying Einstein's work in cosmology, relativity and gravity are
Princeton University in New Jersey,
the California Institute of Technology in Pasadena (Cal Tech),
the University of Chicago,
Harvard University in Massachusetts,
Stanford University in California,
the University of California at Berkeley,
the Massachusetts Institute of Technology (MIT), t
he University of California at Santa Barbara,
the University of Texas in Austin,
Johns Hopkins University in Baltimore, Maryland
Mathematics Rankings
U.S. News and World Report assigns a numerical value for mathematics and physics rankings. For mathematics,
MIT tied with Princeton for first place (5.0);
Harvard and the University of California at Berkeley tied for third (4.9);
Stanford and the University of Chicago tied for fifth (4.8);
Cal Tech and the University of California at Los Angeles tied for seventh (4.6);
Columbia University, New York University, Michigan University at Ann Arbor and Yale University all tied for ninth place (4.5).
Physics Rankings
In physics, the rankings were as follows:
MIT (5.0),
CIT (4.9),
Harvard (4.9),
Princeton (4.9),
Stanford (4.9),
the University of California at Berkeley (4.9),
Cornell University in New York (4.7) and the University of Chicago (4.7),
the University of Illinois in Urbana-Champaign (4.6),
the University of California at Santa Barbara (4.5).
Columbia University (New York), the University of Michigan at Ann Arbor and Yale University in Connecticut tied for 11th place (4.3).
How Does An Astrophysicist Find Work?
Developing connections, finding mentors, joining research projects, writing research papers and being invited to be a part of peer review panels or to deliver a talk are important ways to advance your career; most academic astrophysicists work in the educational institutions listed below.
The social aspect of an astrophysicist's academic career begins as a university student, continues through doctoral work, and of course, during the post-doctoral research fellowships.
However, doing brilliant work is far more important than being at ease making small talk at your professor's cocktail party.
Astrophysicists can find work in the government, such as with the Smithsonian Astrophysical Observatory (salary up to $158,700) or the U.S. Navy (annual salary up to $141,986).
While NASA or even private concerns, such as Virgin, that want to send civilians into space, might be an ideal place to dream of working.
NASA hires few astrophysicists, because it primarily builds, maintains and controls satellites; sending people into space hasn't been a recent priority. The pay for a full astronomer with NASA is around $100,000.
What is the Average Salary of an Astrophysicist?
According to the Bureau of Labor Statistics, in May 2012, the median salary for physicists is $106,360 annually, or $51.14 per hour; for astronomers, the median annual wage was $96,460.
Higher salaries may be found by working in state, local or private hospitals ($152,280 in 2012), by providing management, scientific and technical consulting services ($130,980) or by working in the federal government (excluding the postal service) ($111,020).
Because of the nature of the work, top research positions are found in only a few states, where prestigious laboratories or universities are located. According to Forbes, in 2015, the ten best states to make a living were Texas, Washington, Wyoming, Virginia, Illinois, Michigan, Colorado, Ohio, Delaware, and Utah.
Of those states, Illinois has one of the top astronomy and astrophysics departments, with a world-class observatory at the University of Chicago.
However, schools in Texas, Michigan and Ohio performed very well according to U.S. News and World Report's academic rankings (see below).
Astrophysicist Job Growth & Outlook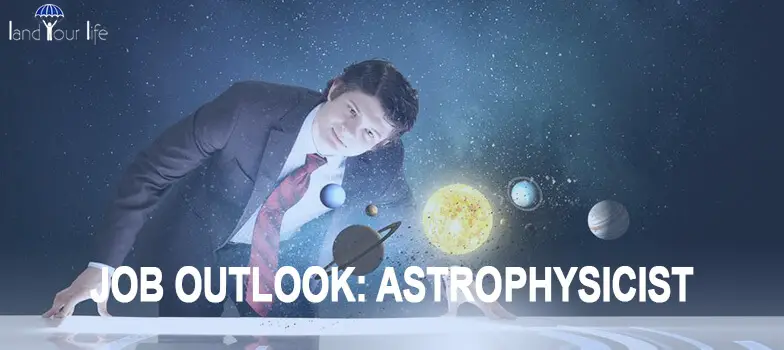 The BLS indicates that there were 23,300 astrophysicist jobs in 2012 and the field is expected to grow by the general predicted average growth of 10%, with 2400 more such jobs by 2022.
Higher salaries may be found by working in state, local or private hospitals ($152,280 in 2012), by providing management, scientific and technical consulting services ($130,980) or by working in the federal government (excluding the postal service ($111,020).
Capable physicists will always be in demand for engineering, medicine, information, communications, and semiconductor technology research and development.
According to the Bureau of Labor Statistics, astrophysicists who do not wish to pursue the highest level of research and academia can still obtain satisfying, well-paid jobs.
Academia (research, writing, teaching graduate and undergraduate courses)
Education (teaching math, physics or similar topics in high school or junior high school)
Applied research and development for private companies or in government (physical, engineering and life sciences)
Technician or research assistant in engineering or computer science, or at an observatory