Ace Hardware Jobs & Careers – Application, How to Apply, Requirements & Interview Tips
Last Updated:
September 20th, 2019

by

If you have knowledge of the best tools for every trade, get ready to fill out your Ace Hardware job application today.

Ace Hardware is a hardware retailer that carries all of the tools and supplies you need for your next project. There are roughly 4,700 stores throughout the world with 4,600 of them being operated by local entrepreneurs.

The company itself was first founded in 1924 and has since expanded to be a leader in the hardware industry.

If you have a passion for all things tools, you may find that working as a sales associate or manager is the right career move for you.

Don't miss the opportunity to put your skills to good use and consider working at your local Ace Hardware today.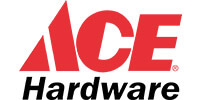 How to Apply for Employment at Ace Hardware
To apply for a position at Ace Hardware, the most commonly used method is by visiting your local store and filling out a job application.
Application Information
Minimum Age Requirement: The minimum age for employment at Ace Hardware is 18 years old.
Hours of Operation: The hours of operation vary by each location.
Methods to Apply: Interested applicants can apply to Ace Hardware by visiting one of their local stores.
Searching for an Open Position
To search for an open position, applicants will need to locate their nearest Ace Hardware location and visit the store.
Once you visit the store locator page, you can enter in your search criteria including your location and the distance you want to search. Once you are ready to perform the search, press the "search locations" button.
You will be shown all locations that meet your search criteria. You can then click on the name of the store's location to view details about the store such as the hours of operation, directions, and phone numbers.
Applying for a Job
To apply for a job at Ace Hardware, you must visit your local store for an application. The application process is simple and consists of filling out a paper form.
Each job application will vary depending on the store and the franchise owner. You will typically be required to fill out your personal information, education information, and work experience.
In addition, you may find a small section that asks about your availability and if you have ever been employed with the company before.
Application Tips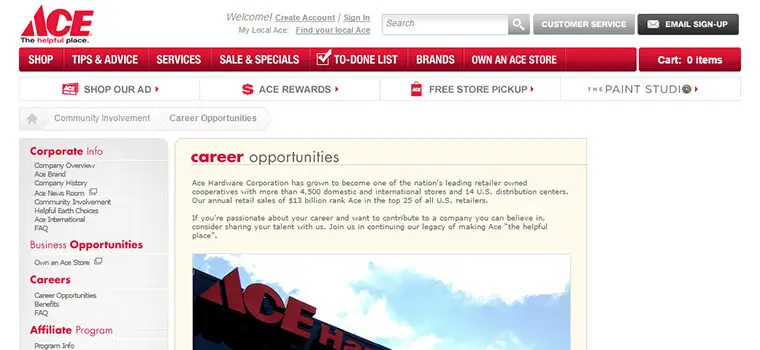 When you fill out your job application, you may come across questions you do not know how to answer. It is important that you take a deep breath and answer all questions to the best of your ability.
Below, we will go over some tips to help you get through your application quickly and smoothly.
Attach Your Resume
You should always attach your resume to your application, even when you are filling out an application in person. The hiring manager will appreciate the time you took to print out your resume.
When it comes time to look at your application, the hiring manager will glance over your resume and this is their first look into your experience, accomplishments, and achievements.
Don't Skimp on Your Work Experience
If you have relevant work experience, include it. The more experience you have the better. If you do leave off work experience, the hiring manager may be able to see that you worked somewhere on your background check and this can be a red flag.
When you do fill in your work experience, make sure to list all of your skills and accomplishments that you achieved in your position.
Your Availability is Important
When you fill out your job application, if there is a section for your availability, make sure you fill it out clearly. The more available you are, the better, but if you do need to have time off during the day or you cannot start until a certain time, you need make that known on the application.
Should You Follow Up?
You can follow up on a submitted application by calling the store you applied to. You should give the hiring manager a couple of days to look over your application first.
When you do call the store, ask to speak directly to the manager in charge of hiring. If he or she is not available, ask when a better time to call back would be.
You want to do your best to speak with the hiring manager directly and not leave messages. Persistence is key and will let the manager know that you want the job.
Positions and Salary Information
Ace Hardware provides both entry-level and management positions for interested applicants. Each of the positions play an important role in the success of the company.
Whether this is your first job or you are looking to make a career working as a manager, Ace Hardware has opportunities to make it happen.
Cashier – The Cashier is responsible for greeting customers, ringing up the products they want to purchase, and checking them out. As a Cashier, you can expect to make between $7 and $12 per hour.
Sales Associate – The Sales Associate is responsible for helping customers throughout the store. He or she will help customers find products. As a Sales Associate, you can expect to make between $7 and $12 per hour.
Assistant Manager – The Assistant Manager is responsible for overseeing the Sales Associates and Cashiers. He or she will provide support to employees and great customer service to all guests. As an Assistant Manager, you can expect to make between $25,000 and $42,000 per year.
Store Manager – The Store Manager is responsible for overseeing all operations of the store. He or she will set schedules, conduct payroll, and set financial goals for the store to meet. As a Store Manager, you can expect to make between $37,000 and $71,000 per year.
Best Entry-Level Positions
Ace Hardware offers entry-level positions in their stores. The positions that are offered are perfect for anyone wanting to move into a management position or someone who is starting their first job.
The entry-level positions are customer oriented and will provide you with the experience you need to move up in the company.
Cashier
The Cashier is responsible for greeting customers when they enter the store. He or she will operate the cash register and conduct all monetary exchanges with the customer.
In this role, the Cashier will ring up all items and ensure that the customer receives all applicable discounts and coupons.
Sales Associate
The Sales Associate is responsible for being visible on the sales floor and helping customers find the products they need.
In this role, you will provide superior customer service and help at the cash registers when the line is backed up.
Ace Hardware Careers in Management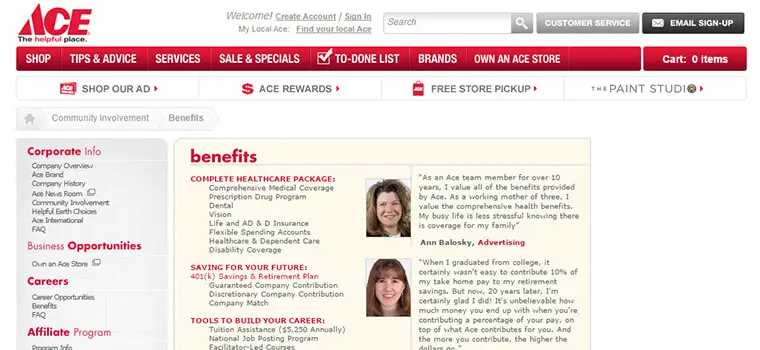 Ace Hardware offers management opportunities in their store. Both in-house employees and new applicants can apply to these positions.
Each of the management positions provides you with the opportunity to lead other employees and conduct necessary training to ensure all employees are properly trained.
Assistant Manager
The Assistant Manager is responsible for helping the Store Manager. He or she will provide support throughout the store. It is important to have strong customer service skills in this role.
The Assistant Manager will help train employees and ensure they are ready to begin working on the cash register or out on the sales floor.
Store Manager
The Store Manager is responsible for all operations in the store. He or she will rely on the Assistant Manager for help.
In this role, the Store Manager will conduct payroll, set schedules, and hire new employees. In addition, the Store Manager will be in charge of setting goals for employees to meet.
Interview Questions and Tips
When you go through the interview process, it is important for you to be prepared. You may run into some questions that you do not know how to answer and the tips below will help you.
Do You Have Experience with Hardware and Hardware Accessories?
You may be asked what your experience is with hardware and hardware accessories. The answer to this question should be based on your experience and if you do not have experience, let the hiring manager know that you are always willing to learn.
To What Extent Would You Go to Help a Customer?
Since customer service is important, your hiring manager may ask you how far you would go to help a customer. You want to make sure that you show that you would go above and beyond to help someone.
You could tell the hiring manager that you would do everything you can to help the customer and if you could not help them, you would find someone that can.
If You Saw a Customer Who Looked Confused, What Would You Do?
You may be asked how you would help a customer who looks confused in the store. You could tell the hiring manager that you would approach the customer and ask them if they need help and then direct them to where they can find the items they need.
Helpful Research for Your Ace Hardware Interview
Ace Hardware first began in 1924 and just four years later in 1928, 11 stores had been opened. The mission of Ace is to provide the best hardware and tools to individuals for competitive prices.
There are roughly 47,000 Ace Hardware stores throughout the world and 46,000 of them are owned by individual entrepreneurs.
What Employees Say About Working Here
Employees working at Ace Hardware have expressed how happy they are in their position. Many of the employees say there are always new tasks to do each day, which keeps their duties from becoming mundane.
In addition, other employees are happy that the dress code is casual and the company provides solid benefits for those who are full-time.