A.C. Moore Jobs & Careers – Application, How to Apply, Requirements & Interview Tips
Last Updated:
September 20th, 2019

by

If you're looking to craft a new career for yourself, you can start by filling out an A.C. Moore job application.

A chain of arts and crafts superstores, A.C. Moore helps people with a creative spark purchase the supplies that they need to fuel their imaginations and bring their masterpieces to life.

Their more than 140 retail stores each stock more than 60,000 items, so many people are needed to ensure that each one runs smoothly and provides excellent service to customers.

Is helping people find the essentials for creative projects, teaching arts and crafts classes or getting paid to create beautiful creations appealing to you? You can do these tasks and more on a daily basis with a job at A.C. Moore.

Like a paint-by-numbers set, this guide will break down what you need to do to land your dream job at A.C. Moore. Read on to learn more.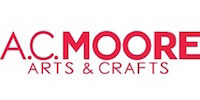 How to Apply for Employment at A.C. Moore
A.C. Moore stores can be very busy places, so while you can stop in to pick up a paper application, it's often easier to fill one out online.
The online application system is simple to use, and the company accepts applications for entry-level jobs and nearly all management positions through the website.
Application Information
Minimum Age Requirement: You must be at least 16 years of age to work at A.C. Moore.
Hours of Operation: Most A.C. Moore locations are open from 9AM to 9PM.
Methods to Apply: Online, in stores
Find a Job
Start the process by heading to the A.C. Moore careers page and finding the position that interests you.
You can read descriptions of each of the jobs that the store is hiring for nationwide.
Fill Out the Application
When you have found a position that is a good match for your interests, education, experience and skills, fill out the application at the bottom of the career page.
The application just asks for your name, city, state, zip code, phone number, email address, expected pay rate and start date. You'll also need to select your nearest store from the drop-down box.
Provide Your Availability
After entering your contact information, click the radio buttons to indicate which shifts you are able to work each day of the week.
Make sure that you take the time to carefully consider your schedule, so that you provide accurate information to the hiring manager.
Upload Your Resume
Last but not least, upload your resume. You can submit the document in .doc, .docx, .pdf or .txt formats; however, .pdf files tend to look the most professional.
Once everything is correct and uploaded, click "Submit" and you're done.

Application Tips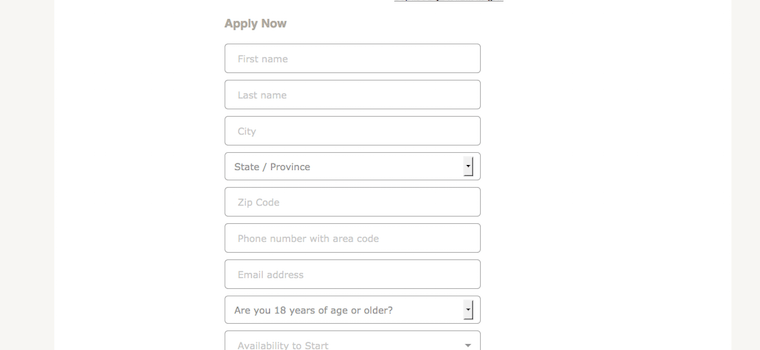 Highlight Arts and Crafts Experience
You will have a better chance of being hired at A.C. Moore if you have previous arts and crafts experience, and in some cases, experience with these creative endeavors may be a prerequisite for hiring.
Show that you have what it takes for a job at A.C. Moore by adding a section entitled "Arts and Crafts Experience" to your resume.
There, you can list any art classes you have taken. Provide the name of the course and where you took it.
You can also provide a bullet list of any arts and crafts projects that you completed during your leisure time.
If you sell artwork or crafts or have made decorative items to give as gifts or decorate for events like birthday parties or weddings, list that in your Arts and Crafts Experience section.
Don't Forget Computer Experience
Many positions at A.C. Moore require the ability to use a computer and software programs like Microsoft Word, Microsoft Excel and Microsoft Outlook.
Under the Skills section of your resume, make a note of any computer software programs that you are skilled at using. You can also mention any computer classes that you have taken in the education section of your resume or under the skills section.
If you are certified at using any type of software, include that information on your resume.
Focus on Service and Sales Job Duties
When you are optimizing your resume to submit to A.C. Moore, focus on adding information to your work history section that highlights past experience in sales and customer service.
Nearly all of the jobs at A.C. Moore benefit from a strong background in sales and service, so you want your resume to show that you meet these requirements.
For each entry on your resume, ask yourself what you did that relates to sales and service in the role and be specific when describing your job duties.
For example, for a cashier job at a fast food restaurant, you might say, "Fulfilled special requests from customers with a smile and up-sold customers to value-sized items and meal deals" rather than "took orders and accepted payments."
Should You Follow Up?
A.C. Moore will keep your application on file until a job opening related to the position for which you applied becomes available. If there are no openings at the present time, you may not hear from the store for some time.
To follow up, you can call your local store within 1 to 2 weeks after submitting an online application to see if there are any updates; however, keep in mind that management may not have any record of your application if they do not have any openings.
When you call, make sure to be polite and courteous, even if the manager does not have any information to provide. You do not want to ruin your chances of being called when a job does open.

Positions and Salary Information
It takes a diverse team of workers to keep A.C. Moore stores running smoothly and that means that there are many types of positions that you can apply for at their locations.
Here are some of the most popular jobs with the retailer:
Activities Specialist – Teaches classes on various arts and crafts activities – The average Activities Specialist earns between $9 and $10 per hour.
Assistant General Manager – Oversees operations, merchandising and front end team members at the store – The average Assistant General Manager earns between $40,000 and $45,000 per year.
Associate – Assists customers, stocks shelves and assists with cleaning and processing sales – The average Associate earns between $8 and $9 per hour.
Custom Framing Specialist – Sells framing services and supplies – The average Custom Framing Specialist earns between $10 and $11 per hour.
Floral Specialist – Arranges flowers for sale, display and custom orders – The average Floral Specialist earns between $9 and $10 per hour.
Front End Specialist – Processes transactions quickly and accurately – The average Front End Specialist earns between $8 and $9 per hour.
Logistics Supervisor – Responsible for overseeing the processing of shipments to and from the store – The average Logistics Supervisor earns between $13 and $14 per hour.
Merchandising Supervisor – Ensures that sales floor looks neat and displays are set up properly – The average Merchandising Supervisor earns between $11 and $12 per hour.
Operations Supervisor – Supervises Team Members and the operations at the front of the store – The average Operations Supervisor at AC Moore earns between $12 and $13 per hour.
Best Entry-Level Positions
A.C. Moore hires individuals 16 years of age and over for part-time and full-time entry-level positions.
Because the store offers classes and special services, there is a wider range of entry-level jobs to apply for than what you'll encounter at other retailers. Some of the best positions include:
Activities Specialist
An Activities Specialist gets paid for teaching classes and giving demonstrations in the store. He or she is expected to recommend that customers buy arts and crafts supplies to do similar projects at home.
Prospective Activities Specialists must have strong computer skills to be considered for a job. Individuals with arts and crafts interests and customer service experience are most likely to be hired.
Associate
Every day may be different for an Associate at A.C. Moore. Associates stock shelves, assist customers, keep the store looking tidy and may run registers when the front end is short-staffed.
While there are no specific requirements for Associates, individuals with retail or customer service experience and some basic computer skills are preferred.
Custom Framing Specialist
A Custom Framing Specialist helps customers determine the best way to frame artworks, posters and collectibles. He or she works one-on-one with customers and enters custom framing orders into the computer system.
Customer service and computer skills are required for getting a job as a Custom Framing Specialist. Those with previous consultative selling experience are most likely to be hired.
Floral Specialist
A Floral Specialist is responsible for creating arrangements out of artificial flowers. The arrangements are used for displays, sold to customers as ready-made decorations and created especially for customers as custom orders.
Qualified applicants for Floral Specialist jobs will have previous customer service experience. Applicants with arts and crafts and computer skills are most likely to be considered.
Front End Specialist
A Front End Specialist processes transactions and accepts payment from customers. He or she is responsible for maintaining their cash drawer accurately.
Customer service and computer skills are required for consideration for Front End Specialist jobs. Individuals who have arts and crafts skills and experience are generally preferred.
A.C. Moore Careers in Management
While A.C. Moore believes strongly in giving employees the opportunity to advance, the company does look outside to fill management roles.
The only exception is for the General Manager position, which is only available to individuals who have been employed as Assistant General Managers for A.C. Moore. That job has been omitted from this guide as a result.
Management positions that you can apply for online and in stores include:
Logistics Supervisor
The Logistics Supervisor is responsible for managing the flow of inventory shipments in and out of A.C. Moore locations. He or she keeps the stock room organized and supervises Associates involved with stocking.
Prospective Logistics Supervisors must have previous customer service experience and computer skills to be considered for the job. Individuals with retail and management experience are preferred.
Merchandising Supervisor
The Merchandising Supervisor is responsible for keeping their store looking appealing. He or she walks the floor, organizing the shelves, fixing displays and ensuring that the layout complies with company guidelines.
To qualify for a Merchandising Supervisor position, you must have previous customer service experience and computer skills. Previous retail and management experience are beneficial.
Operations Supervisor
The Operations Supervisor is the individual who oversees the Front End of the store, ensuring that transactions are processed quickly and accurately. He or she also enforces customer service standards.
Qualified Operations Supervisor job applicants will have flexible schedules, previous customer service experience and computer skills. Those with previous cash-handling, retail and management experience will have the best chances of being hired.
Assistant General Manager
The Assistant General Manager oversees the Logistics, Merchandising and Operations Supervisors, coordinating the efforts of their departments to make the store a success. He or she is responsible for managing the entire store to achieve goals for sales, customer service and profitability.
To qualify for an Assistant General Manager job, you must have either a bachelor's degree and some previous retail experience or a high school diploma and 1 to 3 years of retail management experience. Applicants must also know how to use Microsoft Office.
Interview Questions and Tips
A.C. Moore job interviews may last anywhere from 20 minutes to 1 hour with management interviews typically taking longer than interviews for entry-level jobs.
These sample questions are intended to give you some insight into what might be asked during your interview.
What Are Your Hobbies?
This is the time for you to point out all of that arts and crafts experience that makes you perfect for a job at A.C. Moore.
You can talk about other hobbies and interests that you might have, but make sure to talk about your artistic and creative endeavors with enthusiasm.
If you have formal artistic training or have taken craft classes, make sure to mention that when you give your answer.
What Does Professionalism Mean to You?
This question is meant to judge how you will present yourself to A.C. Moore customers.
Some things that might be included in a definition of professionalism include:
Remaining patient and friendly even when customers are not
Working with other team members, even those who may be difficult
Dressing well and maintaining a neat, clean appearance
Acting with integrity and ethics
Complying with all company policies and procedures
Leaving your personal life at home and not letting personal problems interfere with work
These points are just meant to give you ideas. Answer in your own words and be honest about what professionalism means to you.
How Do You Handle Upset Customers?
With this question, the hiring manager is trying to gauge your customer service abilities.
Generally, customer service experts recommend that the best way to approach an upset customer is to listen first. Until you know what the problem is and fully understand, you will not be able to provide a solution.
Then, it is important to apologize to the customer, even if you had nothing to do with the situation. The customer sees you as a representative of the company, so apologize on behalf of the entire store,
Next, you should offer whatever solution you are able to without going beyond the powers that the company's rules and procedures give you. You should always take ownership and try to resolve the issue for the customer to the best of your ability.
Only if you are unable to satisfy the customer should you seek out the help of a supervisor.
Giving an answer that reflects this type of approach will show the hiring manager that you have a solid customer service foundation.

Helpful Research for Your A.C. Moore Interview
A.C. Moore has been helping people create beautiful things since 1985. The store started with just one location in Moorestown, New Jersey, and has grown to more than 140 locations, stretching from Maine to Florida.
Together, the stores employ more than 5,000 people, and the information provided below can improve your chances of joining them by helping you prepare for your interview.
Origin of the Name
Many people believe that the "A.C." in A.C. Moore stands for "Arts & Crafts," but that is not the case.
Founder Jack Parker had a fondness for Atlantic City, which partly inspired the A.C. Moore name. The name was also that of a character in one of his favorite books.
The name has been the same since the store first opened. Periods are always placed after the A and C.
Product Line-Up
A.C. Moore carries a huge selection of arts and crafts supplies, including items for cake and candy decorating, sewing, fashion crafts, floral crafts, home decor, children's crafts, scrapbooking, needlecraft and knitting.
Before your interview, take some time to browse their website to learn more about what A.C. Moore has to offer.
Classes
A.C. Moore offers classes related to crocheting, food and cooking, gardening, knitting and paper crafts.
Customers usually pay a small fee for the class. You can see some of the courses taught at various A.C. Moore stores at their website.
Giving Back
To give back to their communities, A.C. Moore offers a number of special programs.
The store gives a 15 percent discount to all military veterans and active service members and 15 percent off discounts to teachers.
Schools can get fundraising assistance through A.C. Moore. The store also supports Alex's Lemonade Stand, a charity that raises funds for research for childhood cancer. In 2016 alone, A.C. Moore donated more than $190,000 to the charity.
What Employees Say About Working Here
In employee reviews, A.C. Moore consistently earns top marks for providing plenty of room for advancement for employees. Many supervisors and managers began as entry-level employees.
The store also reportedly promotes a stress-free and fun, yet professional environment. Current and previous employees state that it is nice to come to work in a place where customers come in excited about creating projects.
A.C. Moore is also said to provide flexible scheduling for entry-level positions, allowing people to work there as a second job or while attending school.